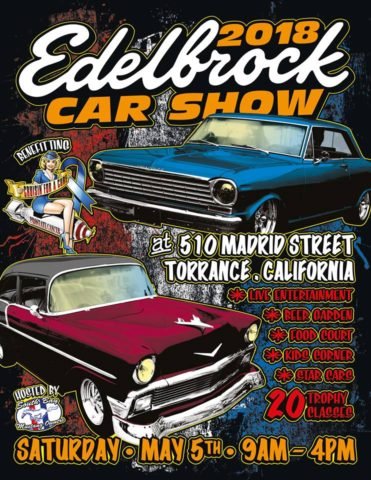 Hey! What's a fun way to spend your Cinco de Mayo? Why not spend the better part of the day hanging out with several hundred like-minded car lovers at the 2018 Edelbrock Car Show? Hosted at Edelbrock headquarters at 510 Madrid Street, Torrance, California, the annual car show allows all to cruise in with their classic hot rod, vintage restoration, old school muscle car or late model ground pounder. No restrictions here, buddy!
And don't think you'll be missing out on the holiday festivities, either. Edelbrock will have a fully-staffed food court and beer garden, live entertainment, and even a playpark for the little kids if the wife insists on taking on the whole family! Oh, and if you've never been, you're gonna want to make it out, as every year Edelbrock hosts a personally-guided tour of the massive Edelbrock facility including their rows of CNC machines, engine building center and more!
Of course, Mopar Connection Magazine will have complete coverage from the annual car show, so if you're unable to make the trek west, don't fret. You can flip through all the pictures and read up on all the fun you missed out on. But we do think being there in person would be a lot more fun.