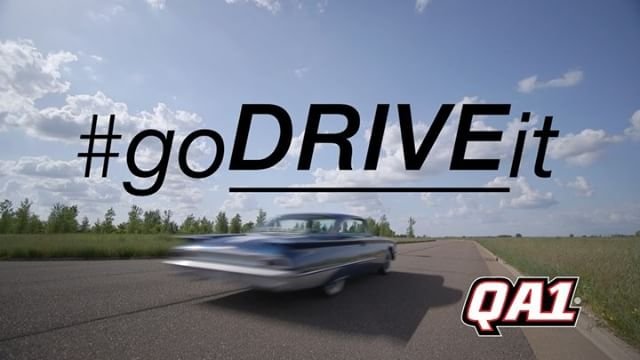 Cars were meant to be driven; plain and simple. When our Mopars were built, whether it be in 1969 or 2017, they had one main purpose; transportation. Many cars sit and collect dust in people's garages and really never see the road too often, if at all. QA1 is hoping to change that with their #goDRIVEit campaign.
"We encourage you to go out and enjoy your vehicle by getting on the road and driving. Whether it's fresh out of paint or a contender for "best patina," we celebrate the miles logged, the rock chips, and other badges of the road that show these vehicles represent more than just bragging rights. It doesn't matter if it's pristine, or far from, just #goDRIVEit!" says QA1.
To celebrate and spread the word about the campaign, they've created a new call-to-action hashtag; #goDRIVEit. Clicking the #goDRIVEit hashtag in any of their posts or searching it on social media is an easy way to see all of the vehicle photos, videos and stories from other car enthusiasts who enjoy driving their vehicle. QA1 wants you to take part in it too; it's simple! Do you drive your car? Show them! It's just two simple steps.
1. Share their video shown above to help get the word out!
2. Shoot a quick video or take some pictures of your car and then tell them about it and why you drive it. Make sure to share it on social media with the hashtag #goDRIVEit. From there, they'll feature some of these posts and submissions on their Facebook, Twitter and Instagram pages. If you're featured, they'll send you some QA1 swag and a #goDRIVEit decal. It's that easy!