"Since I was a kid, I've always wanted a Mopar muscle car. There is just something about them that has always done something for me," explains Andrew Winiarski of British Columbia, Canada. "For the longest time, I wanted a Plymouth 'Cuda. However, growing up, a good friend of mine named Keith had a silver 1970 Charger R/T. He bought it before he got his licence so his mom would take him and his friends out for drives in it to a place called Bumpers and she would do the biggest burnouts!" he shares.
He continues to say, "I remember the car well. It got involved in a street racing accident one night near my house after my friend got his license and started to drive it himself. He was racing a 1966 Pontiac GTO convertible and won however at the end of the race, he went to go make a left turn. The driver of the GTO didn't see him turning left and wiped out the entire side of the Charger before crashing into a gas station. I was walking down the street and came across the aftermath of the accident. Both cars were destroyed but the Charger was fixed and still survives somewhere. Thankfully no one was hurt."
That Charger left a lasting impression on Andrew though and after that, he knew he had to get one himself. As the years went by, Andrew's desire to own a 1970 Charger R/T remained despite the fact that he still didn't own one. Fast forwarding to 2017, Andrew was finally able to achieve his dream when he purchased a factory FJ5 Sublime Green 1970 Charger R/T SE.
The Charger rolled off the assembly line in St. Louis, Missouri on January 8th, 1970. It was painted in Hi-Impact FJ5 Sublime Green paint with a black vinyl top and black bucket seat interior. Rather than a bumblebee stripe or the longitudinal stripes, whoever checked off the order sheet for the Charger decided to go with the V68 coded stripe delete.
Under the hood sat the R/T's standard 440 Magnum engine but rather than the standard 727 Torqueflite automatic transmission, the D21 coded A833 Pistol Grip 4-speed manual transmission was chosen. On the order sheet, the A47 Special Edition Package was checked off which included the A01 Light Group, leather and vinyl front bucket seats, woodgrain steering wheel, woodgrain dash bezels, pedal dress-up and the W13 deep-dish wheel covers.
The choice of the 4-Speed manual transmission automatically required that the A33 Track Pak be chosen which included an upgraded Dana 60 Sure Grip rear differential with 3.54 gears, a 7-blade Torque drive fan and the 26" radiator. Other options included the C16 center console, J25 3-speed wipers, L31 hood mounted turn signals, N85 tachometer and R22 AM/8 Track radio.
After the Charger left the factory in January 1970, its history is relatively unknown such as the original selling dealer and ownership through-out the '70s, '80s and '90s. Over the years, the Charger deteriorated in shape before it eventually found its way to Portland, Oregon where Tom Benson who owns Rant N Rave Restorations bought it. Since the car was in rough shape, Tom treated it to a full restoration which was completed in April 2009.
Throughout its life, the Charger remained pretty complete and numbers matching with the exception of the original engine which was apparently blown up around 1973 and replaced at the dealership with a 1972 warranty block. The car still retains its original numbers matching A833 4-speed transmission and Dana 60 rear differential.
Andrew explains that the engine has been upgraded with Six-Pack internals but he's not sure if Tom did that during the restoration or if the dealership did back when they installed the lower performance 1972 replacement 440.
Over the course of the restoration, Tom upgraded certain aspects such as installing a Firm Feel steering box, tubular upper control arms, a larger front sway bar and an added rear sway bar to give it better road manners. Although it's a factory stripe delete car, Tom added a black bumblebee stripe across the back when the body and paint were done during the restoration.
In January 2010, Tom took the Charger to the Barrett Jackson Auction in Scottsdale, Arizona where it sold for $48,400 USD. After it sold at Barrett Jackson, the Charger remained in the United States before changing hands and ending up with a new owner in Alberta, Canada. From there, it was bought by a car collector in Port Coquitlam, British Columbia who has been said to have a love for green cars.
A few years back, the Charger was over with Rick at Perfection Automotive who specializes in muscle car repairs to get some mechanical work done and the front brakes upgraded to discs. One of Andrew's best friends Gord, who owns Musclecar City Parts had come by the shop to see Rick when he spotted the Charger sitting there. Knowing Andrew wanted a 1970 Charger, Gord inquired about it and was able to forward the owner's information onto Andrew. After about a year of negotiating with the owner, Andrew was able to purchase the Charger and finally make his dream come true.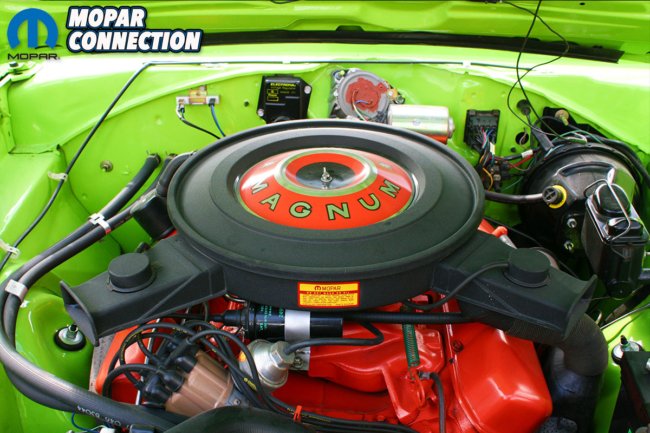 Since buying it and bringing it home, Andrew has done a few minor maintenance tasks on it here and there as they are needed. He upgraded the tires to BF Goodrich Radial T/As sized at 215/70R15 up front and 275/60R15 for a more staggered appearance and added Flowmaster Super 44 mufflers for an enhanced rumble. He tells us that he plans on eventually switching the Magnum 500 wheels out for a set of 15-inch staggered steel wheels with Redline dog dishes to change it up.
Otherwise, Andrew has driven the Charger every chance he gets. "When I take it out for a drive, it automatically makes my day better. Even if I'm having a horrible day, it's instantly changed when I drive my Charger. I absolutely love this car and everything about it. I've taken it to car shows and cruises and have had people come running when they see the color. It draws everyone's attention," he shares.