Dodge has released information on number five of seven "Last Call" models being offered for the Challenger and Charger for 2023, which will be the final model year for this generation of both models. This week's debut focuses on a Dodge Charger SRT Hellcat Redeye that has been created to pay tribute to a Los Angeles area racer from the 1960s and 1970s.
William "Big Willie" Robinson founded the International and National Brotherhood of Street Racers in 1968 with support from the Los Angeles Police Department following the Watts Riots of 1965. The goal was to give people a relatively friendly, non-violent way to pass the time while also bringing together people who typically wouldn't interact with each other on a social basis.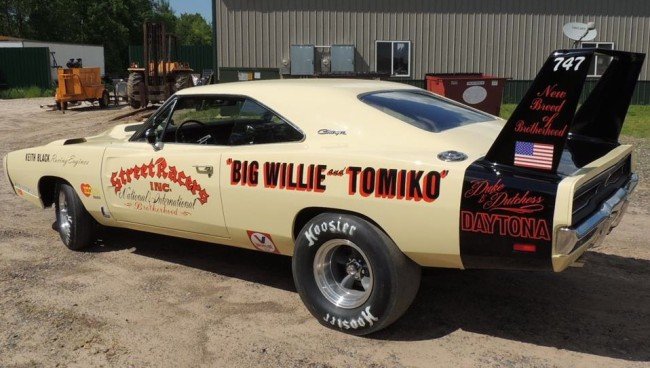 Primarily, his goal was to give young people something to do beyond gang related activity and he did so with drag racing. His mantra was "if you're racing, you're not killing". Robinson's program led to the opening of Brotherhood Raceway Park in 1974 in the L.A. area, but more importantly, his Brotherhood grew from areas like Compton, Inglewood and Watts to 38 states and 9 other countries, including more than 80,000 members.
Big Willie Robinson's most famous car was his 1969 Dodge Charger Daytona, which he nicknamed the King Daytona. This car was a well-known beast in the L.A. street racing scene, but of course it also made plenty of appearance as local drag strips as Robinson worked to replace gang violence with drag racing. His message of racing rather than violence surely saved many lives and his reputation of being a wonderful human being extended well past his death in 2012.
To pay tribute to Big Willie and his 1969 Charger Daytona, Dodge has created the 2023 King Daytona package for the Charger SRT Hellcat Redeye Widebody.
The 2023 Dodge Charger King Daytona is based on the Charger SRT Hellcat Redeye Widebody in Go Mango, and like the Jailbreak models, this limited edition package starts with a 10-horsepower increase, leading to an output of 807 horsepower and 707 lb-ft of torque.
The exterior of the King Daytona Charger is designed to pay tribute to William "Big Willie" Robinson, but it does so with cues from the previous Charger Daytona models. This includes the Daytona tail stripe with unique package graphics, Satin Black hood and roof graphics, Satin Chrome badges, a Satin Black painted rear spoiler, orange Brembo brake calipers, Mopar hood pins and Satin Carbon Warp Speed 20×11-inch wheels. 
On the inside, the Dodge Charger King Daytona package comes with seats wrapped in black Nappa leather with Alcantara suede inserts and the Daytona logo embroidered on the front upper seatbacks, a suede headliner, orange accent stitching on the dashboard, center console, steering wheel and door panels, carbon fiber bezels, an alcantara-wrapped steering wheel, unique instrument panel badging, a power sunroof, the navigation package and the Harman Kardon premium audio system.
In short, the 2023 Dodge Charger King Daytona package is a loaded Charger Redeye Jailbreak with a unique orange-and-black livery inside and out. Frankly, with this being dedicated to drag a racing icon, I am a little surprised that it doesn't come with a set of drag radial tires with wheels designed to keep the rubber in place, but it is still a very cool package with a great story behind it.
This Last Call Charger will be limited to just 300 units, so these will be harder to get than the other Last Call models, and with this being one of the most powerful special edition packages, we expect that it will be very popular. The pricing has not been announced yet, but we expect that it will be priced on the upper end of the current Charger Redeye Jailbreak pricing when those numbers are announced later this year.