These days, modern engine transplants into classic Mopars have become a common practice as they are plentiful. For the most part, modern G3 Hemis seem to be the main choice of flavour for swaps into classics, especially Hellcat Hemis over the past few years. Swapping one into a classic Mopar has been made easy these days with various plug and play kits available on the market. You can buy basically everything needed to do so and they drop right into a stock engine bay.
When Aaron Porter and the team at Horsepower Northwest decided they wanted to build a 1971 Plymouth GTX and swap in a modern powerplant, they went a different, more difficult route. Their engine choice was an 8.4L Viper V10 engine. While Viper swaps have been done in the past, they are a lot more uncommon due to the complexity of the install as it requires a lot more modification. This was no problem for Horsepower Northwest though.
Aaron explains, "I always thought it would be really cool to build a 1971 B-Body with a Viper drivetrain as the noses on them are long and wide versus other Mopars. It's no secret that Viper engines are long so I always thought it would be a good fit. The later B-Bodies are pretty good aerodynamically speaking for a muscle car so we did it because we thought it would work well."
Starting life as a 383 powered Road Runner, the car used was a crusty roller when Aaron got it. Everything from the belt line up was pretty much gone from rust including the firewall and cowl. "Most of the cars we build have quite a bit of rust in them being as we're in the Pacific Northwest so we are used to it. Rust doesn't scare us, especially when doing such a custom project like this. We hand make most of the sheet metal on our builds as it is so it wasn't a problem for us," shares Aaron.
The shell was sent to the dippers for acid dipping. Once it was back, the crew got to work modifying the cars structure extensively. Both the front and rear glass was flushed, the floors were channelled for custom exhaust and the rockers were modified for a true side exit exhaust system. The firewall and cowl area was also flushed for a clean modern look. Underneath the sheet metal, a custom front and rear cage is hidden.
He says, "We spent a lot of time making it look like nothing was changed. The end result is a unibody that is extremely rigid but looks factory from the outside for the most part. We basically set it up so the fancy RMS suspension we installed could properly do its job." Once the metal work was complete, the GTX was painted in modern PPG F8 Green with House of Kolor clear coat.
Under the hood sits a naturally aspirated G3 Viper V10 engine built by Prefix Industries that produced almost 700 horsepower and 700-ft-lbs of torque on the dyno. To keep the V10 cool, a massive custom radiator was installed with smart dual 10-inch SPAL fans. Custom Hellcat style functioning cold air headlights force feeds cold air directly into the engine.
Backing the V10 is a Viper Tremec Magnum T56 6-speed manual transmission with a billet yoke and 4-inch aluminum driveline. Out back is a custom aluminum 8 ¾ rear differential from Dr.Diff fitted with a 3:70 geared TrueTrac center section. For braking, the crew installed 14" Baer 6P power disc brakes with a billet master cylinder. It rides on custom-made Satin Bronze Boze wheels; 18×8" up front and 19×11" out back.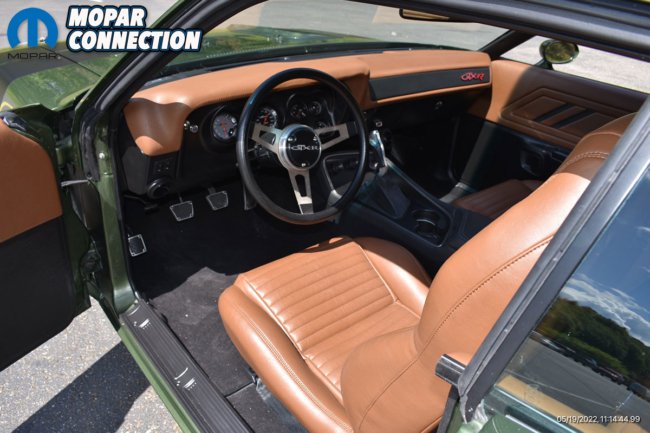 Once you open the door, you'll find a totally custom black and tan interior that combines both factory GTX and Viper elements beautifully well. The interior is hand-made and features a custom one piece leather headliner, custom center console, door panels, dash and package tray. Custom front seats and factory rear seats were wrapped in matching tan leather. Custom gauges from Classic Instruments are screen-printed with the GTX-R logo. The horn button and dash plaque showcasing the GTX-R logo are one-offs are well. A billet pistol grip shifter, power windows and push button ignition with passive entry compliment the interior well. Everything is kept cool by a Restomod AC/heat system.
Aaron says "The final result was everything we could have ever imagined. It came out absolutely beautiful and the car is a true blast to drive!"