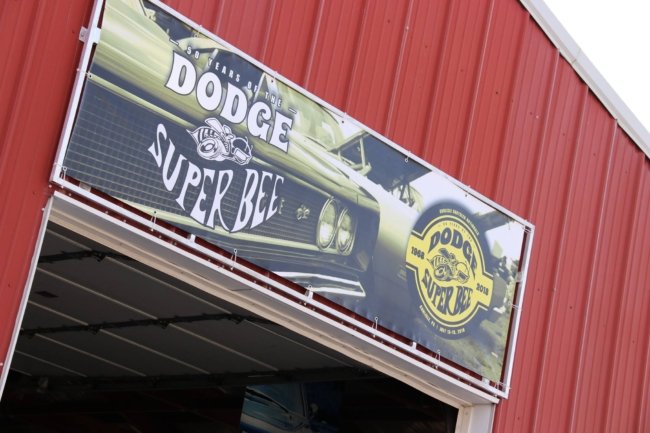 It's literally happening right now, but if you've got the weekend off, and you're reasonably close, you need to get in the car (or board a plane) and head over to the Chryslers at Carlisle all-Mopar show happening – again – right now. In addition to celebrating 50 years of the 340 engine and the Road Runner, Carlisle has also erected a display of "50 Years of Super Bee" dating back from 1968 all the way to today. So much so, that per the official Chryslers at Carlisle website, has published a quick biography of the car:
"In 1968 Dodge introduced the Super Bee on its Coronet line as its low-cost, bare-bones performance car to compete not only with the other manufacturers' stripped down street racers, but also to compete with its sibling, the Plymouth Road Runner. Initially offered with the 383 four-barrel as the standard engine and the 426 Hemi as the only option for '68, the A12 package was offered in mid-1969. The A12 package gave buyers the 440 Six Pack, lift-off fiberglass hood and 15" steel wheels with chrome lug nuts. Arguably the coolest "street racer" package ever offered by an OEM!
"The 440 Six-Pack carried over for 1970 but was now essentially just an engine option as the car was cosmetically the same regardless of the engine. A lot had changed for 1971. The Coronet was no longer available as a two-door so rather than drop the Super Bee altogether, Dodge made it a package on the redesigned Charger. Not only was the Charger dramatically different in appearance from its predecessors, it was now more of an E-Body platform like the Barracuda and Challenger. While Plymouth continued on with the Road Runner in various forms until 1980, Dodge decided to end the Super Bee after the 1971 model year (not counting the South American variants).
"OK, the Super Bee didn't end completely but it did take a hiatus of over three decades! First, we were teased with the Rumble Bee trucks of 2004-05, which were pretty cool in their own right, but then in 2007 the name made a comeback. Again it was based on the Charger line but this time it was a package on the top-of-the-line SRT8 model. It may have a few extra doors these days, but it's still one of the baddest "family sedans" you can buy!"