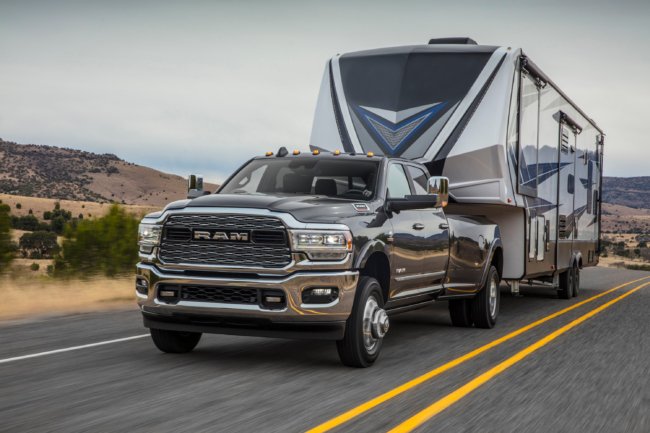 Remember when the 840-horsepower Dodge Demon was the hottest thing to hit the streets? FCA (Fiat Chrysler Automobiles) has done nothing but one-up itself since, first with the 1,000 horsepower Hellephant and, now, with 1,000 lb.-ft of torque from the 2019 Ram Heavy Duty. It's one thing to get in to a power war with Brand X, but it's something completely different when your only competition is another department within FCA. Other car manufacturers aren't even close.
At the heart of Ram's newest stump-puller is the venerable 6.7-liter Cummins high output turbo diesel. But this isn't the same 6.7 that debuted in mid-2007 with a measly 350 hp and 650 lb-ft of torque.
The 2019 version has been reworked to crank out 400 hp and an astonishing 1,000 lb.-ft. Improvements come from an overall lighter package with redesigned cylinder heads, pistons, exhaust valves, and exhaust manifold, plus a compacted graphite iron block and variable-geometry turbo that spools up to 33 psi of boost.
An Aisin six-speed automatic gets power to the wheels. The whole package adds up to an awesome 35,100 lbs. of towing capacity and 7,680 lbs. of payload. The Heavy Duty is also available with an 850 lb.-ft. version of the 6.7 Cummins or a 410 hp 6.4 Hemi, albeit with decreased load ratings.
According to the press release, non-powertrain upgrades include active noise cancellation and acoustic glass for a quiet cabin, multi-mode rear air suspension, a new braking system, a decreased overall weight (by up to 143 lbs), and a 360-degree surround-view camera with trailer reverse guidance.