Dodge has done it yet again with their new "Exclusively Yours: Viper 1 of 1 Program." The 2015 Dodge Viper GTC truly is the Viper of your dreams. For a starting US MSRP of $94,995, the Viper GTC features all the content of the GT model and adds the complete ability to customize a '1 of 1' design, a personalized instrument panel badge, Concierge Service and Viper Ambassador Owner's Portal with exclusive content to track the build of the car. With over 25 million unique build combinations, if you can dream it, Dodge can and will build it.
A hand built 645 horsepower V-10 powered 2015 Viper GT is used for the foundation of every Viper GTC. From there, everything is in your hands. With 8,000 exterior color options, 24,000 custom stripe colors, 8 wheel options, 16 interior trims and 9 option packages, there are more than 25 million ways for buyers to fully customize their one-of-a-kind Viper.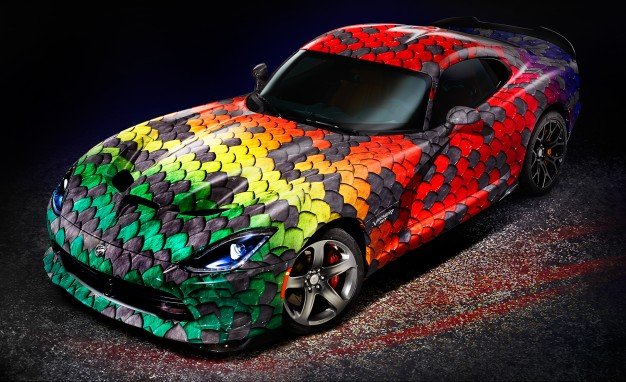 Once you choose your color choices, Dodge will provide a complimentary Viper replica so you can confirm your color selections before your full size Viper is built. Want cherry red with hot pink stripes? Black with lime green stripes? How about purple with yellow stripes? Dodge will build it, no matter how crazy it may be! That's the true coolness of this entire program. It's literally 100% up to you! No two customers can order the same configuration, including color in the same model year.
Once you have chosen everything and the car has been ordered, you can then follow your Viper GTC throughout the build process via online updates from your personal Viper Concierge.  Get behind-the-scenes photos and stories as well as messages from Dodge executives, designers and engineers. This industry exclusive personal concierge service provides an exclusive ownership experience for the most unique Viper of all – yours.
Once your Viper is built, you then decide how you want your vehicle shipped. Customized shipping options include rapid transport, or you can choose to pick your Viper up at the Conner Avenue Assembly Plant in Detroit and take a tour of the facility.