Just over a year ago, the 1971 Charger bug bit me hard. In July 2015, a very good friend of mine had a beautiful Hemi Orange 1971 Super Bee replica with a 440 4-speed that he offered to me for a screaming deal. I instantly became obsessed with the car, I had to have it. I worked hard doing two jobs and sold some extra stuff I had, anything to get extra money to buy the car. To get a good portion of the money, I worked a deal with another good friend to sell my 1973 Duster to him as he's wanted it for the past 2 and 1/2 years. It was hard letting that one go as I owned it for 7 years and bought it when I was 16. I had a good portion of it together when I got a message from my friend back in April of this year; he sold the 'Bee.
It turns out he offered the car to another friend of his a few years prior for the same price. His friend had just sold one of his Mopars and decided it was time to buy the 'Bee so he showed up at his door with the cash and wanted it, so he honored his word and sold it. I was a bit heartbroken but totally understood. A deal is a deal. However, the 1971 Charger bug still had me good and now I had an itch that I had to scratch badly. I instantly starting searching for another 1971 Charger. Craigslist, Kijiji, you name it. I started looking for an equivalent condition car when I had a bit of a brain storm. Instead of dropping all of this money on a finished car at this point in the game, why not find a project car for a lot cheaper?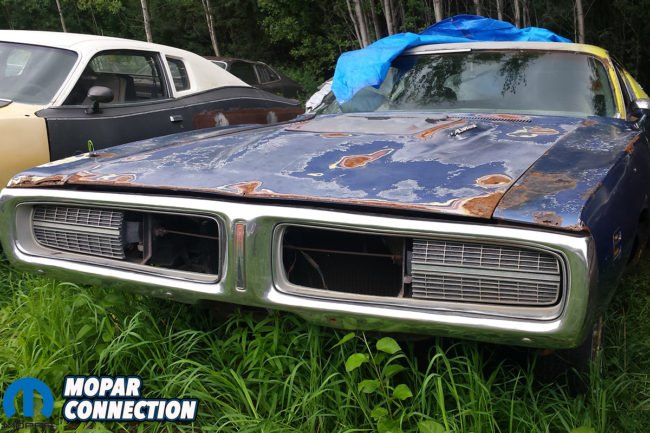 I'm currently working on starting a full time career that needs a fair bit of money for schooling so I figured I'd put a portion of the money aside for that, buy myself a '71 Charger project to work on to cure the itch and then put the rest of the money away for a later day. I decided I wanted either a R/T or Super Bee and wouldn't settle for any less. I remembered a Plum Crazy R/T project that was for sale a month or so before not too far away. I looked into it and found out it had sold. Darn. Then I remembered a buddy had a F8 Green '71 R/T project in storage so I shot him a message. He didn't want to sell. Another dead end.
Then I decided to message a friend of mine 12 hours east of me. Knowing he had a very vast collection of Mopars, I figured he might know where I could find a '71 R/T or Super Bee. He messaged me back a few days later and told me he had two 1971 Chargers he might sell. One being a white 383 4-speed 500 model shell and the other being a blue but originally Citron Yella R/T. Instantly interested in the R/T, I asked more about it. The more he told me, the more I wanted it. After dealing on the car for a few months and having him send me pictures, I made the 12 hour trek out to his place and picked up the car.
It's an early production car sold new at Crosstown Motors in Edmonton, Alberta. This means it's one of 375 shipped to Canadian and export dealers. Originally GY3 Citron Yella, it came equipped with a black interior, black vinyl top and black stripes. Bucket seats with a console shift automatic. It was ordered as a Y13 Dealer Demo car so it's loaded with options. 15×7 Rallye wheels, Sure-Grip differential, power front disc brakes, power steering, A01 light package, hideaway headlights, hood pins, three-speed wipers, rear defogger, fender mounted turn signals; you name it.
From what I can tell and have been told, it had a fender bender early in it's life and was fixed and resprayed Citron Yella. Some time after that, it was then painted B7 Blue and Appliance mags were installed. The original seats were recovered in a funky cloth/suede material (black with blue inserts). I pulled two sets of gauges out from under the dash as well as an old Pioneer Super Tuner cassette player mounted in a box beside the console. It was certainly the definition of '80s customization. The original 440 is long gone but sitting between the fenders is a '69 date coded 440.
The story goes that my friend saw this car driving around when he was a kid. George, the original owner would stop and talk to him about the car when he was out riding his BMX. He became attached to the car and one day when it vanished, he always wondered after that where it went. The image of the shiny blue R/T (it had already been repainted blue at this point) was always in his head. Early last year, he found a banged up rusty blue '71 R/T while out for a drive one day. He stopped and asked about it and found out the guy selling it happened to be George's stepson.
George had passed away in 2010 and left his stepson the car. The stepson apparently didn't want it, so he was selling it. He had just put it in the front yard with a for sale sign. Not too long after he put it out in the front yard, someone came by and smashed the passenger side and back windows out. My friend bought it right away and took it home. When he got home, he couldn't stop looking at it, he knew he recognized it somewhere from the wheels. That's when he realized it was the same car from his childhood, just in a lot worse shape than when he saw it last. He was even more shocked when he realized it was a factory Citron Yella car!
Since getting it home almost two months ago, I've already started to tear it down for a full restoration. The car itself needs some decent sheet metal rust repair. Besides the usual outer sheet metal that needs to be replaced, I discovered a flawless trunk floor and interior floor pans (with the exception of a small rust hole on the driver's front pan). The frame rails and torsion bar cross member are mint, they are the cleanest I have ever seen. My plans are to restore it back to it's original-equipped form with the addition of front and rear spoilers, I think they just complete the look. I've decided since it's not the original 440, I will have some fun and add some go-fast goodies. I've been a member of the 2nd generation Charger club since 1998 so I'm still getting used to being a member of the 3rd generation club now! I even had Robin McQueen over at Automolove.ca design an awesome banner of how the car will look when it's done!