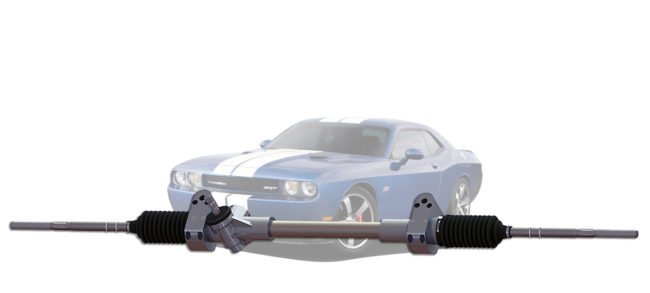 There are those who will look at a monthly car payment with derision, who will laugh in the face of their insurance policy holders, and happily brush off the lures of preserving their new purchase's warranty. And to those we salute you, because without you fine, daring few, we wouldn't have so many Chargers and Challengers breaking into the 10's and 9's, proving to the world that the modern LX-platform is a viable one.
Flaming River loves you guys too, and to reward you for your daring, they just created this absolutely awesome manual rack and pinion to swap out your heavy factory rack. "But why would you do such a thing," many of you ask. To shave off weight, free up space and to benefit from a faster-action turning ratio, that's why! If you're looking at whittling down your Challenger's weight, this is easily one of the best ways to do it.
Here's the original press release:
This all-new manual rack and pinion design is a direct-fit unit for the 2015 Challenger. This rack is significantly lighter than the factory power steering system by eliminating hoses, pulleys and pumps and offers improved handling characteristics. A shorter pinion shaft allows for more clearance when working with large tube headers and engine swaps in custom applications. Made in USA.
Product Specs:
• Bolts into same mounting location as OEM Power Rack
• Overall length: 51.25"
• Pivot points: 26.01"
• Mounts center-to-center: 18.21" (.500″ diameter mounting holes)
• 9/16″-26 spline pinion shaft
• Inner tie rod end thread: M16 X 1.5
• Inner tie rod end length: 14.00"
FR1515MPR – 2015 Challenger Manual Rack and Pinion
For more information, please call 1-800-648-8022 or visit www.flamingriver.com