It's fairly easy for any modern Mopar fan who wants to daily drive a muscle car with gobs of power to buy a Dodge Challenger SRT Hellcat. For someone who wants that power but also loves the classic look of the Shaker hood, the Hellcat model is not an option. That classic Shaker look was what lead Eric Emery to buy his TorRed Challenger 392 Shaker, but when more power was desired, he went with a big time build over trading one muscle car in for another.
Emery, who runs a booming detailing business in Manton, Michigan, was driving a Charger R/T when he began shopping for something that offered a little more of that old school muscle car feel. He liked he Charger, but it just didn't offer the feel that the Challenger does – and when you add the Shaker hood and a manual transmission, it just screams muscle car. "Dodge nailed the retro styling", said Emery. "The shaker hood takes that to the next level, changing the look dramatically, especially once the hood is opened."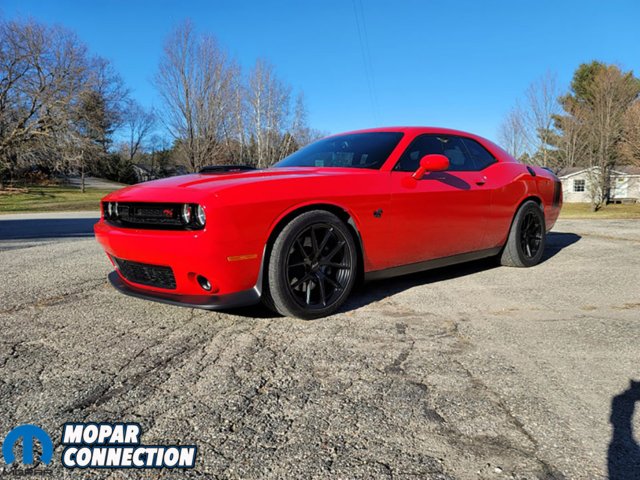 Also, while most Scat Pack owners opt for the quick-shifting 8-speed automatic, Emery was set on buying a three-pedal Challenger Shaker. "If you ask 10 car guys what transmission they want in their muscle cars, 8 of them are going to say manual. The other 2 can't drive one and just won't admit it. A manual is a must in a car like this. The only disadvantage is when you head out to the drag strip, or you find yourself in bumper to bumper traffic. The 6 speed Tremec in the 392 cars are geared for a lot of low end torque."
With all of that in mind, he settled on TorRed Dodge Challenger 392 Shaker with a manual transmission. Emery fell in loved with his Dodge Challenger 392 Shaker from the instant that he got it. As time went on, he began to get the itch for more power. At first Eric started shopping for a Challenger SRT Hellcat, but after doing some research on modifying his current 392 Shaker car, he decided that would be the better route.
"At some point, every modern MOPAR guy is going to start looking at Hellcats. I am guilty of it. You get used to the 392's power and start wanting more. You start looking around and Hellcats are all you see. Hellcats everywhere on television and online. Ironically, that's sort of what pushed me to start building my car. The fact that you can not get a Shaker on a hellcat was one nail in the coffin and the final nail was cost. For what I would have spent on new Hellcat, I thought I could build a pretty stout 392 Shaker car. "
Emery began to really dig into the process of planning his build. He knew that he wanted a properly built machine, not something that he put together himself in his garage. Looking around online he found that there weren't many good examples of 392 Shaker builds that led to "Hellcat power". He found some running nitrous to get into the 600-horsepower range while others turned to 426 stroker NA builds, but the boosted builds were what appealed to him the most.
During his research, Emery also found that there wasn't a specific tuning shop in the 392 community that was preferred, but after reading good things about Satera Tuning, he reached out to Jeremy Satera.
"I called Jeremy at Satera Tuning to pick his brain and see if he thought it was worth the effort and cost to build the car. Satera Tuning offers a few packages for the 392, said Emery. "The one I was interested in was his "Poacher kit.". A supercharger, fuel and meth injection. It would bump the car up to over 600 horsepower and the cost was pretty reasonable.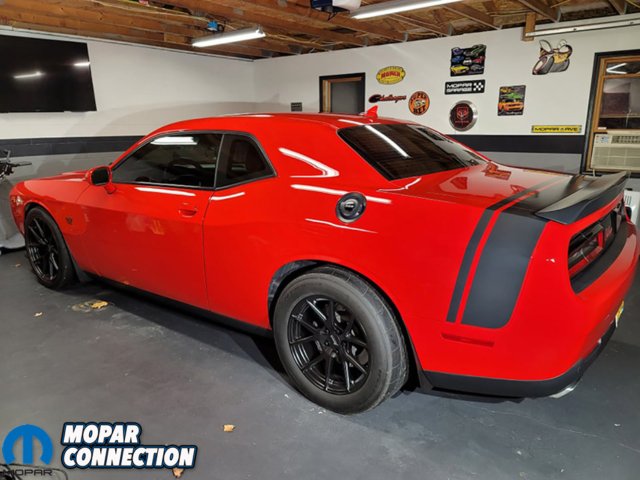 Jeremy let me know that the 392 engines were not the best for throwing boost at in the stock form. They made the stage 1 poacher kit to be as safe as they could, but there is always some risk when boosting a stock bottom end. We started there, knowing that I would eventually want to build the bottom end and go bigger down the road.
Jeremy and his guys did their thing and the car made good power – right around 610 horsepower. When I got the car back, it was amazing. The installation looked like it came from the factory. The car had great street manners and other than being a bit louder, really didn't seem any different until you pressed the gas pedal down.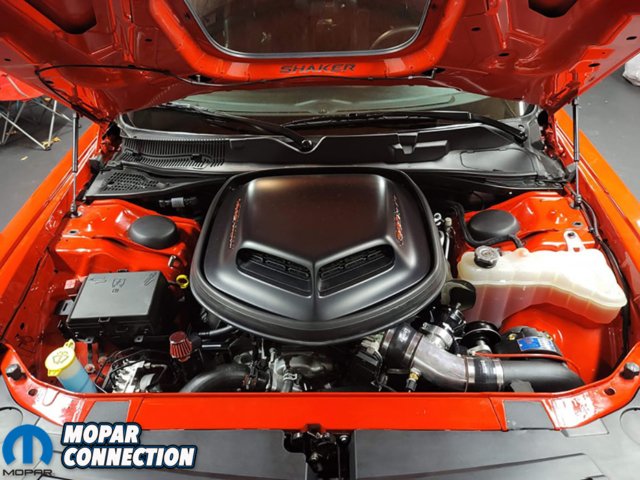 Unfortunately, Emery's enjoyment of his newly supercharged Dodge Challenger was short-lived. "If you talk to guys who have built cars, they talk about weak spots. They talk about how you will find the weak spots once you start getting beyond what the manufacturer intended for the car. It didn't take me too long to find my first weak spot."
While out for a basic cruise with his wife, Emery entered the highway and had a made a relatively gently pull through first and second gear on the on-ramp. During that pull, the check engine light illuminated and the car began to vibrate a bit. He got off of the highway and the next exit and checked the codes. They came back with a misfire on cylinder #1.
"I limped the car home. If I tore it up, the damage was already done. I expected the worst. I didn't see any oil leaking and I knew the piston didn't play peek-a-boo with the engine bay. After getting the car home and pulling the spark plug, I knew we had a major problem. I reached back out to Jeremy. It looked like the plan for a full build had an accelerated timeline. He sent a trailer up for transport and picked the car up."
At this point, Emery emphasized to me that when planning the build, Jeremy Satera made it clear that the boosted build had its risks and everything was done to limit the risk. They even stayed conservative with the tune, but the internals of the 392 weren't up to the strain of the boost pressure.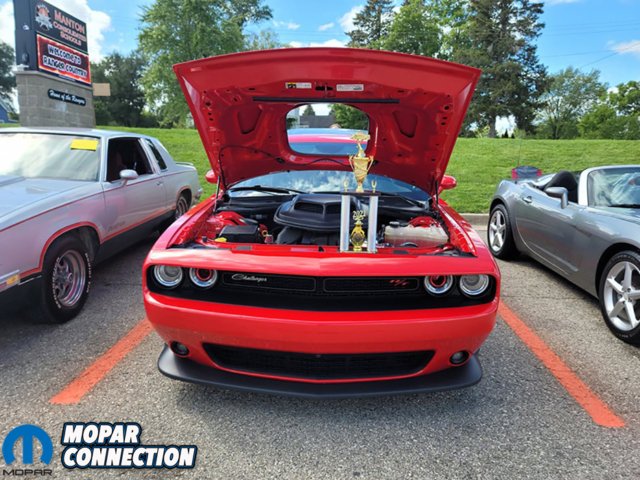 "So we have a hurt car, and a parts shortage. Luckily, the block was able to be machined and saved. The heads were a big question mark though. The guys at Texas Speed thought they could save them with a good port and polish. So we sent the heads out. We decided to use the Texas Speed stage 4 boost cam while we were at it.
Next up, we had to find a forged rotating assembly. We used a stock forged crank and the MAHLE Modern Muscle Super Power Pack piston and rod set. All being held together with a full ARP short block bolt and stud kit. To feed the fresh build air, we have a Vortech V3 centrifugal supercharger stuffing 8 psi into the intake. The fuel is provided by ID 1050X injectors. A Snow Performance stage 3 Meth injection system helps cool all of that pressurized air."
The result of the full engine build was 704.43 horsepower and 626.53 lb-ft of torque at the rear wheels, but Emery didn't build a dyno car – he wanted the power to be usable without breaking things downsteam. To help on that end, the 6-speed manual transmission was fitted with a Barton short-throw shifter and a McLeod RTX clutch while the stock driveshaft was replaced with a four-inch, one-piece aluminum unit.
The rear suspension was upgraded with AAD upper and lower control arms, Lakewood shocks and Dodge Challenger 1320 springs. The rear differential was secured with a Per4mance Development DIRS differential brace and BMR rear cradle lockout bushings. A set of Mickey Thompson ET Street R tires put the power to the ground. "The cost of building a car like this is fairly substantial. There is over $26,000 dollars worth of work done to make this dream a reality. Quite a bargain considering that even with the cost of the car, it was cheaper to build than a lightly optioned Hellcat."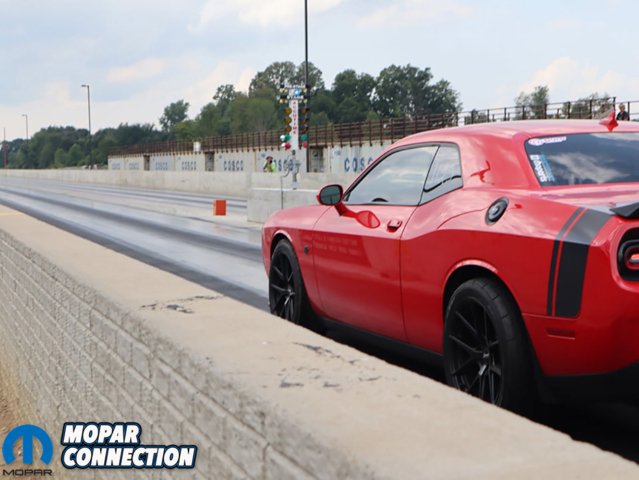 The result is a modern Dodge Challenger with the classic Shaker hood, a manual transmission and over 700 horsepower at the rear wheels. That is about 60 more horsepower at the wheels than a stock Hellcat car and while Emery's build wasn't cheap, he has less in this car than he would have spent in buying a new Hellcat Challenger. More importantly, Eric Emery's Challenger is exactly what he wants – a truly unique modern muscle car that showcases the Shaker hood and the manual transmission with even more power than a Hellcat car.