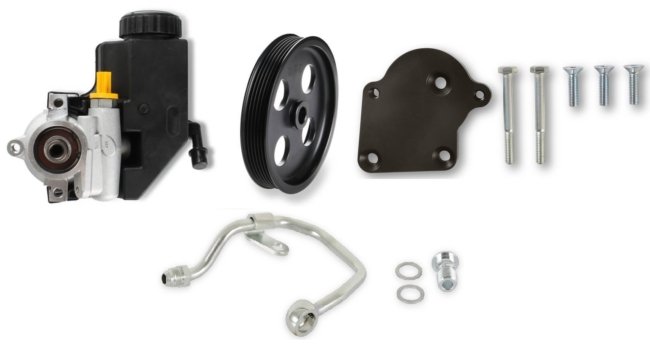 Companies like Holley are constantly releasing options to help make the Gen III Hemi swaps easier. There are a plethora of Gen III Hemi swap parts available through Holley currently and they are always working on more. Sometimes we get wrapped up in all of the big parts of the swap and overlook some of the smaller items.
Power steering seems to be one item that many of us forget about or contemplate on deleting to make the swap easier. If you are going to have modern conveniences like fuel injection, why would you want to sacrifice a convenience like power steering?
There are some different ways to plumb a factory high pressure Gen III Hemi power steering pump to your classic Mopars gear box. The problem is those pumps produce too much pressure for those gear boxes to handle. We have seen and heard of many people blowing the seals out of the factory power steering gear box when they plumb in a factory high pressure Gen III Hemi power steering pump.
Holley has created a complete Low Pressure Power Steering Kit for Gen III Hemis. This kit is exactly what you need to make your classic Mopar's factory power steering to work with a new Gen III Hemi. These kits are designed for use with the 5.7L, 6.1L and 6.4L non-VVT Hemis with 4.34″ belt spacing (see diagram below). The kit is designed to work with a car style accessory drive system.
The Holley Low Pressure Power Steering Kit includes a low pressure Saginaw type II pump with reservoir, billet mount, 6-rib pulley, and a special hardline to move the -6 AN hose fitting to a more accessible location. All you need to do is choose your power steering hose and fittings to plumb the pump to your specific power steering box.
Not only are the Holley kits low pressure, but they have calculated what size pulley you need to spin the pump at the right rpms. This might seem silly, but if your pulley is over or under-sized, it can spin the pump too fast and the pump can fail. On the other hand, spinning the pump too slowly will not create enough pressure to assist your steering at all.
We believe that this is a must have for your Gen III Hemi swapped Mopar. The best part is Holley has these kits in stock and ready to ship. Check them out online or give them a call to place your order today.