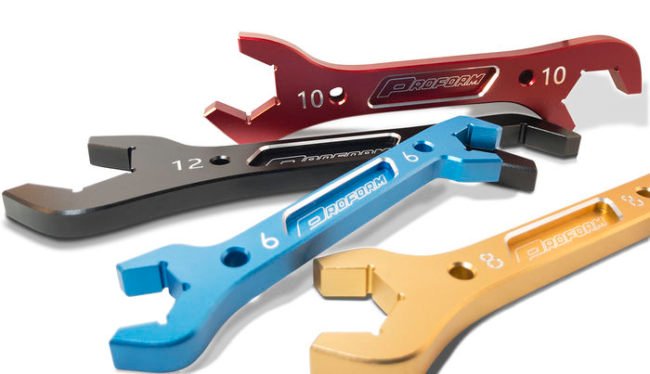 Tools can be a very difficult market for consumers. With hundreds of brands of tools out there, it seems many mechanics and enthusiasts either use name brand tools like Snap-On or their opposite; cheap knock offs. While Snap-On tools have superior quality, the prices on their products are usually insane where-as knock off tools can be friendly to the wallet but usually break pretty quickly. It seems either you pay a premium dollar for a high quality product or you pay pennies for junk quality. There is no happy medium; a good quality product for a good price. That's about to change.
Proform Parts have been in the industry for a long time producing top quality automotive engine parts such as dress-up products, carburetors, alternators; you name it. What many don't know is they also produce some stellar high quality tools that won't kill your wallet! It's the best of both worlds. Proform is proud to announce a fantastic new set of AN Wrenches to their tool line-up. These lightweight, color-coded, billet aluminum wrenches are perfect for tightening those expensive aluminum fittings without marring them.
They are based on the amazing finishing work that Proform does with their engine dress-up products and you'll find that these wrenches are at that level with micro CNC detailing and soft touch anodizing. The kit includes four color coded wrenches including sizes -6AN through -12AN and a nylon zipper storage pouch. If you're looking for a bigger set, they also offer an eight piece set featuring sizes -3AN through -20AN. Grab a set for yourself today, you won't regret it!