Swapping a GEN III Hemi into a Mopar is becoming less complicated with each passing year as the aftermarket manufacturers release an increasing number of new parts. Holley has made a maximum effort with a slew of products to help slide a GEN III Hemi into your car. Although some products are universal, Holley took an early focus on '66-'72 B-body GEN III Hemi specific swap products.  
Why a B-body? The simple answer is that B-bodies are very popular Mopar muscle cars and cover a wide range of models for a long time. The engine bay is spacious and allows for the use of factory power brakes and steering box. You can even utilize factory AC components with some modifications. Also, there is sufficient space between the bulkhead (firewall) mounted wiper motor and most intake manifolds. Holley plans to expand its line of GEN III Hemi swap products to other platforms like E-and A-bodies as quickly as possible.
Engine & Transmission Swap Mounts
To install a 5.7-, 6.1-, 6.2-, or 6.4-liter engine into a B-body, a pair of Hooker Blackheart engine mounts are necessary. The engine mounts will move the Hemi forward slightly to provide additional bulkhead clearance. If the plan is to retain an automatic transmission in a '66-'70 model, a Hooker Blackheart cross member along with the proper transmission adapter plate will correctly locate a small-block 727, a NAG1, or an 8HP70 transmission in the appropriate position.
Although, depending on your choice, there may be significant modification to the transmission tunnel. Each adapter plate and transmission requires a black or red polyurethane transmission mount. These components can be purchased individually, or Hooker Blackheart offers a kit that includes engine mounts, cross member, and transmission mount.
Exhaust

Hooker Blackheart offers a pair of 304 stainless steel headers with 1 7/8-inch primaries and 3-inch collectors designed to work with the Blackheart engine mounts, cross member, and transmission mounts.
The headers clear either a driver or passenger side starter location, the factory power steering box, and the OEM vacuum brake booster. If a low-mount AC compressor is installed, the engine requires the 2009-up variable valve timing (VVT) front cover.
To compliment the Hooker Blackheart headers, they offer mandrel-bent 304 stainless steel exhaust systems in 2.5- or 3-inch diameters for the '66-'67 or the '68-'70 models. The mufflers are a low restriction, straight-through design. The exhaust is constructed to provide excellent ground clearance.
If the transmission should require removal, both head pipes have a 24-inch section that can quickly be removed via slip couplers at each end of the pipes. The tailpipes are turned down at the tips.
EFI Swap Fuel Tanks
The old (and possibly rusty) fuel tank should be discarded and replaced with a new Sniper EFI fuel tank. The tanks are galvanized and powder coated to prevent corrosion concerns. A tank module with a high-pressure (58 psi) 255 liter per hour (LPH) fuel pump with supply and return line ports is included. Holley also offers larger in-tank pumps if your motor requires more fuel. The fuel level sending unit has the Mopar-correct resistance (73-10 ohms) to operate the factory fuel level gauge on the instrument cluster. 
The Sniper fuel tank has a large internal baffling tray, and the pump is attached to a Holley HydraMat sock to prevent fuel pump starvation during high-performance vehicle maneuvers. Installing the tank requires zero modifications to the tank or the chassis, and once installed, the tank will look factory correct. If the tank is not needed, but the fuel pump module is still required, Sniper offers the tank module as a stand-alone unit. The module has all the same features but without the tank.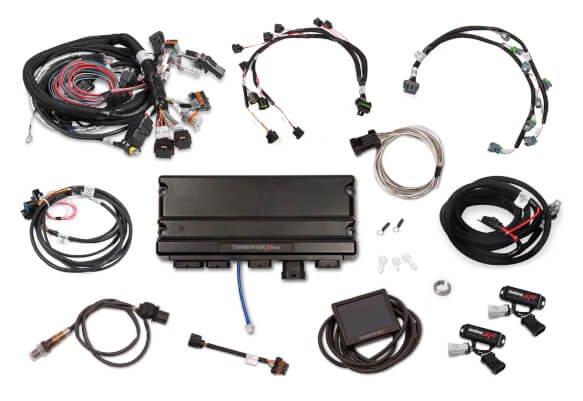 Electrical Components
Whether it has been bolting in new engine mounts, transmission mounts, fitting the Hemi into the engine bay, running the exhaust, or plumbing the fuel system, up to this point, the Hemi swap has been mechanical. Controlling the electrical side of the Hemi can be intimidating for many who are new to fuel injection. Holley has multiple options for controlling the GEN III Hemi but recently made tremendous strides with their new Terminator X and X Max GEN III Hemi engine controller kits.
 The Terminator X and X Max provide excellent control of the fuel and ignition systems. The Terminator X and X Max modules are available for a range of engine years and options. For more information about the Terminator X and X Max, refer to Mopar Connection Magazine's article from late 2019, "Holley Introduces the Terminator X Engine Controller for the GEN III Hemi."
The Terminator X and X Max provide excellent control of the fuel and ignition systems. The Terminator X and X Max modules are available for a range of engine years and options. For more information about the Terminator X and X Max, refer to Mopar Connection Magazine's article from late 2019, "Holley Introduces the Terminator X Engine Controller for the GEN III Hemi."
No matter the choice of the engine management from Holley, you can also upgrade your dash with all digital gauges. Holley now offers digital displays that plug right into their ECUs. Holley's digital dashes come in three sizes, 7" EFI Dash, 6.86" Pro Dash, and a large 12.3" Pro Dash. The dashes save a ton of wiring and simplify a lot of work. Holley's ECUs are already reading nearly all the engine information you would want to view. Their digital dashes can easily be customized to display all the info you want.
The additional electronics from the ECU and potentially new digital display require proper wiring and adequate amperage. This is the perfect time to rewire and update your vehicle's wiring harness. It is possible to leave your factory wiring and add new fuses and wiring but is safer and, in some instances, more natural to go ahead and tear out all your old wiring. Painless Performance offers multiple complete harness kits that make the job a breeze. 
Drivetrain
To keep the costs of the Hemi swap down, some enthusiasts will elect to use a Torqueflite 727 or 904 transmission. A GEN III Hemi requires an 8-bolt flexplate rather than the small-block 6-bolt flexplate. Hays have developed a flexplate that will connect a late-model Hemi to an old Torqueflite torque converter (with 7/16-inch bolts). The Hays zinc-dichromate plated flexplate is corrosion resistant and SFI 29.1 certified (legal for racing).
The 0.105-inch thick flexplate is bowl-shaped from the crankshaft flange to the mounting pads on the torque converter, eliminating the need for 0.080-inch spacers. With the Hays flexplate, the starter ring gear teeth remain on the torque converter, so there are plenty of torque converter options.
If a small-block Torqueflite 727 is not available for the swap, B&M has a street/strip prepared 727 that will fit nicely into a B-body. The transmission operates with any non-lock-up type torque converter. Each transmission has a rebuilt front pump, a five-clutch direct drum, a new low-roller clutch, a four-pinion front carrier, and a 5.0 servo lever. The clutches all receive B&M high-performance friction plates. The transmission is designed to withstand 500 horsepower and 450 lb-ft of torque.
Through Holley's Quick Time brand, they offer multiple bell housings for a sleuth of manual transmissions. From factory 4-speed to using a Tremec 5- or 6-speed. The Quick Time bell housings are SFI rated and ready for street or track use. They are made from high-grade steel and machined right here in the USA. Another great option when you are planning out your GEN III Hemi swap.
Universal GEN III Hemi Swap Parts
The modern Hemi no longer has options for a mechanical fan and will require you to switch to electric fans if you have not already. Holley's Frostbite Radiators and fan packages are the perfect fit. They offer a factory bolt in 2-, 3-, and 4-row replacement radiators. They are made of high-grade aircraft aluminum for optimal cooling. Each radiator is fully TIG welded for strength and durability. You can also opt for a bolt-on shroud with dual 12" electric fans for maximum cooling. Everything you need in a compact package to keep you cool in any condition.
To help dress up your Hemi, Sniper EFI and Mr. Gasket both offer aluminum valve covers for the GEN III Hemi. The valve covers are available from each company in a silver anodized or black coated finish. All the valve covers are engineered to support stock or aftermarket coils, and each pair comes with valve cover gaskets, spark plug O-rings, and all the mounting hardware.
Unfortunately, the old pie tin air cleaner must go. With so many variables with each build, offering a direct fit air filter kit is not practical. Good news, Flowmaster Delta Force Performance Air Intake kit universal kit allows the opportunity for a professional appearing air intake. The kit includes a high-flow cotton gauze filter, mounting brackets, air intake ducting and angled bends, couplers, a mass airflow (MAF) adapter, and stainless-steel clamps. This intake system is intended for vehicles that are pre-emissions qualified or an off-road race-only application.
Last but not least is Holley's newest products that have been popular among GEN III Hemi swaps, that's their Sniper EFI Sheet Metal intakes. Holley offers two different designs and styles. The option of silver or black is the first question, and the next is whether you want the race or non-race version. The race version is more durably built for individuals looking to add forced induction. Either intake performs well, and as a bonus, they look incredible.
Thanks to Holley's effort to create more GEN III Hemi parts, swapping a new Hemi into your classic Mopar B-body has become manageable. Although not all the years of the B-bodies are covered at this time, check the Holley websites often as they continue to introduce new Hemi swap parts at a rapid rate. Before you know it, a running Holley fitted and controlled GEN III Hemi will reside under your hood, and maybe you will be the recipient of the question, "that thing got a Hemi?"