While one can never truly "go home again," we do find ourselves searching for ways to recapture our youth. In the case of Trent and Teresa Hale, their journey to the Fountain of Youth came through the discovery of a '70 Plum Crazy Purple Dodge Challenger.
"I owned a 1970 Dodge Challenger when my wife, Teresa, and I started dating in high school in 1976," Trent told Mopar Connection Magazine. "I think she loved the car almost as much as she loved me. I ended up selling the car after a few short years of ownership as I was young and at the time, wanted something different to drive. Today I wish I'd never sold it. We always wanted another 1970 Challenger, but never had a garage to house a vehicle until two years ago."
As it goes with so many things, life simply got in the way. It took over 30 years, but opportunity finally came a'knocking. Teresa had secretly been searching the internet trying to find another Challenger, and this last October she ran across Volo Auto Museum. Located in Volo, Illinois, the museum advertised a '70 Dodge Challenger in Plum Crazy Purple.
"We made a phone call, set up an appointment and the following weekend drove to Illinois to check out the car. A mere week after paying off our new garage, we bought our Challenger, and it was delivered just in time for my 56th birthday!" Trent laughed.
Unfortunately, very little was known about the car, except for what could be observed externally. The history of the car itself, the details to the powertrain or the like were absent. "The guys at Volo said they were told the restoration had been done about 10 years ago and they believed the car had been sitting for a while. We attempted to contact the previous owner to learn more about the history of the car, but have been unable to reach him by phone or mail, so unfortunately, we have no knowledge of its former life."
Although wearing R/T badges and belt stripe, the Challenger was definitely not a true R/T from the factory. The engine is a '73 400 block that has been purportedly bored and stroked to 440ci, with 906 casting heads, an aluminum Street Dominator Holley dual plane manifold. The TorqueFlite is by all observation, stock with a street-friendly 2,200rpm stall converter and stock shifter. A Rim Blow wheel and woodgrain touches speak pure 1970s.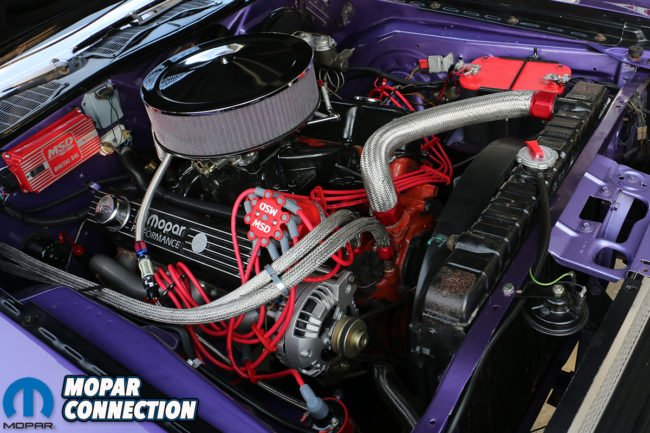 "We realized when we were checking out the vehicle that she definitely needed some TLC," Trent prefaced. "We went to our first cruise-in a few weeks after she was delivered and learned it was Mopar night. The guys had us park right up front and as soon as we turned into the parking space, the power steering fluid hose popped off, fluid hit the hot engine and smoke started billowing out from under the hood. Needless to say, we'd made a grand entrance to our first car show!"
Since that first night out, and with the help of a neighbor, Dewayne Campbell, the Hales have made numerous upgrades to the car. "We've replaced the fuel tank with a new stainless tank and sending system, replaced the Holley carburetor with a more user-friendly Edelbrock, replaced the electrical ignition system, spark plug wiring and distributor with a MSD 6AL set up, replaced the transmission pan and oil pan, replaced the factory radio with a digital period-correct stereo and added speakers." A new electronic radio antenna retracts when the radio is switched off.
"She's also had minor adjustments made to the doors, hood and trunk. We've replaced all the marker lights and much of the trim, as the original stainless was bubbled and beginning to flake. We may eventually take some of the original trim pieces and have them restored so that we can put the original Chrysler parts back on the car."
Although sporting a T/A hood and rear spoiler, little else is taken from the Trans Am-edition Challenger. The blacked-out hood, spoiler and belt stripe break up the Plum Crazy, while a polished set of 14×8 and 14×10 Cragar SSTs beam brightly. The Cragars are wrapped in BF Goodrich 245/60/14 rubber.  As to the personalized license plate, that's a different story:
"We lost a our 11-year-old niece last year to a terminal illness and decided to name our Challenger 'Olivia' in her honor and memory. We took Olivia to her first car show May 21, 2016, a Boy Scout Benefit Show in Ashland City and came home with a Top 25 Plaque, Choice Mopar Trophy and Scout's Pick Trophy. We also won 2nd Place Mopar at a Church Benefit Car Show this summer, and at the 60th Annual AACA Car Show in Red Boiling Springs, brought home 2nd Place in the Modified Mopar Class."
As is with most cars, there's still plenty left to do. Trent noted that the "braided lines need to go" and a few other little touches he'd like to add over the coming years. Either way, Olivia the purple Challenger is here to stay. "We are excited to have found our Challenger and when we cruise around, it's like dating all over again (after 35 years of marriage and over 40 years of being best friends). She brings back such good memories of our youth, and she's just plain fun!"