Mark Trostle, Head of Dodge and SRT Design at FCA (Fiat Chrysler Automobiles), is truly one of the nicest die-hard car guys you will ever meet. With a father who was a car designer himself, Mark grew up around cars and naturally had a passion and gift for drawing them. With his father's encouragement, Mark decided to take a few drawing and design courses in high school and did the same when he attended college afterwards. After completing college, he joined on with Chrysler almost immediately and hasn't looked back since. With countless SRT and Dodge project designs (such as the Viper and Hellcat models) under his belt, Mark absolutely loves talking with Mopar owners and seeing what they have done with their cars. We spoke to Mark recently and had the chance to ask him some questions about his passion for designing cars as well as his opinion on some current automotive topics:
Mopar Connection Magazine: How did you get into designing cars for FCA?
Mark Trostle: During college I had internships at both GM as well as Chrysler which gave me a chance to meet and experience people from both teams. I had opportunities to at a few different auto companies, but Chrysler was where my heart was. The 1989 Dodge Viper concept car which was debuted when I was a sophomore, was one of the main reasons. I wanted to be a part of the company that would design a vehicle like it!
MCM: You always seem to be adding to your personal car collection. What's in your current collection?
MT: One of the benefits of my job is that I have the privilege to drive a variety of our products. I enjoy being able to post some of them on Instagram. I've been fortunate to own several Mopars throughout the years. A few of my favorites were a GLH Turbo that I autocrossed, a show room stock Neon that I raced in SCCA and a 1970 'Cuda. My daily driver is a Challenger Hellcat. I also currently own a vintage 1932 roadster and I have a GTC Viper (from the 1-of-1 program) on order which happens to be Vin #1 for 2017, I'm really excited for this one!
MCM: What's your favorite 1960's or 1970's Mopar? Favorite aspect of that car?
MT: The two that make the hair on my arms stand up are the 1970 AAR 'Cuda and a 1970 Hemi Shaker Challenger. Those sum up Mopar to me. I could stare at them all day! They are such emotional vehicles from their performance, the way the sound, to they way they look. My hope is that one day, in 20 plus years, someone will look back at the products we're creating and designing today and have the same emotional connection with them as I have with Chrysler's past.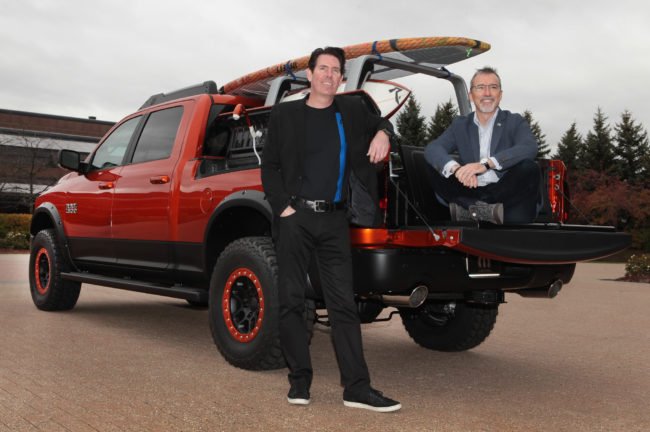 MCM: If you could bring back any vintage Mopar color that hasn't been brought back yet, what would it be? 
MT: I can't give any secrets! Truthfully, I'm a big fan of our past and many of the iconic colors from the 60's and 70's still resonate well and our customers love them. I've personally always been a fan of F8 Green.
MCM: Do you have a favorite project you've worked on? What's your favorite design or concept that never made it to production?
MT: That's a tough one as I have had the privilege of working on many exciting projects. I would have to say that working on the design of the Gen 5 Viper while simultaneously working on the development of the GTS-R Viper race program has to be a highlight of my career. Working on such an iconic car with such an amazing group of talented designers and engineers was humbling and rewarding.
If I had to pick one that I would have liked to see make it to production, it would be the SRT Tomahawk Gran Turismo project we created for the video game. It was a fun program with outrageous style and performance. At least we can drive it in the video game!
MCM: Do competitor's designs influence you when working on new designs? Is there a particular design you like (interior or exterior) that is not your own?
MT: I respect our competitors and what they do. It's important to be aware of their strengths. I love the fact the horsepower wars are still going strong between us.
MCM: When you go to car events and see what people have done with their Mopars (as far as modifying and personalizing their cars), do you ever use any of their ideas for future products? If so, can you remember a case where that has happened? 
MT: I can't say we have ever used an idea that we saw at a car show; however, more important than that is what we get from a passion and the creative side. We take that enthusiasm and put it into the products we're working on. I love the fact that our customers modify and personalize their Mopars. I think we give them a good canvas to start from. It's always such a pleasure taking to owners about their vehicle and what they have done to it.
MCM: Your favorite feature on the Hellcat models?
MT: The air catcher headlamp on the Challenger is one of my favorite features. It's a perfect example of form and function working together. In fact, the idea came from within the design studio as we were trying to figure out a way to get more air into the air box. We did a quick sketch and shared it with our engineering counterparts and created a mock-up to test in the wind tunnel. I'm also proud of the aggressive face that we created on the Dodge Charger SRT.  We were able to create something that is very intimidating coming at you on the road.
MCM: When working on a SRT-specific version of a vehicle, are their clear goals in mind (for example top speed or handling capabilities) that dictate general requirements (how many hood scoops or extractors, etc.) from the start, or do more "happy accidents" come from the evolution of the development of the platform (like the "nostrils" cut into the front of the SRT-4 Neon late in development)? 
MT: That's the part of my design job I really love. Making sure that we make our vehicles are beautiful and sculptural while still integrating the functional requirements. That separates just styling versus design. Working close with our engineering counterparts both in the wind tunnel as well as the manufacturing side allows us to keep both.
As designers we are able to help create forms that, such as on the Viper ACR wings, dive planes and splitter, that not only look like pieces you would hang on your wall as art to show off but are also extremely functional. Meeting the performance and functional needs of our vehicles while still making them fresh and beautiful to our customers is always my goal. I love that challenge.
MCM: How do you feel about the rumors that the future of SRT is turbocharged V6 engines versus the current Hemi V8s?
MT: Can't believe everything the internet says.
MCM: With many European performance vehicle brands switching towards electric powered vehicles, how do we reconcile the environmental benefits of electric power with the silence that accompanies it versus the emotional and passionate attachment to the sound of a performance engine that many of us car enthusiasts have? Some brands are choosing to help aid that with in-car sound systems that play engine sounds. As a designer, what are your feelings on that subject?
MT: One of the best parts that we own, and not many can copy, is that we are American performance. The Challenger, Charger and of course the Viper are very unique to our competition, and we like it that way. I think that fitting new technology into our future products is a must, but we must also always keep the Dodge and SRT DNA as we go forward. Our products evoke a level of passion with our customers that makes us special to the rest.
MCM: Do you have any words of advice for any aspiring automotive designers? 
MT: Follow your passion! The key is to practice sketching, as much as you can, and find the best design school and focus on your goal. It's a very competitive field but hard work and determination will pay off!