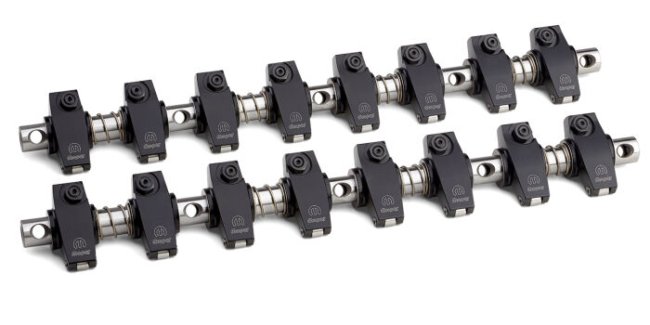 Everyone likes options. Whether you're eating at a restaurant or building a small or big block Mopar, having options to choose what you want is great. When building a classic Mopar we all so familiar with having limited options. In the Mopar world, you normally only have a couple options at best.
Our friends at Proform Parts believes that we all should have options, even us Mopar guys. Whether its multiple color options for engine dress up kits or having more rocker arm options for both small and big block Mopar.
Preform Parts recently released new officially licensed Mopar Rocker Arm kits for both big and small block Mopars. These all new aluminum rocker arm kits feature bronze bushings, a roller tip, and black anodized finish with the Mopar emblem.
The kits are sold with hardened shafts and hardware for an easy installation onto your big or small block Mopar. The kits are designed to reuse your stock bolts and tabs to attach the rocker shafts to your engine.
The best part about the new Mopar Rocker Arm kits are the ratio options available. You can choose between 1.5 and 1.6 ratio in the small block rocker arm kits. The big block kits have the option of 1.5, 1.6 and 1.7 ratios. Yes, you now have the option of a 1.7 ratio for your big block Mopar.
No matter what ratio you choose, these officially licensed Mopar Rocker Arm kits are race proven and will help your Mopar unleash more horsepower. The combination of adjustable push rod tips and roller tips, these rockers will help lengthen the valve train life and reduce wear on the valve stem tips.
These kits are in stock and are shipping now. All you need to do is head to you favorite Proform Parts retailer like Summit Racing and order your kit today.