Weekends are for relaxing, that is when you do not have speed parts waiting to be installed. Switching carburetors on our 1971 Road Runner's mild 383 was way overdue, but thanks to Proform Parts we finally had a new carburetor. The new Black Street Series 850 carburetor got the car running better than ever from idle to wide open throttle. We should have called upon Proform Parts a lot sooner.
The Road Runner was restored a few years ago and have plans for a fresh 440 to be dropped in. The car sat fully assembled waiting for a power plant, as other projects became higher priority, the Road Runner collected dust. We came across a clean mild build 383 pulled from a running car and decided to throw it in the Road Runner for the time being. The motor sounded great but the carburetor had seen its better days.
Above: From the minute we opened the box we knew the Black Diamond Street Series Carburetor was exactly what we needed.
The debate on proper size carburetor can and will be fought until the end of time. We have had many different combinations and some that supposedly would not run well and did the exact opposite. Proform's 850 Black Street Series Carburetor might be on the larger size for the motor but we are planning on ditching the 383 soon and swapping it to a 440.
Our goal was to gain performance but keep the Road Runner easy to drive on the street. Proform Street Series carburetors was exactly what we were looking for. The mechanical secondaries would give us the response we wanted while the electric choke would allow for an easy start in any degree weather. In Ohio, the driving season can last until late Fall which can get quite chilly.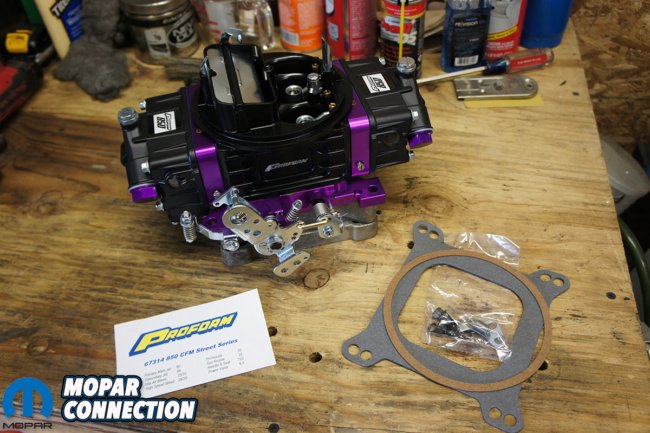 Top: Proform Parts includes new air cleaner and carburetor to manifold gaskets. Bottom Left: Some of our favorite features are the large idle air screws and easy view sight glasses. Bottom Right: Although the Street Series Carburetors have a choke, they are equipped with easy to change air bleeds for more precise tuning.
When we received the carburetor, we tore into it to see exactly how well it was assembled. We all know horror stories of new carburetors being full of metal shavings, floats stuck, loose parts, etc., but not with Proform. With roughly a $500 price point for all the features that Proform includes, we expected to find some truth to the rumors that circulate about the other carbs, but opening the box there was nothing to lump Proform in with the others. We still wanted to see the inside anyway.
The Black Diamond finish is what caught our eye from the beginning and it did not disappoint. The coating is done very well and we see no reason why it would not hold up for years to come. The satin black gives a great performance look as well as a protectant from corrosion. Also, "The Black Diamond coating reduces fuel temperature by 6%, roughly 10 degrees." according to the manufacturer's website. 
Above Left: Proform Parts' Black Diamond 850 Street Series Carburetor weighed in at 7.4lbs. Above Right: The basic stock style cast steel carburetor weighed in at 11.4lbs, which was 4lbs heavier. 
We got the carburetor out on the work bench and dove right in. While handling the carburetor, we instantly could tell that the it would be much lighter than our factory one. It weighed in at 7.4 lbs and a stock style carburetor came in at 11.4 lbs. That is a savings of 4 pounds might not seem like a lot, but every pound counts.
Pulling the bowls and metering blocks off was not a huge deal. Everything was torqued properly and the non-stick gaskets made it easy for us to disassemble the bowls and metering blocks. As we expected after our initial impression from opening the box, the bowls were free of debris or any shavings. Jets and power valve were tight and everything else looked great. Remember that none of this is necessary, we are diving further into the carburetor than needed. Proform's carburetors are all ready-to-run right out of the box.
Above Left: The primary bowl uses a brass float, a pair of 80 jets and a 6.5 power valve. Above Right: The secondary bowl is equipped with a notched nitrophyl float because of the jet extensions. 
The purple anodized billet metering blocks were intriguing from the beginning. With the bowls off we could see the craftsmanship of the metering blocks. The billet was machined smoothly with no sharpe edges or burs anywhere to be found. There was no unnecessary cavities or machining, the metering blocks are kept simple for uninterrupted fuel flow. The metering blocks have threaded holes which allow for custom tuning idle feed restrictions and emulsion programing.
The four corner idle air screws were large, had nice amount of knurl on them for quick hand adjustment or a groove in them for a screwdriver. Proform equips the rear metering block with jet extensions in preparation for hard launches keep the jets submerged in fuel. Everything looked great and we reassembled the metering blocks and bowls with the non-stick gaskets.
Top Left: The throttle bracket is adaptable to any linkage and works with other modular carburetor brackets if needed. Top Right: We are very excited about the electric choke, as a street driven car it will help during initial startup. Bottom: From the bottom you can see the multiple vacuum ports, secondary throttle plate adjustment screw, the dual accelerator pumps and many other fantastic features from Proform.
Not only was Proform's Black Street Series carburetor impressive on the inside, the features continued on the outside too. The built in sight glasses allow for easy no mess fuel level reading. No more worrying about fuel spilling or loosing fuel bowl screws while checking the fuel level in the bowls. If they happened to get scratched or stained you can remove the c-clip and replace the glass. The bowls are also equipped with fittings on either side to allow for fuel lines to be connected on either driver or passenger side. 
The main body is where all the magic happens. Although we choose the street series carburetor, it was still built with performance in mind. The main body was smooth and edge-less for maximum airflow. Down leg boosters filled the venturis. Tall vent tubes ensured no fuel would slosh out during hard stops or launches. With easy to change high-speed and idle air bleeds, you can fine tune the carburetor perfectly to your engine combo. 
Above: Our 1971 Road Runner looks great but now it will run great too.
We flipped the carburetor over to get a look at the purple anodized billet base plate. You will find the same precision machining on the base plate that was found on the metering blocks. With radius edges and a smooth finish, these small details will help air and fuel to flow together easier and atomize better. They use precision throttle shafts for long term performance. All the hardware is plated to protect from rust while giving it a superior look. Proform also equipped the base plate with multiple vacuum ports for accessories or gauges. 
Once we were done tearing the new carburetor apart, it was time to put it to the real test and install it on our 1971 Road Runner. Although the 383 looked stock, the previous owner made a few changes to the internals. The Carter carburetor was one we had sitting around and threw on for the time being. The Carter had seen better days and was costing us performance. The Proform Black Street Series carburetor was a perfect fit and allow us to gain the benefits of mechanical secondaries while still having an electric choke for those cold starts. Most electric choke carburetors are equipped with vacuum secondaries, which is another reason we were excited about Proform's Street Series of carburetors.
Above Left: A little mist of rain started but stopped and we continued to work on the Road Runner. Above Right: The last time we will have to stare at the old leaky Carter carburetor.
Switching out carburetors is not a difficult task. The whole process only took us a couple of hours and that was with fighting the rain. It could have taken much longer if we did not have a garage of spare parts lying around. We ran into a few roadblocks that luckily we overcame rather quickly but if you are not prepared it could create a longer delay. 
When switching from the Carter carburetor there were a couple things we had to prepare for. The fuel lines are completely different. The stock 383 manifold did not have much of a rise and we needed the Proform carburetor to sit higher for all the linkage and fuel line to clear the manifold. Also, the Carter was a spread bore bolt pattern and we needed a square bore pattern.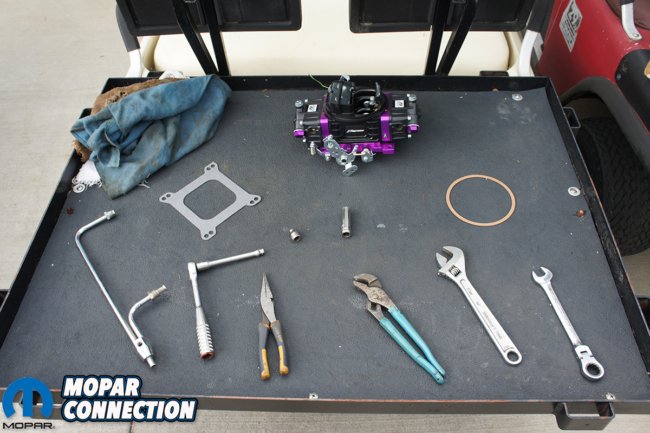 Top: Swapping carburetors only requires a few simple tools. Bottom Left: With the Carter off we were ready to slap on our Proform carburetor. Bottom Right: The gasket, hoses, and Carter carburetor have seen their better days.
Eventually there will be a 440 with a different manifold under the hood but for now we grabbed a spacer off the shelf to increase the height of the carburetor to give us the clearance we needed for our dual feed fuel line. Be sure to check your hood clearance with the spacer, carburetor and air cleaner installed before you slam your hood shut and create a huge dent in the middle.
We needed a dual feed fuel line which we had lying around. The fuel line from the pump needed extended to reach the dual feed fuel inlet that we positioned towards the firewall. We also had to relocate the coil from the intake to either the firewall or inner fender.
With the fuel line and carburetor bolted to the manifold we moved onto the throttle cable and kickdown linkage. Once again we had to dig though our box of carburetor parts and find a Chrysler style bracket to bolt onto the throttle bracket on Proform's carburetor. We had no difficulty finding a bracket since Proform's carburetors are compatible with other modular carburetor manufactures parts.
Above Left: We needed to add a Chrysler style throttle bracket to hook up out throttle and kickdown linkage.  Above Right: The rain caused us to take a small break, luckily it did not stick around long. Bottom Left: The four corner idle screws did not need much tuning but was very easy with a flat head screwdriver. Bottom Right: Adjusting the fuel level was simple with a 5/8 inch wrench and flat head screwdriver. The sight glasses prevented a giant mess and easy to view.
As we were installing the throttle linkage bracket, the skies started to shed some water. Luckily, the rain did not last long but rained just enough to get everything wet. When the rain stopped we jumped back into it and finished installing the bracket and throttle linkage. We wired in our electric choke and were ready to fire up the car. 
Proform equips their 850 Black Street Series Carburetors with 80/86 jets, 35 nozzles and a 6.5 power valve. This should be close for our mild 383 but can easily make adjustments if needed. Unlike other street carburetors, Proform also equips theirs with changeable idle feed restrictors. With a little work we are able to tune the carburetor exactly to our needs. 
Above: With minimal adjustments the Proform Black Diamond Street Series Carburetor was ready to hit the street. Performance and good looks at a budget price, what else could you ask for?
Once we pumped enough fuel into the bowls the car fired right up. We adjusted the fuel level in the bowls just a tad and let it warm up. The throttle response and start up was much quicker than prior. As we took it for a couple drives the improvement was a night and day difference. We could gain a little more from precise tuning with a vacuum gauge but we will leave that for another day.
Do not let the budget price point of Proform's Carburetors scare you. Proform surpassed all of our expectations. The quality of the fit and finish is as good if not better than many others on the market with a higher price tag, and definitely ones with a lower price tag. Straight from Proform's site, "Our goal is to provide the performance enthusiast with innovation, quality, and affordability in all our products – giving the customer maximum value." We could not have said it any better. If you are in the market for a new carburetor be sure to look up Proform's Race & Street Series Carburetors ranging from 600-1050 CFM.