It was early 2004, and with two second generation Charger restorations completed under his belt, Bill Mann was getting the itch to start up yet another Mopar project. "I had considered tackling an E-body to do something different as I had B-bodies but everything I found at the time seemed to be either a basket case parts car or a mega buck restored car. There was seemingly nothing in between out there at the time," says Bill.
Frustrated, Bill looked back into the B-body world and set his sights on searching for something he was familiar with: Chargers! With a '68 and a '70 R/T in his garage, Bill started his search for a '69 to complete the trifecta. Since he'd been familiar with these cars for a few decades now, he had accumulated quite a stockpile of Charger parts, so in that aspect it made total sense to go for another second generation Charger.
Bill tells us, "I put the feelers out to some fellow Mopar friends, and one recalled seeing a clapped out '69 Charger sitting in some guy's driveway. Best of all, this car was literally less than 10 miles from my house. All he could tell me was that it was green (no surprise), and sitting on trailer "wagon wheels."
Curious to know more, Bill eventually made it to where the car was located, and sure enough, there it sat. Just as described, it was green and had "wagon wheel rollers" on it. The Charger was rough and pretty stripped down. There was no interior, no engine or transmission, no bumpers, grille, lights; nothing. The driver's fender was buckled and the door was bashed in. The passenger quarter panel was rotted and Bill could see the trunk floor was full of pinholes. "This car was going to need some work no doubt, I thought," recalls Bill.
No one was home, so Bill left his business card on the windshield with nothing else to go on except crossed fingers. A day went by, then two, then three, then a whole week. Bill figured that was that, and the search went on. Then the phone rang. Bill says, "The owner introduced himself, and proceeded to tell me that he was in the process of moving and had been trying to sell the car all along, and that it had to go right now. I asked him, "What happened to the car, why was it apart and where are all the parts?"
He replied that he purchased the car from his next door neighbor and had all intentions of restoring it. "All the parts are in my garage", he said. "Engine, transmission, interior; everything. I even have extra parts." I gulped and asked him how much he wanted for it. "$800 bucks. Come get it."
With no time to spare, Bill quickly hooked up his trailer and grabbed some tools. "With all of the commotion, my wife Laurie saw me hooking up the trailer and asked "Where are you going and what are you doing?" Busted. "Um, going to look at a car?" I said. Her final words were "What are you going to do with this thing," and "Please don't come home with a piece of junk!" Sur honey," laughs Bill. (For the record, Bill says he's a lucky guy as his wife is very supportive and understanding of his car hobby!)
Bill quickly rolled up to the owner's house and start talking about the Charger and going over things. It turns out the car was a '69 base model, originally Medium Green Metallic with a green top and green interior; somebody liked green! It left the factory as a 383 4-speed which was long gone and had been converted to a 440 automatic at some point. This 'conversion' consisted of simply torching a big hole in the floor for an automatic shifter and more torched holes were found in the shock towers, presumably for quickie spark plug changes. The seller showed Bill some extra parts, including a trunk lid, gauge cluster, and some other small parts.
Bill continues to say, "I start going over the body and taking into account the work involved to restore it. I checked out all of the parts he removed, which were all pretty much shot and needed to be replaced anyway. Sadly, the fender tag was missing but perfect for what I wanted to do, I thought. I make an offer of $600 bucks. He replied, "You really want this thing?" Yep. After agreeing to the deal, Bill loaded his new Charger into the trailer and filled up his truck with parts. He tells us that he ended up making three round trips just to bring the car and all the parts home!
"When I got it home, Laurie came out to check out the new addition to the stable. I opened the trailer door, waiting to hear her brutal opinion on it. "Hmm, it's not as bad as I thought," she says. I breathed a sigh of relief. She asked me what my plans were, and I mentioned I thought about just slapping something together and making it into a General Lee or something. "I ain't riding around in no General Lee!" she tells me. I thought quickly for a moment, and simply asked her to pick a color. Her favorite color is Sublime Green, so at that moment I knew once she said Sublime this could become something cool," shares Bill.
With a color picked out, Bill started planning the rest of the car. Since his '68 Charger is stock appearing and his '70 Charger R/T is OE restored, he decided he wanted to make this one fun and a bit different, so the pro-touring route was the way to go he thought, and would round out his Charger collection nicely. Since the Charger was non-numbers matching, had no fender tag and most of the original parts were missing, it was the perfect candidate.
The first line of order was the body. Bill would work on the Charger either in his home garage or alongside the house, doing nearly all the work himself. Everything was removed and disassembled, with the exception of the suspension and steering just to keep the car moveable. All the rusty stuff was cut off, and the body and parts were sent out to be sandblasted. Upon return from the blaster, it was coated with PPG epoxy primer and POR-15 was used in other areas.
The bodywork quickly began and included replacing a radiator support lower tie bar, hood, left fender, left door, right quarter panel, outer wheelhouse, trunk floor, floor extensions, deck lid, lower valance and lower corner caps. All other areas of the car required repairs, including welding patches to the left quarter panel and around the back window.
While Bill worked on the body, the '70 dated 440 engine that came with the car was sent to a local machinist, NT Racing in Middlesex, N.J. The engine was punched .040 over, and includes Keith Black pistons, Six-Pack rods, Edelbrock heads, a Lunati cam, a Six-Pack setup from Pro-Max, custom fabricated valve covers, and a custom serpentine setup. The engine was dyno'd at 518hp and 572 ft. lbs of torque by Pat Musi. Going with the pro-touring theme, the engine was mated to a Silver Sport Transmissions (SST) automatic overdrive transmission.
With the drivetrain complete, the bodywork continued, and once it was finally completed, arrangements were made with the owner of a local shop who let Bill come in on a Saturday to paint the car. The black V21 hood treatment was laid out previously at home along with the 440 engine callouts, which were done in a Toyota 3-stage pearl white, all buried under clear coat for a smooth custom look.
Bill painted the rest of the body with PPG FJ5 Sublime and PPG 2002 clear. After the paint was completed, the body was then brought back home where the fun started of putting the car together. The stainless trim was polished and restored by his father. A new windshield was installed and the rest of the glass was cleaned up and re-installed. The restored grille went back in place backed by super bright HID headlamps.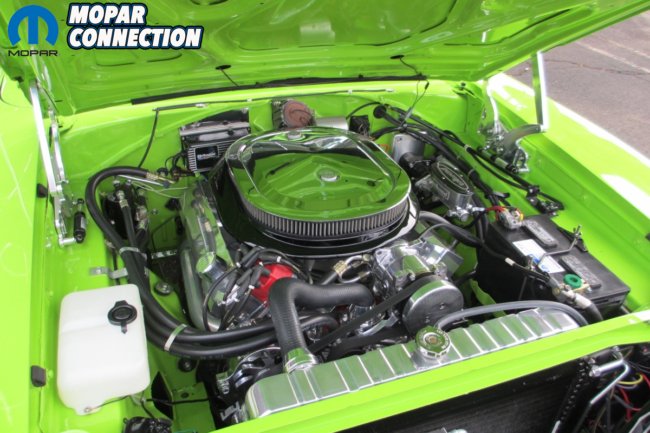 Working in his home garage, Bill rebuilt the front suspension with urethane bushings, Hotchkis' upper control arms, front and rear sway bars, shocks, and torsion bars. The strut rods and tie rod sleeves were upgraded with beefy aluminum pieces. The 8 3/4 rear end was rebuilt with a 3:91 Sure-Grip and Mopar Performance leaf springs.
The body was also stiffened with Mopar sub-frame connectors. The steering was upgraded with a Steer-n-Gear Stage 2 steering box and stopping is done by a Wilwood disc brake system featuring 6-piston calipers up front and 4-piston calipers out back combined with drilled and slotted rotors and a RMS Hydroboost system to handle the braking power.
After some thought, Bill and Laurie decided on Foose Challenger wheels from MHT Alloys with 19x10s out back and 18x8s up front. They are mounted on BF Goodrich KDW2 tires, 295/35R19 in the rear and 245/40/R18 up front which fill up the wheel wells nicely. Once the car was rolling again, the 440 was put back in place along with the SST transmission. An aluminum Griffin radiator keeps it cool and a full TTI exhaust system was installed, including polished headers, 2-1/2" X-pipe, and Dynomax mufflers.
With that all complete, Bill went to installing a new vinyl top and headliner from Legendary. The gauges were rebuilt by Redline Gauge Works with a white-face conversion. New carpeting, sill plates, package tray and door panels all went in. Clean original parts were also sourced, as most of the interior parts that came with the car were trashed.
A set of Corbeau GTS II bucket seats were found locally, and were reupholstered by Victor's Custom Upholstery in Perth Amboy, N.J using vinyl material direct from Legendary to match the original pattern of the rear seat. The result is very factory looking custom seats! They were mounted on Corbeau seat tracks, which were chopped to get the right seat height. The interior is topped off by a Grant GT steering wheel and a Classic Auto Air A/C system keeps the interior cool.
Bill is a long time musician so a good sound system in the car was a must-have, so Z&R Auto Salon got the nod for the stereo installation which consists of a Secret Audio head unit, 6 Alpine speakers in the cabin and 2 Alpine subs in the trunk in custom enclosures; all powered by 2 separate Alpine amps. The whole build took approximately 5-6 years to complete.
"It was enjoyable because I could take my time and just work on it as time and funds allowed. There were no endless hunts for correct or NOS parts and I could modify things as I liked without concerns for originality. It was refreshing for a change versus my previous two restorations", says Bill. Since its completion, it gathers a lot of attention wherever it goes. Look for it this year at Chryslers at Carlisle in the Manufacturer's Midway where it will be featured in the Silver Sport Transmissions booth.