As far as crazy obsessions with 1971 Plymouth and Dodge B-Bodies go, it's safe to say that David Brennan of New York is certified obsessed. David absolutely loves everything Mopar and his favorites are 1971 B-bodies; having owned a couple of '71 Super Bees as well as a couple of '71 Road Runners, including a very cool survivor Road Runner that we recently featured.
A few months back, David was asked to be apart of the 2019 Buffalo Motorama with his F7 Sherwood Green 1971 Road Runner 340. He shares, "It was my first indoor show and I was super excited to show off my Road Runner. As many know, I have a huge obsession with everything 1971 B-Body. Through-out the weekend, I had many conversations with a lot of people about my car. One gentlemen I spoke to approached me to tell me he had a 1971 Road Runner 340 as well. Mind you, when you're at a show, everyone has a story about a car they had back in the day or one they say they have at home."
He continues to say, "This man was different though. He had a lot of details and even a photo to show me. It didn't take me long to realize that he was legitimate. He introduced himself as Holgar and told me he was the owner of Supercar Restorations in Wellsville, New York. After we got talking I was anxious to know more about the car. He told me it was fully restored and GW3 "Sno-White". Now, you must know that two of my favorite options on a '71 Road Runner are a 340 and "Sno-White" so this car hit both nails on the head for me! We continued to chat about the cars but that was about it."
A few months later, David decided to list his green Road Runner for sale on eBay. Someone shared his listing on the Moparts forum and shortly after, he received a message from Holgar. He wished David luck with the sale and mentioned that he might be listing his white Road Runner for sale as well. A week or so went by and David's car didn't sell. He tells us, "I saw Holgar's car get listed on eBay and man, I just knew if my green car sold; I was going to own his! I quickly re-listed my car on eBay with hopes it would sell in time to bid on his. Holgar's car didn't end up meeting it's reserve price and therefore was a no sale. However, my car sold."
David quickly messaged Holgar to try and come to some sort of deal. He had just recently picked up a '68 Charger R/T "barn find" project that he knew Holgar would love. "When we were at Motorama, Holgar actually had a Charger parked in the show behind me and had just recently picked up another Charger project. I had no intentions of getting rid of my Charger project but if it could be used in a deal for the white Road Runner, by all means I'd do it. I decided to offer the Charger up as some sort of trade for the Road Runner," shares David.
Holgar seemed intrigued by the trade offer. He was only about an hour and a half away from David which made it that much easier to make a deal. He decided to come up and look at the Charger and although the car was a bit rough, he said that it was something that he could work with. Him and David came to an agreement to trade the Charger and some cash for the white Road Runner; upon David personally inspecting the Road Runner first.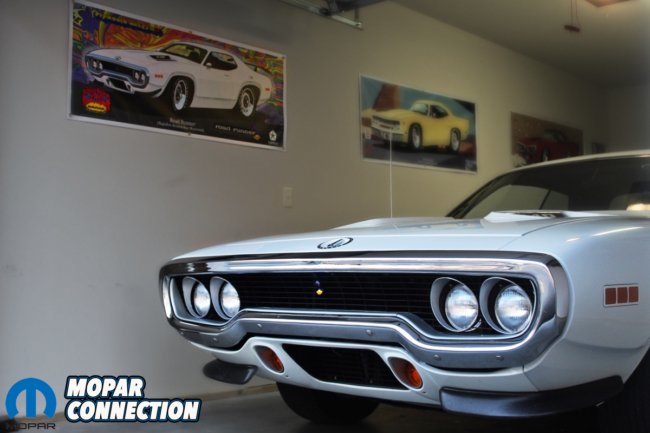 He says, "A couple of weeks went by and we both finally had time to meet up. I loaded up the Charger and my brother and I headed out to Wellsville to finally see the Road Runner in person. If it was as good as Holgar said which I had hoped, it was coming home with me. I arrived at Holgar's house and as I pulled into his drive way, I saw the Road Runner. I couldn't get out of the truck fast enough."
"It was exactly what I wanted and the restoration he did on the car exceeded my expectations. Holgar is not only a Mopar enthusiast but very well known for his high end Mopar restorations. As a fellow restoration tech and Mopar enthusiast, I know quality when I see it. He did a fantastic job on the car and restored it back to original specifications. Although he restored this car to be his driver, it is a true show car."
With the inspection going very well, David unloaded the Charger and brought home his new Road Runner. It's a late built car, actually built around the last week of 1971 Road Runner production. As mentioned, it came in GW3 "Sno-White" paint with a black bench seat interior. Under the hood is a 340 backed with a column shift 727 Torqueflite automatic. As per the fender tag and broadcast sheet, it came equipped with dual machine gun exhaust tips, dual chrome racing mirrors, strobe stripe delete and front and rear spoilers to name a few of the options.
"I've now had the car a couple of months and have absolutely zero complaints. "Sno White" is her name and she remains a show car and weekend driver. Since I've had it, it has been to two Mopar shows and has won at both. I have added new Rallye wheels and Polyglas tires. Besides that, I have no desire to change anything else on the car. It's look is truly perfect to me! I even had Robin McQueen over at Automolove.ca design an awesome banner of the car which proudly hangs on the wall next to it!"