Back in 2004, Dodge announced they were building a new station wagon that was about to take the wagon market by storm. The Magnum welcomed us back to the core of a true American station wagon. The trim levels included the base model SE & SXT (with the 2.7L and 3.5L V6 engines), the 5.7L Hemi V8 R/T and the big daddy of the lineup – the SRT8 with its 425 horsepower 6.1L Hemi V8.
Combining styling, power and versatility, the Dodge Magnum was intended to prove that a station wagon could be cool again and that it did! Very well. Sadly, the Magnum lived a short life with production only lasting from 2005-2008 but it left its mark in history that's for sure.
Ron Palma of Surrey, British Columbia first saw a Dodge Magnum owned by NBA basketball player Carmelo Anthony back in 2004 in DUB Magazine. It was Inferno Red and had a set of 22-inch wheels on it. "I absolutely needed that car! It looked so mean and the design was so bold and different," Ron told Directly Connected.
About two years later, he found a lightly used Bright Silver 2005 Dodge Magnum R/T with 24,000 kilometers and scooped it up right away. After about 5 months of owning his Magnum, he bought a set of 22-inch TIS-07 wheels for it. "I said that was it! I created my baby and it was going to stay that way."
Like most car guys, that didn't last very long. The very next month, Ron met a group of modern Mopar guys who had a small local club (who he is still great friends with to this day) and that's when the modding bug bit him. (He is a member of a various number of car clubs including BCLX, BCModernMopar, Mopar360, Street Creationz, Flipformance & Statik Kings.) The group was small to start, consisting of three Magnums, one Charger and one Chrysler 300. That small group grew quick and so did Ron's desire to mod his Magnum.
Every year, he would do a small mod or two such as Billet Technology radio knobs or an aftermarket front chin spoiler. Eventually, those small modifications grew to even bigger modifications. The bug finally hit its peak when Ron decided to make the twenty-hour drive to Vacaville, CA from Vancouver, Canada to see Joel and Cho at Wiked Kustomz to get a full air suspension installed in the car!
Ron continued, "In the end I wanted a vehicle that was super 'clean.' One that people would look at and wonder if it was stock. That everything changed or modified to the vehicle looked like it belonged. For the most part I think I have achieved that. I run all ideas through my 9-year-old son Tyson. He has a great eye for things and he loves this car more than I do! The Magnum is still such a unique car. Aggressive, chunky yet sleek. A pure modern muscle wagon. To me there's still nothing on the road like it."
As it stands right now, the Magnum is heavily modified from one end to the other. Beneath the hood, the 5.7L Hemi V8 sports a Leg Maker carbon fiber cold air intake, SuperChips 91 octane performance tuner and Flowmaster Super40 exhaust with resonator delete (custom fabbed by Oscar Joseph). Additionally, the underhood enjoys Polished Billet Technology billet aluminum engine pieces, Carbon By Design Carbon fiber pieces (engine, fuse box, radiator covers) and a color-matched 3G ABS cover and coolant overflow tank.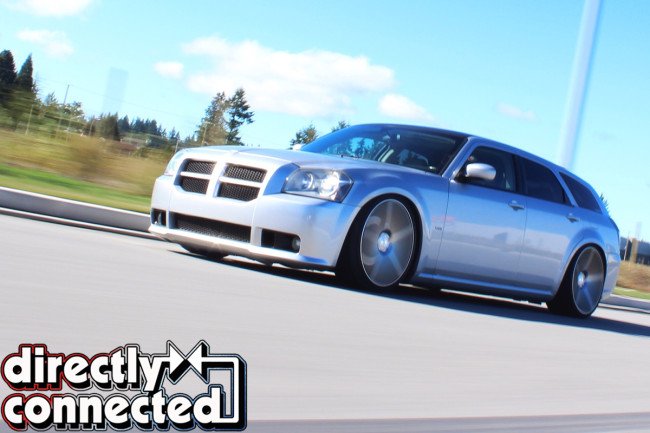 But beneath the body is where this machine shines: the Magnum rides on air suspension by Wiked Kustomz with hardlines by Serialnine, Universal Air Suspension air bags with AccuAir eLevel air management that's controlled by AccuAir iLevel iPhone app.
In the trunk there's dual Viar air compressors with a 5-gallon air tank, Koni STR Orange struts at all four corners, Serious Metal front strut tower bar and custom painted Brembo 4-piston brakes. Those stop a set of machined finished, matte black Vossen CV3 wheels (staggered with 22×10.5 rears, 22×9 fronts) wrapped in Lexani LX Nine tires- 245/30/ZR22 & 265/30/ZR2, respectively.
But hey, that's not all. The exterior shows a filled and shaved SRT8 Magnum front fascia, a Charger SRT8 rear bumper diffuser that's been hydro-dipped carbon fiber, a shaved rear wiper, color-matched headlights with Oracle halos, fog lights fitted with Oracle halos, HID lows and fogs, tinted side markers, tinted LED tail lights, a black vinyl wrapped roof, Charcoal Grey vinyl wrapped front and side mirrors, LSD doors and a color-matched rear spoiler.
Inside is just as impressive with real carbon fiber accents, a leather-wrapped center console, Billet Technology pieces (knobs, shifter handle, shifter plate, pedals, door sill plates, seat switches and handles), and a Pioneer AVIC D3 Head unit. Ron would like to extend his sincere thanks to all who have helped him with this car over the years: Anne-Marie Palma, Roland Jupista, John Silagan, Wiked Kustomz, Serialnine, Rags to Riches Top Shop, AccuAir and Vossen.