It was February 1968 and Joel Johnson's father Jim walked into his local Dodge dealership and ordered a brand new 440 4-Speed 1968 Dodge Coronet R/T. A few months later, the Coronet arrived at the dealership where his father took delivery of it. Shortly after, Joel was born and his parents brought him home from the hospital in the new Coronet.
Around 1978, the Coronet's 440 lost oil pressure so it was parked. As a young kid, Joel would sit in the wounded car and pretend to drive it and drag race. He tells us, "I'm the youngest of three boys. My father was always a Mopar guy so it rubbed off on my brothers and I. Growing up, my brothers both had Dart Swingers; one was a '69 340 4-Speed and the other was a '70 340 4-Speed. I was always their gopher per say while they worked on their cars, grabbing tools for them and holding things."
At the age of 15, Joel decided that he wanted to fix up his father's old Coronet R/T and drive it so he bought a running 440 from a local junkyard. He pulled out the original damaged engine from the Coronet and installed the replacement 440. Within no time, he had the Coronet running and ready to hit the road. Joel says, "That idea ended quickly when my father dropped the hammer and informed me that I wasn't allowed to put it on the road and drive it."
Disappointed but determined to have a Mopar to drive, Joel saved up his money and purchased a '70 Coronet. A while later, he sold the Coronet and purchased a '71 Charger SE with a 383-2bbl under the hood. Since the 383 in the Charger liked to drink oil heavily, Joel decided to pull the 440 out of his father's Coronet that he had installed and install it into the Charger instead. Unfortunately, the Charger didn't last very long as Joel was involved in a bad accident with it thanks to a careless kid trying to pass him on a hill. While Joel was okay, the Charger was written off.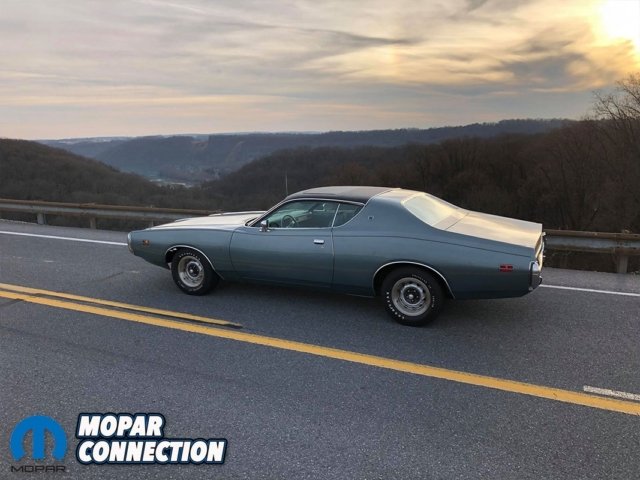 Now needing a new car, Joel continued going to school and working evenings to support his car addiction. Around June 1986, a friend told him about a '71 Charger SE that his cousin had down in Smyna, Delaware that could be purchased. After making quite a few three hour trips down to Delaware to check the Charger out, Joel finally bought it for a price of $300 and hauled it back home. He shares, "The Charger was really cool and unique. It was a SE that came from the factory in GA4 Light Gunmetal Metallic with black and gunmetal interior and a half black vinyl top. Under the hood was a 383-4bbl backed by an A833 Pistol Grip 4-Speed manual transmission. It was optioned with a power sunroof, power windows, air conditioning, 15×7 Rallye wheels, Rimblow steering wheel and a center console."
At some point, the original 383 had broken a timing chain and bent 12 of the push rods so a 440 was installed in its place. Thankfully the seller had kept the original 383 and it was actually laying in the guy's yard beside the car under a tarp. After getting the car home, Joel replaced the clutch, carburetor and both mufflers. He took apart and rebuilt the front calipers as they were stuck and then hit the road.
The following year, he rebuilt the original 383 and then continued to drive the Charger until 1989 when he decided to take it apart for a restoration. "I decided to do the body work myself. The right quarter panel had been dented pretty badly at one point and was beat out and then filled with ¼ inch of filler so it definitely needed to be fixed properly. I completely stripped the Charger down in July 1989 but found more problems than I had originally anticipated. Since my funds wouldn't allow a proper restoration at that point, all work on the Charger came to a halt. Over the next few years, I got married and then came kids and a house so the Charger continued to sit," he explains.
He continues to say, "Every time I got some extra money I was going to use towards the Charger, something else would come up where the money needed to go to. It was a never ending vicious circle. It's like the universe didn't want me to work on my car." Around 1997, he was finally in a better spot financially so he decided to start working on it again. Since reproduction panels for the third generation Chargers weren't really available back then, Joel sourced out a good donor rear clip out of Michigan.
"The Charger that the donor clip came from New Mexico originally so I found a lot of sand in weird places. When I cut the quarter panels out, a lot of sand fell out. Since the donor car spent a lot of time in the north later in its life, the sand drew in moisture and rotten the panel from the inside out. I was able to save and use the right quarter panel for my Charger but the left side was too far gone to use. After a lot of searching online, I found a good left quarter panel in Oregon so I bought it sight unseen. When it arrived, I was sick to my stomach. It wasn't anywhere near as good as I was told. The metal was actually ripped in some spots and had a large dent in the bottom. Thankfully I was able to cut out what I needed to fix mine," he says.
In 2002, Joel was progressing well on the Charger when he hit another large hurdle; the company he had worked with for the past 15 years all of a sudden closed up the doors and let everyone go. He shares, "Now jobless, all work on the Charger came to an immediate halt once again. While fighting to hold onto everything else while job hunting, I almost sold the car a few times but thankfully I didn't." Eventually, Joel found another job and things started getting better. In 2004, he was able to resume the body work on the Charger. Over the next number of years, he worked away on the car until it was ready for paint. Using a rented paint booth that his friend owned, Joel painted the Charger himself in a fresh coat of its original GA4 Light Gunmetal Metallic.
Once it was painted, he worked hard assembling the car until the restoration was finally finished in 2012. He shares, "When I set out to restore the car, my goal was to do everything myself, or as much as possible. With the exception of the upholstery and vinyl top, I did everything on my own in my garage. It was a really fun but frustrating journey but in the end, it was totally worth it."
"The car was invited to the Muscle Car and Corvette Nationals (MCACN) back in 2016 for the Sunroof Invitational Display where it scored 969 points out of 1,000 in the OE class. Not too bad at all for a home built restoration! I even recently re-created the pictures from the original 1971 Charger SE brochure being as my car is a close twin! With the Charger now complete, I plan to start the restoration on my now late-father's old Coronet R/T which I still have!"