Back in the days before social media, kids all over would deliver newspapers door to door. In many cases, delivering newspapers was the typical first job; a way to start earning some money. While most kids spent the money earned from their paper route on baseball gear or video games, a young Kori Alexander from Red Deer, Alberta put his earnings towards something different; Mopars. Growing up in Alberta had its perks for a young Mopar enthusiast as many consider Alberta the mecca of Mopars thanks to their booming oil sector. It's been said that one of the top selling high performance dealers back in the day was Crosstown Motors in Edmonton, Alberta. Needless to say, Alberta was jammed full of Mopars.
It was 1979 and 12 year old Kori would ride his bicycle around his neighborhood doing his paper route. There was one house in particular though that just so happened to be his favorite. In the driveway sat a Hemi Orange 1971 Dodge Charger R/T, a car that Kori quickly fell in love with. "The owner was an oil rig worker up north so he wasn't around the house too much. I remember the paint being badly faded for only being 8 years old at the time but overall the body was in very good shape. " recalls Kori.
Having grown up in a Mopar household, young Kori knew quite a lot about Mopars. Kori tells us, "My dad bought a 440 FC7 1971 Plymouth GTX back in 1972 so I kind of grew up in the car (his family still has the GTX- Ed). My dad wouldn't let me drive it though; he said I had to get my own." That being said, it was his natural instinct to check the VIN number of the Charger on his route. Much to his surprise, the 5th digit of the VIN read 'V'. "At some point, I had looked at my dad's service manual for his GTX and it had the serial number break-down in it, so the second I saw the 'V' code, I knew it was a factory Six-Pack car," says Kori.
To make things even sweeter, the Charger was also a Pistol Grip 4-speed car with black interior, black stripes and a black vinyl top. It was optioned with the Track Pack, hideaway headlights, dual painted mirrors, tinted glass, 15×7 Rallye wheels, G60x15 Polyglas tires, AM/FM radio and a Tuff wheel to name a few. "When I found it, it was missing the Six-Pack. It had some mag wheels on it and a four-barrel setup. I never really had any money for it but I really liked it so I kept an eye on it anyway," shares Kori. Like all good things though, nothing lasts forever. One day while on his route, Kori noticed the Charger was gone.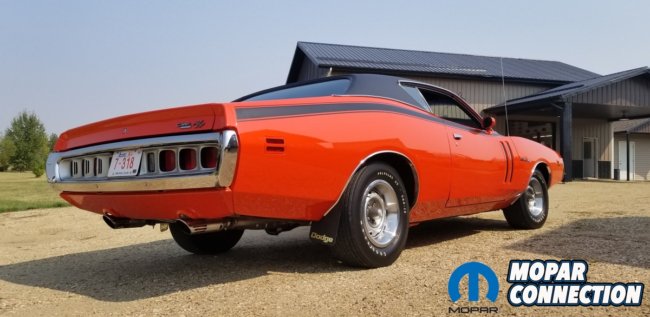 Eventually, he switched to a job pumping gas, saved up his money, got his driver's licence and purchased an orange 1970 Barracuda with a 318. However, as time passed, he couldn't get the Charger out of his mind. Kori says, "Even though I put a 340 in it, the Barracuda had a lot of issues and it quickly became frustrating. One day in 1986, I mentioned the Charger to a guy I had worked with at the gas station and got lucky; he just so happened to know where it was. He gave me directions so off I went. I never expected to see the car again, I figured someone else had bought it and it was long gone."
As it turns out, since it vanished off his paper route, the Charger had traded hands seven times and ended up in the town of Lacombe, Alberta; half an hour away. "The owner had just got his driver's licence taken away and wanted to sell the car. When I went and looked at it on July 4th, 1986, the owner had expressed interest in my Barracuda so we worked out a deal. I gave him the Barracuda and $900 cash and brought the R/T home. He just really wanted an E-body; I don't think he knew he had a factory V-code car let alone that it was only 1 of 80 built with a 4-speed. It still had the four-barrel setup on it at this point. I managed to buy it right before the big price jump happened in the Mopar world and everyone started checking serial numbers looking for Hemi and Six-Pack cars. It was the perfect timing."
While he finally owned his childhood Charger, the car was in worse condition than it was when he had last seen it. "It had 79,000 miles at this point and had started to deteriorate over the years. The paint was faded even worse than I had remembered, the seats were ripped and the brakes were bad. Rust had started taking over the bottom of the front fenders and quarter panels as well as the wheelhouses and inner fenders around the hood hinges," shares Kori. The Charger needed a lot of love but that was no problem for Kori who know worked as a technician at Southside Chrysler in Red Deer. Kori quickly got to work and managed to make the Charger mechanically sound and tossed a coat of paint on it. He would spend the next eight years driving it to shows and cruising around on the weekends.
In 1994, he decided it was time to treat the Charger to a full rotisserie restoration. Utilizing some extra space at work, Kori stripped the car apart and mounted it to a rotisserie. From there, the car was sandblasted and primered before being handed off to the dealership's body specialist, Jimmy Lo. The rust was cut out and then Jimmy worked his magic making hand-formed replacement pieces out of 20-gauge sheet metal. Once everything was welded in, ground down and sanded, the body was sprayed in Sikkens Autonova primer before being given to the dealership's painter, Arnie Kozak for a fresh coat of Sikkens Hemi Orange.
The original 440 was sent off to Custom Engine Works in Red Deer where it was bored .20 over and then rebuilt back to factory specifications. Once the freshly rebuilt 440 was back in his hands, Kori bolted everything back together with a proper Six-Pack setup he had found. When the body and paint work was completed, Kori went to work detailing and painting every nut, bolt and part to a factory-correct finish as well as perfectly duplicating all of the assembly line markings.
The interior was redone by Arlo's Interiors with the only new parts needed being a carpet kit, headliner and seat bottoms which were sourced from Year One. A new vinyl top was installed by Arlo's Interiors as well and the stripes were installed by Rick Leite from Western Auto Graphics. All of the other work you see was done by Kori's talented hands. Since completing the restoration in 1996, Kori has moved on from his technician job at Southside Chrysler and opened his open shop, Show & Go Restorations where he has turned out some absolutely amazing award winning Mopar restorations. Even though he has worked on hundreds of old Mopars over the years, his orange Charger will always hold a special place in his heart. Kori even had Robin McQueen over at Automolove.ca design an awesome banner of the car which proudly hangs on the wall next to it!"