After selling his 1985 Dodge D150 pickup, Justin Reed of Whitesboro, TX started hunting for a replacement. He tells us, "The truck was in pretty bad shape and we were moving so I decided to let it go". After getting settled into their new place, Justin decided he wanted another D150 however finding a good one turned out to be pretty difficult.
"I looked for months. Everything was hours away, overpriced and in poor shape. It was frustrating to say the least!" he shares. One day, on the way to dinner, he spotted a D150 for sale sitting under a carport at an old car lot only a mile away from his house. He explains, "It was a 1989, two owner farm truck with 72,000 original miles. The dealer had it painted and was going to flip it but hadn't gotten around to it. He told me he was asking $3,500 and I said I'd take it without any negotiating."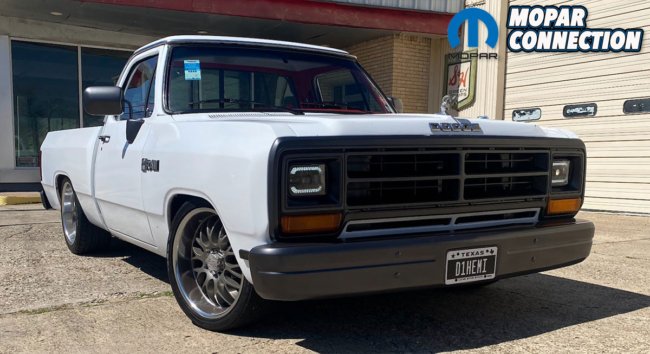 The truck was in excellent shape with no rust. The interior had one little tear on the driver side and was loaded with power options such as power windows, power locks, cruise control and air conditioning. After getting it home, Justin lowered it and put wheels on it right away. After about 10,000 miles of driving it, Justin started to find the truck was having issues pop up. He said, "The TBI kept acting up and even though we replaced absolutely everything we could, it still ran like crap."
He continues to say, "My buddy Josh Norris who had helped me work on the truck said hey, let's just do a modern G3 Hemi swap! He has a 1979 Chrysler Cordoba that he did a Hemi swap on so he knew exactly what to do. I was a big fan of the idea so I started saving up and eventually purchased a 5.7L Hemi and 8HP70 8-speed automatic transmission from a wrecked 2016 Ram 1500."
The project sat on hold for about 7 months before Justin and Josh finally got to work. He explains, "It was originally just supposed to be a drivetrain swap but it ended up turning into basically a full restoration. Everything just spit balled into another thing." The 5.7L Hemi and automatic transmission were finally installed and wired up using a harness from Hotwire Auto. Sound German Engineering provided the harness needed to make the modern transmission work.
The pair ended up repainting the engine bay and frame so they looked like new and all of the exterior chrome was painted satin grey to accent the truck's white paint. The brakes were upgraded with drilled and slotted rotors from R1 Concepts and the truck rides on Coys C44 wheels (20×8.5" up front and 20×10" out back) wrapped in Nitto NT555 tires (245/40/20 up front and 275/40/20 out back).
On the inside, a beautiful custom red interior was stitched up and installed by Paul G Custom Interiors out of Fort Worth, TX. The 2016 Ram 1500 factory dial shifter was customized to fit into the D150's interior and custom door sills and badges were made and powder coated by Brandon at BW Customs and Automotive from Whitewright, TX. The gauge cluster was upgraded with a red and carbon VHX series cluster from Dakota Digital. The steering wheel is from Billet Specialties and custom red matched seat belts compliment the interior well.
Justin says, "A lot of people helped out with the build. My uncle came over and helped a lot whenever he had the time. My buddy Coley Vale also helped a ton. I'd like to thank Josh for all of his hard work and his wife Amanda for putting up with him being in the garage so much. I started with an idea of doing a cool pro-touring style truck and being a Mopar guy, this was the only choice! We have a lot of things planned for the truck but for now, I'm just enjoying driving it."