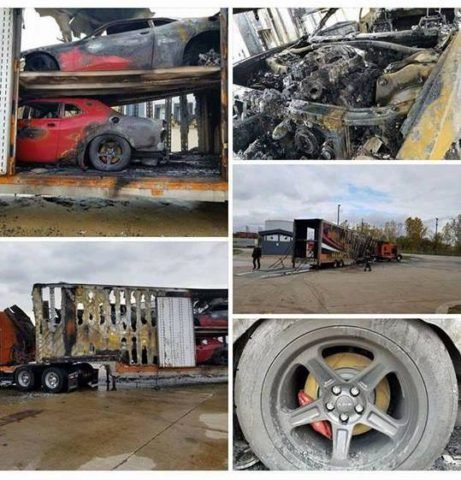 It's without a doubt that the new 2018 Dodge Challenger SRT Demon is a hot commodity. With Demons scheduled to start showing up in dealerships any day now, everyone is keeping their eyes out for them. It seems though as three Demons recently became a little too hot when they burst into flames while being transported!
According to various reports, a tractor trailer owned by Reliable Carriers Inc. caught on fire somewhere in Michigan. Inside the trailer were three brand new Demons being transported to an unknown location. The driver of the truck who was thankfully uninjured reported that the trailer suddenly started smoking before everything went up in flames.
At first many speculated if they were indeed Demons or not however one could assume based on the special fender flares and wheels. An employee of the towing outfit reported that the three cars were Demons and they think something malfunctioned electronically on the #2 car and sparked the fire, claiming not only all three vehicles but the truck and trailer too. However, not too long after, a representative for Reliable posted up saying no such employee has ever worked for them and to basically ignore the information he posted. As of November 1st, it has been confirmed these were indeed three Demons destined for customers; two in TorRed and one in Yellow Jacket. According to Hellcat.org member Demon221, one of the red Demons was unfortunately his car and much to his surprise, Tim Kuniskis (Head of Passenger Car Brands – Dodge, SRT, Chrysler and FIAT, FCA – North America) called him and the other two owners personally to tell them the bad news.
"Alright I have a good story about the demon fire. I just got a call from Tim Kuniskis, and it was not to tell me how great my red demon looked. My car #0221 is one of the two red cars in the pictures. Burnt to a crisp!! Totally destroyed!!! My demon was built on Friday the 13th and burnt up on Halloween. He called to let me know the 3 cars that went up in flames are going to be quickly rebuilt. He also informed me that the once a VIN number is created it can not be duplicated again. The good news is the cars that burnt are all getting lower VIP numbers. My new number is #0102. I actually think this turned out to be a great story! I was shaking when I got off the phone with him but I am really excited about the story I can tell with my demon. Tim also wanted me to let everyone know the fire was caused by the car transporter not the cars. He assured me there are no problems with the demons fuel system and asked if I would pass that info on."
We are glued to this story and will certainly update our readers as well when we get further information. Stay tuned for more updates and info on this developing story.