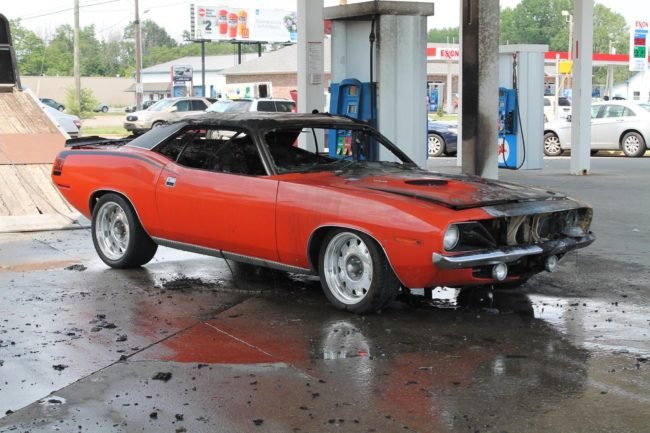 Losing your Mopar to tragedies like fire, collisions and other forms of loss are always a heartbreaking experience. Unfortunately, one Mopar owner experienced just this very recently when his 1970 Plymouth 'Cuda 383 went up in flames while filling up at a Mobil gas station in Lawrence, Indiana.
In a Facebook post by Indiana Fire Trucks, they stated "We caught the Lawrence FD picking up after a car fire at the Mobil station on the corner of Pendleton Pike and North Post Road. All three of LFD's newest apparatus were in attendance. Feel really bad for the owner of that classic. Looks like it was a nice one!"
Thankfully, the fire did not spread to the gas station and no injuries were reported; with the exception of the 'Cuda. We have been told by a local that the fire was a "gas fire" but he did not want to go into detail. Fire is always a huge fear in the classic car community. Countless prized classics have been lost to carburetor fires, electrical shorts and other various mechanical issues.
Mopars are especially prone to electrical fires with their outdated bulkhead connectors and amp gauges. It's always good practice to carry a fire extinguisher in your Mopar; you never know when and if you might need it!