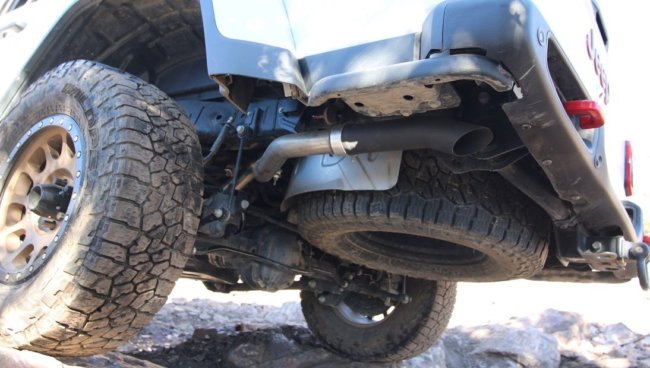 You probably have heard of JBA Performance Exhaust. They have a lot of exhaust options, but you see/hear them often on modern Chargers and Challengers. What you might not have known is JBA also has a full line of Jeep exhaust systems too. 
JBA has been bending and welding high flowing exhaust systems for decades. The craftsmanship is top notch and sets a high standard for aftermarket exhaust. Their Jeep line of exhaust systems are built with the same quality and attention to detail.
JBA offers exhaust systems for 1987-2020 Jeep Wranglers and 2018-2020 Jeep Gladiators. They have single or dual tip configurations and multiple loudness levels to choose from depending on what year your Wrangler is. 
Some might think that performance exhaust on a Jeep is pointless, but it is quite the opposite. From the factory, Jeep seems to put some of the most restricted exhaust systems on the Wrangler to help keep noise to a minimum. Adding a performance exhaust will free up some horsepower, better fuel milage, better throttle response, and more.
JBA understands that most Jeep enthusiasts do not want the same sound and aggressive tone as a modern Challenger owner. JBA has built their Jeep exhausts with this in mind and kept the exhaust note more mild and throaty intonation without being overwhelming. 
The mid-range price point is big plus, as many Jeep products come with a premium price tag. All their Jeep Wrangler exhausts are simple and bolt on. They come with all necessary brackets and clamps for an easy hassle-free installation. All their Jeep exhausts are made from 304 stainless steel for longevity and to withstand all the different elements your Jeep will encounter.