"To pick a time where my love for cars started would be very difficult," shares Sharma Hardee. Growing up, Sharma was usually found playing with Matchbox cars and Tonka trucks with her little brother more often than playing dolls with her sisters. As a young girl, Sharma's older sister would take her out to do burnouts in front of their mom's restaurant in her 1972 Dodge Charger just to fire their mom up. Looking back, Sharma says all of these moments played a big part in molding her into the true die-hard car girl that she is today.
At sixteen years old, she bought her first muscle car; a 1970 Chevrolet Nova. While it wasn't a Mopar, by no means was it something to frown about. "That car was shorted lived. It had a 305 engine that didn't love NOS (Nitrous Oxide) as much I did," she laughs. After the Nova, she purchased a 1971 Chevrolet Chevelle that would eventually fund her trip to the dark side; Mopars. When she was around twenty-two years old, she passed a 1970 Plymouth 'Cuda in the small town of Battle Ground, WA and instantly fell in love. It was from that moment on that she had to have one.
She would spend the next two years searching for the perfect 'Cuda. Back in the mid-nineties, they were not nearly as hard to find as they are today. Finally, in the summer of 1997, Sharma would find her 'Cuda. The car was being sold by a tree hugger in Portland, Oregon of all people. It turns out he had been given it in his aunt's will and she was the original owner. The nephew thought the 318-small block under the hood was an appalling gas guzzler and refused to drive it and destroy the environment; so, he put it up for sale.
Upon inspection, Sharma was amazed to find absolutely no rust anywhere on the car along with a glove box full of receipts showing every single bit of work she had done to it. "This was it; it was the car I had been searching for. It had hubcaps with whitewall bias-ply tires and the big ugly side body moldings on it but it was perfect to me. I quickly handed the guy his asking price of $2,200 and made the car mine. Once I got it back home to Washington, I took a lot of slack for buying a homely 318/904 automatic car but I didn't care what anyone thought, I was now the proud owner of a rust free 'Cuda," she says.
While she was very excited about the new purchase, she was also very pregnant so not much happened over the next few years with the car. Her original goal was to build the 'Cuda and have it finished before she turned thirty, however as we all know, life changes and her goal of having it done by thirty soon changed to forty. "Around the time the car was mostly disassembled and the restoration had started, I went through a divorce. Things ended up getting so bad that I ended up having to choose between food and clothes for my two boys or my car," she shares.
She continues to say, "Obviously this was no choice at all, and so with a heavy heart I sold the car to a friend who promised to sell it back as soon as I was back on my feet and could buy it back." Thankfully, things started looking up and less than a year later, Sharma was able to get everything in order and get enough money together to buy the car back. She says, "When I went to buy it back, it still sat in the exact spot in the back corner of my friend's shop where I had pushed it off the trailer in tears the year before. He still only had the shell as he had never come to get any parts that were still stored in my barn."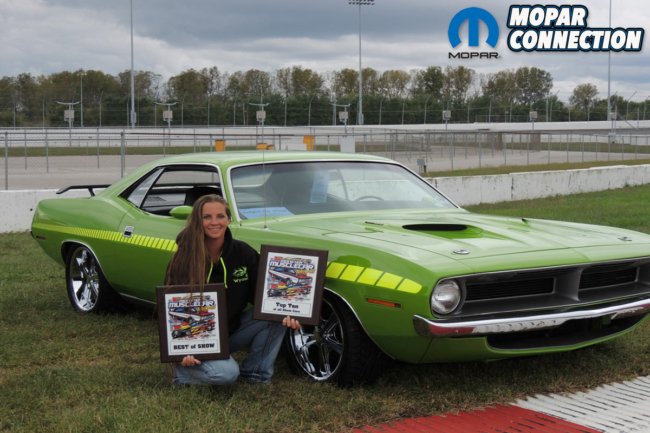 Things quickly went south though. After talking to her friend and giving the car a quick once-over, Sharma laid her cash down on the work bench with an extra $1,000 thank you on top of it all. To her dismay, her friend handed the money back to her and told her he wasn't going to sell it back to her as he wanted to build an AAR clone out of it. She shares, "Only a few times in my life had I actually felt my heart sink in my chest and this was one of them. I made many more attempts to buy it back over the years."
Eventually, she would find another 'Cuda that she considered buying, this time a 1973 shell that was a retired race car. While it wasn't her car that she so deeply wanted back, she was starting to realize that she was probably never going to get it back. "While standing in front of the 1973, I made the decision to call the guy who had my car one more time. If he said no, I was going to buy the 1973 and build that instead. I made the call and asked him for a cash price. He threw out a number that was nearly four times what he had bought it from me for. I drove the hour long drive to his shop, laid the cash on his work bench and he handed me the title that was still in my name," Sharma recalls.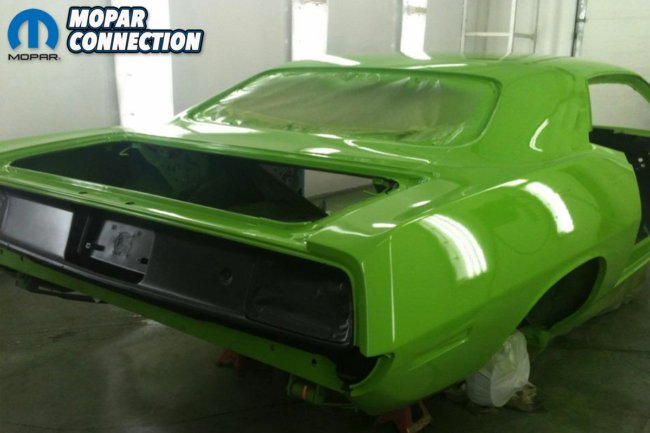 After a very long sleepless night, the following morning she went and loaded the car up from the exact spot she unloaded it at seven years prior. She would then take it home to where all the parts including every nut and bolt were still stored that her "friend" never picked up. The very next day would be the start of a four year long build that would have never happened without her amazing friends and family.
Over the next three years, Sharma alongside family and friends worked hard tackling the body and paint with endless hours of wire wheeling and block sanding. When it came time for paint, she was stuck between Petty Blue and Sassy Grass Green. Either would be complimented by a 440 hockey stripe that would match the 440 that was going under the hood as Sharma had taken the original 318 out a number of years prior and installed it into her oldest son's 1974 Duster that he still has today. She decided to go with Sassy Grass Green and the new shiny paint was flawlessly laid down by a good friend of hers. It would take the following nine months to re-assemble the car.
She shares, "With forty just around the corner, there was no time to waste. People didn't think I could do it or didn't think the car would look good. The more I heard that, the more determined I became that every nut and bolt would be flawless. As the car came together, it was hard to believe something I dreamed of for so long was getting closer every day and at a level I could have never even began to have imagined."
During the process of re-assembly, Sharma continued to watch a six-barrel set-up for a 440 that was for sale on Craigslist. After a significant price drop, she finally pulled the trigger and purchased the set-up that consisted of a proper intake manifold and freshly rebuilt carburetors. The 440 came together and was installed into the 'Cuda along with a 727 Torqueflite automatic transmission fitted with a Stage Two shift kit. Out back was an 8 ¾ Suregrip rear end with 3:23 gears to ensure the car was a nice cruise-able driver.
"With the drivetrain installed, it was now time to order all of the interior pieces I needed. While placing the parts order, and making sure I was ordering all the correct parts, a Barrett Jackson auction was playing in the background on the TV. Two 1970 'Cudas rolled across the auction block that caught my eye and would lead me to making a big change in my build. One 'Cuda was FJ6 Sassy Grass Green and the other was FM3 Moulin Rouge and both had the rare matching mid body-colored strobe stripes. I instantly knew I had to have that for my car and quickly ordered the "Chartreuse Radiant" fluorescent strobe stripe kit from Phoenix Graphics", shares Sharma.
Once she received her parts order, the interior started to come together as she worked hard rebuilding the original seats by duplicating the original canvas, prepping and painting the frame and springs and getting the Legendary seat covers fitted right. When she finished up the seats, they were installed along with the rest of the new interior. New wiring was also installed through-out the entire car. Underneath, the steering and suspension was upgraded with Firm Feel parts and it was lowered 1.5 inches to make the 'Cuda handle like a new car.
She tells us, "I celebrated my 40th birthday in 2014 while preparing to show the car off at Hot August Nights in Reno the following month. It was running and driving under its own power and just needed a few things left to complete it. I had met my goal and made it to the show with the car. After a few shows, I would find myself putting the car in my garage for the long Washington State winter. I hated not being able to drive it so I would find myself in Oklahoma that following spring where I could enjoy it in the sunshine nearly year-round."
Since then, Sharma, along with her husband Rick have continued to upgrade the 'Cuda. She continues to say, "Rick loves to push every car we own to the point of finding their weak spots. After a smoke show at a local car cruise, he found that the modest 440 under the hood decided to bend the stock push rods into lovely shapes. It now sports a mildly built 440 under the hood but we're currently building a 440-based 499 stroker for it with heavily ported Stealth heads, a ported Six-Barrel intake manifold and extrude honed and polished stock HP exhaust manifolds; all of which were machined by Larry Smith."
Other upgrades to the 'Cuda include a full TTI 2.5" exhaust system with Flowmaster Super 44 mufflers, a Gear Vendors over/under drive unit and the rear end has been upgraded with 4:10 gears and Strange Axles. On the inside, a hidden aftermarket Rockford stereo system was installed. "She will never be done, there will always be upgrades I am wishing for or planning," she says.
"I named the 'Cuda Fiona to honor my friend Rocky Lane who I lost to cancer during the build. Rocky had nicknamed me Fiona many years ago when the original Shrek movie was released. I decided to name the car Fiona, not because she is green but because I lost a huge mentor and friend and I will always carry his memory with me."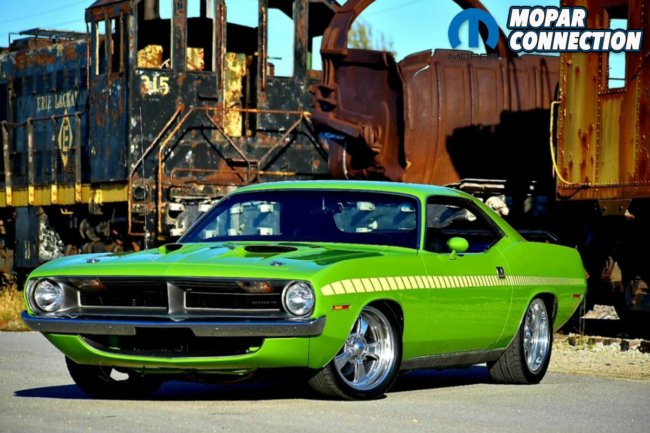 Sharma also shared to us that the 1972 Charger mentioned at the beginning of the story that her older sister Troleta owned is still a part of her life, although not in the way she would like. She shares, "The Charger was sold in 1983, preceding the passing of my sister at only 19 years old. The car would remain hidden behind a barn in Washington as a promise kept to my mom that she would never lay eyes on it again. It would eventually be sold to a local man." In 2010, I would find it in a garage less than ten minutes from my work. I approached the man and although it wasn't for sale, after hearing the story he was more than willing to sell it to me for an outlandish price."
She continues to say, "I made a fair offer and was declined. He sold the car to someone else and it eventually popped up in 2013 for sale at a RV dealership in Portland, OR. I went to the bank on my way to buy it and when I got there, it had already been sold. After that it vanished until Rick found the car for me. To our surprise, it had arrived in Oklahoma one year before I did and is only three hours away from me. It's a stripped down shell now and although the current owner doesn't really want the car, he doesn't seem to be willing to sell it to me. I have already waited many years to get this car, I am not giving up. I just hope it's meant to be and one day that car will be in my shop being built into a car that my sister would smile down upon."