It comes that time of year that you start buying presents for family and friends. The problem is you, yes we are talking to you, only want things that most family and friends do not understand to buy or its waaaaay over budget for the gift exchange.
Well, we are here to help you out this season with some great gift ideas that are easy for you to put on that Christmas gift exchange list and doesn't break the bank. Although we would much rather open up a Holley Terminator Gen III Hemi swap kit, majority of us will not have that luxury.
Holley has a huge catalog and we could list 100 products that we all need, but we scrounged through the catalog for you and picked ten items under $50 that every Mopar gearhead could use and enjoy. Holley also has free shipping on orders over $49, which we know is not a difficult thing to do. Most importantly, these are items that grandma can not mess up.
Holley/Holley EFI/Hooker/MSD Hoodies
You can never have enough hoodies. We get them stained and tore up every season, so you might as well show off your Holley pride with any of their branded hooded sweatshirts. Just make sure you tell grandma your size.
Whether you have a man cave, she shed, garage bar or just need some new glass ware for the house, Holley's 4-piece pub glass sets are perfect. Holley offers nine different sets with a couple sets being old school Holley logos and other Holley brand throw back logos. For under $12, this is a great item to fill that wish list.
Holley/MSD Sticker Bomb Fender Covers
You can never have enough fender covers. If you have too many, throw away the one that's all beat up and upgrade this season with the Hollly/MSD Sticker Bomb cover. These are a awesome collage of current and vintage decals of Holley's most popular brands. For under $30, you will still have room on that wish list for socks and underwear.
Can you ever have too many wall-hangers? Holley has a good selection of metal signs under $25 that would be perfect for any Mopar enthusiasts garage or hangout spot. Might want to specify what signs you like, just so you do not end up unwrapping a LS Fest sign. Although, that could be a great gag gift for a fellow Mopar enthusiast.
Car guys apparel is normally 80% t-shirts and 19% jeans and then 1% miscellaneous. With that said, you still can use more t-shirts. You probably have some that can be turned into rags and replaced with some compfortable Holley swag. They have a huge selection of t-shirts of all Holley brands and even have some past Moparty t-shirts you can pick up too.
Holley Illustrated Parts & Specs Guide
Now this is technically over the budget by $.15, but we thought we would let is slide. This Holley guide and parts book shows every single current carburetor that is available currently with diagrams and part numbers for every single part. It also give you adjustment specs. This is perfect for the seasoned gear-head or maybe someone that is just starting and looking to learn.
Again a most of the clocks break the $50 budget, but only by a couple bucks. A neon clock with your favorite Holley brand on it for about $50 is a steal and just flat out cool. Anytime we see stuff like this at shows they are hundreds of dollars. Plus, how else are you going to tell what time it is in the garage?
Yes, you can get ratchet straps from Holley. We wished they had a little more bling, but they will still function to hold whatever you need down. They have small sets of ratchet straps to the large ones to tie a car or truck down. They also offer some accessories like axle straps, chrome protectors and tool bag to hold the straps. Any of it makes for a great gift and reason to throw your rusty and frayed straps away.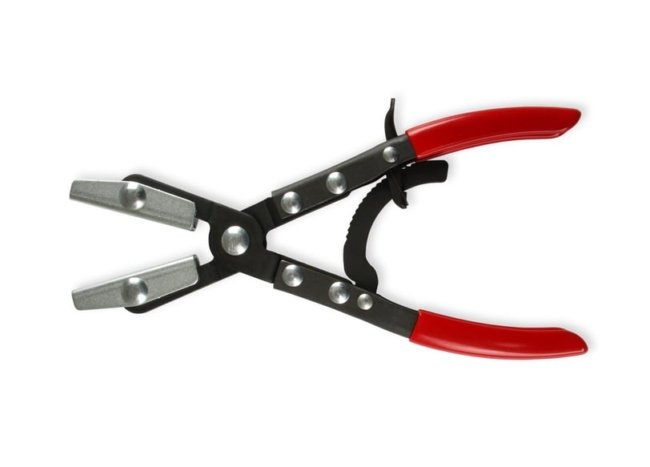 If you are not already using these, you need to. If you have a pair, get another set. The $22 cost will pay for itself the first time you use them. We can not tell you how many fuel lines, brake hoses, power steering hoses and more that we have pinched off preventing messes and saving us from refilling fluids. Get them, use them and thank us later.
This should be in every mechanics tool box. You can turn or hold flywheels with ease. No more wrenching on the crank shaft or needing two people to tighten or loosen flywheel bolts. Once again, the proper tool will save you time and headaches. For $17, there is no reason to not throw this on your wish list.