"Since I was around 11 years old, I've always wanted an old American muscle car. I remember watching a movie back then with a whole bunch of muscle cars in it and I fell in love with them" explains Felix Maier. He continues to say, "When I was around 15 years old, I spent a lot of time researching old cars. Here in Germany, we have lots of classic Mercedes Benz's which are cool but they just aren't as cool as the American classics."
Every month, Felix would go to the local store and purchase any car magazine he could find with an American muscle car in it. He decided that he would save up his money so he could eventually purchase something that he could restore step by step. He says, "I told my dad my plan and he told me that he didn't think it was a good idea to buy a total project car. He explained that I should save up more money and buy something that I could drive while fixing up; something that needed a little bit of TLC but didn't need a full restoration."
Listening to his dad's wise advice, Felix continued to save up over the next three years until he had a good amount of money put aside. While searching for a car, he came across a Sublime Green painted 1971 Dodge Charger Super Bee for sale in Reno, Nevada. The car was solid and a good driver; exactly what Felix was looking for. The Super Bee was sold new somewhere in California. Felix was told that the first two owners were police officers and the third owner who was the seller had owned it for a number of years and even drove it to high school back in the day.
"I really liked it; it was nicely equipped with the Air Grabber hood, hideaway headlights and front and rear spoilers. I wanted to buy it but I was pretty nervous. I was in Germany and the car was half way across the world in the United States. I had never purchased a vehicle from out of the country before and especially not that distance away. I didn't think it was possible and if it was, it was going to be really expensive and outside of my means," he shares.
Determined to not give up, Felix started doing some research over the next few weeks on how to bring the Super Bee to Germany without spending a fortune. He decided to contact a friend who had bought some cars in the past from the United States and brought them back to Germany for some advice. His friend explained to him that it really wasn't as hard as it may seem. You purchase the car; get it delivered to Los Angeles and then it would be loaded onto a big ferry to Rotterdam in the Netherlands. From there, it would be brought into Germany.
Felix spent the next couple of nights speaking with his dad in depth before making the decision to purchase the Super Bee. He reached out to the seller and explained that while he wanted it, he would need to see some further pictures and videos of it first just to make sure everything looked up to spec and there wouldn't be any hidden surprises when it showed up in Germany. About a week later, Felix received a whole bunch of pictures and videos of the Super Bee. Everything looked good so he went ahead with the purchase.
After finishing the deal, the Super Bee was shipped on a trailer to Los Angeles where it was then loaded onto the ferry for Rotterdam. About eight weeks after it left Reno, it arrived in Rotterdam safe and sound. After being unloaded, it spent the next two weeks being transported to Germany where Felix anxiously waited for its arrival.
Once it arrived in Germany, Felix got to see his new Super Bee for the first time in person. He says, "I was very excited to say the least. It was a fantastic day! Shortly after getting it, I took it in for an inspection so I could get it registered and insurance."
"I had to make a few small changes to it so it would pass the German inspection and get what we call the "Old Timer Admission" so I can drive it in every town and city. This would also allow me to pay cheaper taxes and insurance on it. Here in Germany, we pay taxes depending on how big the engine is. Basically the higher cubic inches, the higher of tax we pay. "Normal Admission" is very expensive so it was great to be able to get the "Old Timer Admission" with the car."
With everything completed and insurance, Felix was finally able to drive it on the street for the first time. "It was an absolutely unbelievable feeling to drive the Super Bee through my town for the first time. It got a lot of looks as well as a few people thinking I was crazy for driving a large American classic car around with such a big gas guzzler of an engine," he laughs.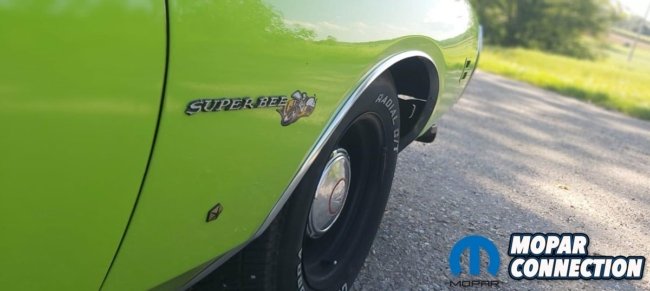 Over the past ten years since bringing it home, Felix has rebuilt the entire drivetrain which includes the original numbers matching 383, 727 Torqueflite automatic transmission and 3:55-equipped 8¾ rear end. He also rebuilt the suspension, installed a new exhaust, new tires and a new front bumper. Otherwise, Felix has put countless miles on the clock and enjoyed every second of it.
"I will never sell the car. It's a massive part of mine and my family's lives. We're a true Mopar family and own our own shop called "Old Legends Garage." A couple of years after buying my Super Bee, my dad bought a 1978 Lil' Red Express truck that he loves so we go cruising together. The classic car scene here in Germany is very big and we all love our Mopars!"