"My love for Mopars started with my father, who the year after I was born bought a brand new 1960 Plymouth Wagon from Bolmer Motors in Bound Brook, New Jersey and then piled the family in it and drove to Albuquerque, New Mexico to visit family," recalls Joseph Palka of New Jersey. After that, Joseph's father went on to own nine more Mopars including a C-body, several A-Bodies, an L-Body and a couple of minivans.
He continues to say, "My father was an engineer so nothing ever went to a mechanic. Everything mechanical was fixed outside in the weather in our stone driveway. At an early age I started developing my love for and the skills to repair Mopars. I also developed a love for climate-controlled garages with concrete floors and lifts."
When Joseph turned 17, he was given his Mom's tan 1966 Slant Six Valiant which he wasted no time modifying with a bunch of go-fast goodies. "That little A-Body kicked some Ford & Chevy V8 butt", he laughs.
While he was having fun with his A-Bodies, Joseph's friends were into mainly B & E Bodies. His buddy Al Macdonald had a Sassy Grass 4-speed AAR 'Cuda that really stood out to him. He shares, "Ever since I first saw and rode in that AAR back in high school in the '70s, I always wanted to own one. Those body lines are just set off magnificently by the AAR strobe stripe and organisol hood, fender tops and belt line. Add the raked stance with side exit exhaust and these AARs just look fast, even when standing still. I needed to have one."
Fast forwarding to more current times, Joseph, now in his fifties, decided it was time for an AAR. He had been looking for an AAR for about five years but the search really got serious after he sold his 1970 440 Challenger R/T to the Sam Pack Auto Museum in Metro Dallas, Texas in 2017. His search was specific; he wanted a Black, Sassy Grass or Limelight AAR. It had to be a four speed with a numbers matching driveline, power steering and documentation.
During his search, he looked at more than a dozen AARs all over, some as far away as California, Texas and Florida. He tells us, "About half of the cars I looked at were restored (some well, some not so well). The rest were in need of total restoration like one I looked at in Pennsylvania that was charred in a garage fire."
"After about 18 months of looking hard, I found a freshly restored Limelight AAR near Minneapolis, Minnesota. The owner was asking $119,000 USD which was strong money in the current market but not unheard of for a concours restored car. I found the car on the Monday before Superbowl and the game was being played in Minneapolis so I told the owner I would call him Monday after the game and would fly out to look at the car. Well, he sold it for full asking price Superbowl weekend."
Determined to find one, Joseph kept hunting. While looking through Hemmings, he came across another one that was not far from where he worked near Morgantown, Pennsylvania. The asking price was near the 2006 peak for these cars and was not reflecting the 30-year-old restoration job the car had. He shares, "I wasn't even going to go see the car but my friend Roger Stolarick convinced me to go look at the car since it was practically in my backyard. It had some issues, but overall it checked most of my boxes. It was coded FJ6 Sassy Grass but was painted too light and a little yellower; not quite as light as FJ5 Limelight, not as much blue as FJ6, more like FJ5.5 Sassy-Light."
The AAR had the numbers matching 4-speed and engine along with the original fender tag and build sheet. It also had a vinyl top and wheel lip moldings; less common options for an AAR. It lacked a Rallye dash but had a console. It also had 110,902 miles on the odometer. Joseph liked the car as it had the bones of what he wanted so he contacted Jeff Bangert of the AAR Registry who confirmed that this was a known AAR and that the owner was an honorable person.
"Once I spoke to Jeff, I called the owner of the car, Rick Dean and told him I liked the car but was not going to make an offer because I did not want to insult him. He assured me that he was a big boy and was sitting down to hear my offer. He did not accept my initial offer but after some negotiating, we made what I thought was a fair deal," explains Joseph.
Once he brought the car home, he took his friend Roger for a ride around the block. The car had trouble idling and stalled in the middle of a county road right in front of a police car that was trying to stealthily conduct a speed trap. Of course, he ran the AAR's 10-year-old battery dead trying to get it started again. The officer pulled out and parked behind them with lights on to keep Roger and him from getting run over while they pushed the car to the road shoulder. With the help of a jump box and some starting fluid, they made it the last half mile back to his shop.
After that maiden trip, Joseph and his friend Alberto pulled the carbs and rebuilt them to get the car running and idling reliably. The aftermarket hood that came on the car was warped, cracked and was painted a low gloss black. Off came that hood and Joseph and a good friend Brian Semancik of Speedo's Paint and Body fitted a new ASC International hood and resprayed the black with Frank Badalson's proper Organisol.
The car was pretty tight although the transmission was tired. To downshift to first or second without grinding meant double clutching. Additionally, the steering was a bit scary. To cure that, Joseph sent the steering box to Firm Feel for a rebuild and Jamie Passon rebuilt the original A-833 gear box. Also, the rear in the car was a 3:91 Sure Grip as coded but it had a 742 case center section, not the 489 case the car would have come with. He managed to find a correctly dated 489 chunk at Carlisle, had it rebuilt and swapped the correct center section into the car.
When we first reached out to Joseph about doing a story on his AAR, he admitted that he didn't know much about the history of the car. Well, he set out on a mission to find out everything he could about the car's past and boy did he deliver. The car was ordered at Bob Maddox Chrysler-Plymouth near Atlanta, Georgia by the original owner who took delivery of the car in April of 1970. At this point in time, Joseph tells us that he does not know who the original owner was.
Chrysler started building production AARs on March 20th, 1970. They had to crank out at least 2,500 of these under the 1970 SCCA homologation rules so Dan Gurney and Swede Savage could race them in the SCCA Trans Am series. To get the AARs out the door, if they were not pre-ordered by customers (few were), they were spec'd by the dealer, then built and shipped to the dealerships. This particular AAR was a customer ordered car and had a scheduled build date of April 2nd, 1970 but the original door sticker indicates the factory was ahead of schedule and it was really built in the last days of March.
MSRP of this car as delivered was $4,441.75 based on the ordered options. Because of the high cost, many of these cars lingered on dealers' lots like the wing cars did. When these cars were shipped to the dealer, the front "eyebrow" spoilers and exhaust tips were loose in the trunk so they didn't get damaged on the transport truck. Despite the detailed install instructions Chrysler sent with the loose spoilers, the dealer installed them backwards on this car which was an uncommon mistake.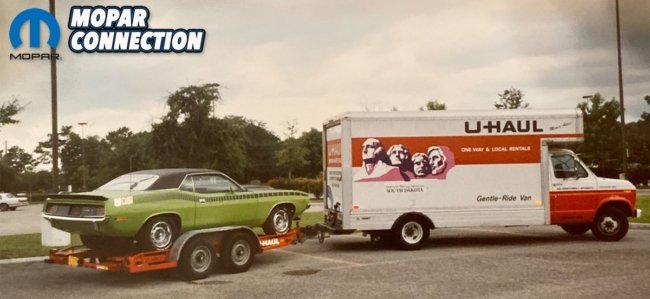 The original owner used the car as a daily driver and at some point, the car was owned by a gentleman in Sebastian, Florida whose name is lost to time. Joseph tells us that he does not know if the guy in Sebastian was the original owner or a subsequent owner. The first prior owner that he spoke to while trying to track down the car's history is Joseph Sciarrino who now lives in North Carolina. Joe traded his two-month-old 1988 Lincoln Mark VIII that he bought as a dealer demo even up for the AAR and brought the AAR home to Melbourne, Florida.
In 1988, the AAR was 18-years-old and had more than 95,000 miles on the clock. It still wore its original paint and needed a facelift. Joe promptly pulled the engine and took the car apart. Joe's friend owned Mark's Body Shop in West Melbourne, Florida so he welded new quarter skins on the car and returned the car to Joe for final body work and paint which Joe did in his home shop. Joe wanted the car to stand out more so on the lacquer respray so he changed the color to Limelight from the original Sassy Grass. Another friend at Pete's Auto Upholstery in West Melbourne put a new vinyl top on the car. Joe said after he changed the carbs out for a $500 NOS set, the car ran strong.
Once reassembled, Joe primarily showed the car at local shows. In June of 1990, Joe sold the AAR to Edward Aprile from New Port Richey, Florida for $18,000. Edward took the car to the World of Wheels in Tampa in 1990. At that show, Don Garlits saw the car, signed and dated the bottom of the decklid and the glove box door (which Edward still has). Edward said "the car ran horribly" and left him on the side of the road several times. He ended up blocking off the front and rear 500 CFM carburetors and ran the car on the center 350 CFM two barrel. He also said the steering was scary loose.
In February 1992 while on a family vacation in greater Tampa, the next owner Calvin Smith, from LaGrange, Ohio saw the car at a local show at a Checkers Drive-In. Calvin loved the rarity that it was a vinyl top car (only about 12% of production AARs) and wanted it. Calvin made a deal with Joe and bought it for $18,000, the same price Edward bought it for two years earlier. Calvin knowing about the steering issue and the fact that the car did not run well sent a truck from Ohio to Tampa to fetch the AAR.
Calvin fixed the steering, pulled the engine and had it and the heads rebuilt. When the motor was out, Calvin painted and did some cosmetic touch up to the trunk, interior and under hood areas. He put it back together with a correct exhaust system from the manifolds back. Calvin thoroughly enjoyed and drove the car for 15 years until May 2007 when in the wake of a divorce he sold the AAR to Steve Schnebly from Long Lake, Minnesota. Steve bought and sold dozens of high-end muscle cars and flipped the car on eBay two months later in July of 2007 to Rick Dean from Harrisburg, Pennsylvania.
Rick has a penchant for high end Mopar muscle and loved the AAR during his 12 years of ownership. His wife would drive the AAR to shows while Rick drove one of his Hemi cars. Joseph says, "I bought the car from Rick in April 2018. He did some minor maintenance to the car during his ownership but essentially sold it to me just as he bought it."
He continues to say, "Currently I would call the car a nice driver. Joe Sciarrino's now 30-year-old lacquer paint job is showing its age however in June 2019, I gave the car a thorough detailing, buffed and waxed it and the car was good enough to earn an AACA First Junior Award. In a couple of years, after I have had some more fun with the car without concern about rock chips and rain showers, Brian at Speedo's and I will do a concours restoration on the car. The car deserves that."