When you hear the words "Dodge Charger Daytona", you automatically think of the legendary winged warrior from 1969 with it's giant rear wing and it's aerodynamic nose cone. Being as the 1969 Charger Daytona is such a staple in Mopar history, it didn't surprise us that Dodge decided to bring the Daytona name back to the Charger when it was re-released for the 2006 model year.
Now of course, this caused many Mopar purists to get up in arms. First and foremost, many purists couldn't stand the fact the new Charger had four doors. Thirteen years later, we still hear people moan and groan about it; but we won't get into that as that opens up a whole can of worms. When Dodge announced they would offer a Daytona Edition based on their Charger R/T for 2006, purists got even angrier and called the new Daytona a "disgrace" because it didn't have a huge rear wing and pointy nose cone. It baffled us; after all, did people really expect Dodge to bolt a giant rear wing and pointy nose cone onto their four-door sedan and actually expect it to sell? It's basically the same reason they didn't put a wing or nose cone on the 1975-1977 Daytonas either.
For 2006, the Daytona Edition Chargers featured a sportier SRT style interior with matching colour accents, stitching, logos and an individually numbered dash plaque. On the outside, they were given a matte black rear spoiler, a front chin spoiler, blacked out grille, heritage R/T badges and black vinyl black outs with "Daytona" call outs in the vintage style 1969 script. The Daytona was also given a slight horsepower bump for the 5.7L Hemi over the standard Charger R/T and performance suspension.
For 2006, the colour options were Go ManGo!, Top Banana and TorRed. 2007 offered Sublime Green and Plum Crazy Purple. 2008 the Daytona was only available in Hemi Orange and Stone White was the only choice for 2009. Despite the constant criticism from the die-hard purists, the 2006-2009 Daytonas sold very well with over 10,000 examples being sold in 2006; followed by approximately 3,100 in 2007, 1,750 in 2008 and just under 500 in 2009.
After 2009, the Daytona disappeared for quite a few years before being offered again as a package for the 2013 Charger R/T. Available in Daytona Blue, Bright White, Billet Silver or Pitch Black, the 2013 Daytona stayed true to the 2006-2009 versions with it's matte black accents, custom interior, slight performance boosts and numbered dash plaques. For 2013, Dodge ended up selling around 3,000 Daytonas.
Once the 2013 model year wrapped, the Daytona disappeared once again until it's re-release for the 2017 model year. For 2017 and onward, Dodge decided to change it up and offer the Daytona package on two different trim levels depending on what engine you wanted: the 5.7L Hemi powered Charger R/T and the Charger R/T Scat Pack with it's SRT 6.4L 392 Hemi. When adding the Daytona package to the R/T Scat Pack for an additional $3,495 USD (or $7,000 CAD), the car now becomes a "Daytona 392". We recently had the chance to take a 2019 Charger Daytona 392 out and fell in love.
Standard with the Daytona 392 for 2019 is SRT's legendary 6.4L 392 Hemi producing a whopping 485 horsepower and 475 ft-lbs of torque. The 6.4L Hemi is a total monster and has torque galore! While the supercharged Hellcat 6.2L Hemis are beasts in their own right, you just can't legally use the full capacity of the horsepower anywhere besides the race track. The 6.4L Hemi gives you the perfect amount of power and torque on tap without breaking every law in the book! The 6.4L tends to be forgotten about compared to the Hellcat Hemis and we don't really understand why; the 6.4L is the best of both worlds. On top of that, the 6.4L is equipped with the MDS FuelSaver mode and actually gets very good fuel economy when cruising on the highway!
The exhaust note from the 6.4L is absolutely addicting thanks to the electronically controlled active performance exhaust system. Under the hood, you'll also find the standard Mopar Cold Air Intake System; that's one less modification you have to do! Backing the Hemi is the quick shifting 8HP70 eight-speed Torqueflite automatic transmission with paddle shifters.
Braking is done by standard matte-black Brembo four-piston calipers on all four corners. If you aren't a fan of the matte-black calipers, red is an option; which we'd suggest as we found the matte-black versions to be cheap looking. While the Daytona 392 comes standard with high-performance suspension, those that want more out of their car can upgrade it quite a bit. For around an additional $2,100 USD, you can package together the "Dynamics Package" along with the "Adaptive Damping Suspension Package" which gives you high-performance adaptive suspension like that found on the previous year SRTs and upgraded Brembo six-piston calipers out front.
The Daytona 392 rides on 20×9.5″ Forged Low Gloss Black Painted Aluminum Wheels wrapped in 275/40ZR20 All-Season performance tires. Those that prefer dedicated summer tires can choose the Pirelli P Zero 275/40ZR20 summer tires for an additional $695 USD. New for 2019, the Scat Pack 392 is now standard with a ton of SRT goodies including Launch Control, Launch Assist, Line Lock, Configurable Drive Modes and the SRT Performance Pages. This means the Daytona 392 gets all of these killer goodies as well!
We were very impressed by the handling and general driving characteristics of the car considering it's a 4,400 pound full-sized sedan. It can be tossed into corners with absolute ease and confidence and pulls hard coming into the straight stretches. Dodge definitely hit the ball out of the park with the handling of these cars; it doesn't feel like you are tossing the Titanic into a hair pin corner!
On the exterior, the Daytona 392 remains very much the same as the previous year Scat Packs and SRTs with the real only change being the new SRT Hellcat dual air inlets in the grille.The Daytona 392 package gives you unique Daytona badging along with satin-black Daytona decals on the hood, roof, trunk lid and quarter panels. On the hood, you'll find a HEMI call-out in the decal and on each quarter panel, you'll find Daytona call-outs in the 1969 heritage script. Everything is finished up nicely with a pair of tasteful 392 decals on the front fenders.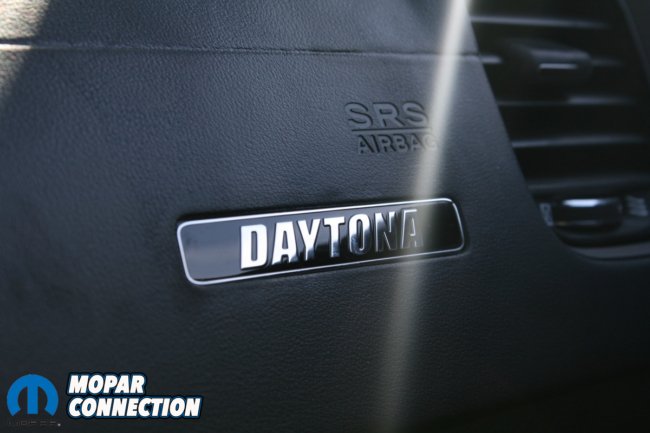 Being as the Daytona package comes pretty uniquely equipped, not many separate exterior options or packages are available. Basically a power sunroof and Daytona logo car cover are your only exterior options. There are 14 colors available; B5 Blue, Destroyer Grey, F8 Green, Go Mango, Granite Crystal, IndiGo Blue, Maximum Steel, Octane Red, Pitch Black, Plum Crazy, Sublime, TorRed, Triple Nickel and White Knuckle. Our test example was finished in jaw-dropping Octane Red.
On the inside, you'll find a Daytona only interior. Black is the only colour available and it comes with heated and vented Nappa leather performance seats with Alcantara inserts featuring the Daytona logo embroidered in. The rear seats are heated as well! Premium-stitched dash and door panels accent everything nicely along with the Carbonite interior accents. While the Daytona does come with a unique Daytona dash plaque, these cars are not numbered like the 2006-2009 and 2013 editions sadly.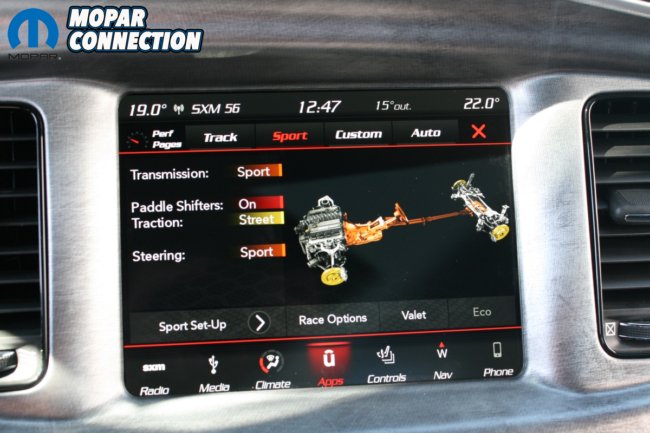 Standard for the Daytona 392 is the Uconnect 4C system with a 8.4″ display; with the option of navigation. It comes standard with Google Android Auto and Apple CarPlay. You have two choices for sound systems; Alpine or the optional Harmon Kardon, both of which sound great. You can also option your Charger with the Driver Convenience Group, Technology Group, Navigation and Travel Group, Mopar Interior Appearance Group and a cargo net.
While the Daytona 392s aren't all that cheap, with a price point of around $55,000 USD or $69,000 CAD fully loaded (obviously a stripped down version would be a fair bit cheaper), you do get a ton of car for the price point when compared to other performance sedans. Overall, the Daytona 392 is a fantastic package and we're sure it will prove to be a good seller just like it's earlier 2006-2009 and 2013 predecessors.
We'd like to give a huge thank you to Kyle Sethi and the team at Abbotsford Chrysler in Abbotsford, British Columbia for allowing us to take their Charger out. Kyle truly is one of the best out there if you are looking for a new or used vehicle in the British Columbia, Canada area. Kyle knows these Daytona 392s inside and out as his daily driver is a Destroyer Grey example! Without him, these wouldn't be possible!