King of the Hammers has transformed from an obscure event known only to hard core rock crawlers and forum followers to being a household name. This year marks a decade of King of the Hammers, and this race has done anything but slow down. This event has evolved from a one day gathering into a week of racing including motorcycles, side-by-sides, full-bodied Jeeps, and 800hp unlimited buggies. These events manage to transform the barren Means dry lake bed into a small city as thousands of spectators, come to be a part of the action.
Following the 2015 King of the Hammers race, we produced an article covering the race and explaining where the race came from. This race is not a desert race such as the Mint 400 and is also not a rock crawling event like the W.E Rock series, but instead is a combination of the two. King of the Hammers has spawned a new breed of race car that is designed to conquer miles of desert punishment and be able to make their way through some of the most technical rock trails in the world. This new breed of rigs are known as Ultra 4 cars.
Above left: One of the perks of arriving early in the week is the chance to catch the qualifying. During the "Power Hour," Ultra 4 race champions the likes of Louren Healy, Levi Shirly, and this years race winner Eric Miller, line up for their chance to qualify for starting position in the main race. Above center: Bailey Campbell's Ultra 4 car on the left and RFA Racing's car both pay homage to Jeep Wranglers. Bailey would go on to finish in the Top 5 just behind her father, racing legend and off road hall of fame member Shannon Campbell.
Above left and center: In the days leading up to the main event, other races like the Every Man Challenge 4500 and 4600 class race are held. Along with the 4500 and 4600 class racers, Legends class cars also share the race course during the EMC race. With such a variety of race vehicles on the course, passing is common practice and makes for exciting viewing. Above right: Off-road TV personality, racer, fabricator, and advocate for all things motorsport, Jessi Combs would go on to take a commanding lead and grasp the win in her 4500 class car. She took on the race piloting the Savvy Off Road and Currie Enterprises Jeep that has proven to be a dominate machine.
Above left: With strict limitations holding the stock class to no larger than 35" tires, stock frames, and limited suspension components, the 4600 class rigs serve as a platform to highlight some of the best drivers in all of off road racing. B and B Racing's Jeep XJ numbered 4648, driven by Brian Behrend and Joey Etter would go on to take the win in the Smittybilt Every Man Challenge Stock class. This Xj was not the most high dollar Stock class car on the field, but showed that a well built rig and masterful driving can get the job done. Above center and right: Car 4577 coming across the finish onto the Nitto Tire stage to be interviewed and celebrate a good day of racing.
For the last several years event founder Dave Cole has worked to make this event accessible to the masses in one way or another. As spectators, this race affords the unique chance to camp in the same environment racers traverse. Vendors such as Currie Enterprises, 4 Wheel Parts, and Raceline Wheels come together to make a huge vendor show in the middle of what has been dubbed "Hammer Town." For those looking to do more than spectate, racing classes including the Smittybilt Stock and Stock Modified the have been created to give the more budget minded a shot at victory.
This year has been the biggest year yet; in measure of spectators, racers, and course workers. King of the Hammers is truly the only event of its kind and continues to evolve each year. King of the Hammers week holds something for Baja racers, trial bikers, rock crawlers, and nearly every enthusiast of off road motorsports.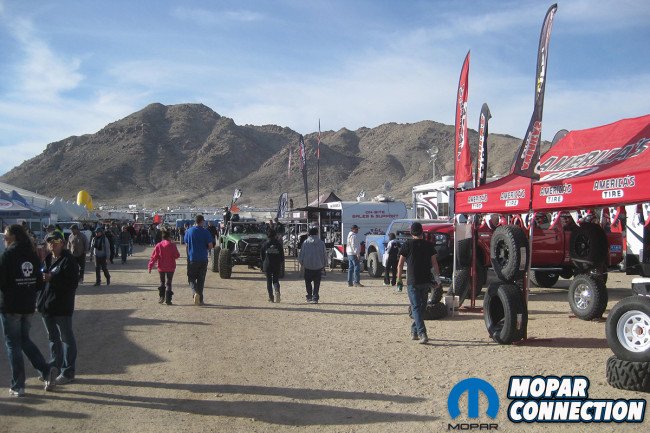 Above: During the week of racing Hammer Town has come to include a massive vendor show, food stop, and race start-finish.
Above left: Hammer Town offers the chance for industry leaders such as Edelbrock to have face to face time with off road and motorsport enthusiasts. We picked their brains about their Jeep 4.0 liter cylinder head and E-force supercharger kits for Jeep JKs. Above right: Tech inspection and transponder install takes place for all race vehicles inside Hammer Town. Spectators can get an up close look at the vehicles as they line up, or take the chance to talk to their favorite drivers before the race.
Above: Even with all the race Jeeps and buggies to be be found we couldn't help but notice all the killer rigs spectators brought to the lake bed. These two JKs were tastefully modified and bore the signs of hard wheeling.