By late 1968, Plymouth knew it had a homerun on its hands. The introduction of the stripped-down street performer, the Road Runner was met with a feverish fanfare. The bare bones package initially limited interior, roof and color options in addition to there only being a choice between the rowdy 383 four-barrel and the legendary street-prepped 426 Hemi elephant. Demand consequently swayed Chrysler brass, and 1969 heralded a whole new variety of Plymouth Road Runners, including convertibles, post- and hard-tops, and a wider array of colors, stripes and interiors.
Since that day, few cars have managed to replicate the Road Runner's impact on an industry as the '68 B-Body, but the '69 clearly garnered more attention. Besides fetching the coveted Motor Trend "Car of The Year" award, but outsold its predecessor as well. Today, Road Runners are quickly becoming as desirable as first generation Camaros, coke-bottle second generation Chargers and even some E-Body Challengers and Barracudas, particularly if they're low mileage cars.
One such low mileage 'Runner recently gained all new life thanks to the master craftsmen at Bair Customs. Jason Bair and company have been bringing Mopars and other desirable muscle cars back from the brink for years now, and have earned quite the reputation for doing so. But it is arguable that none other has exemplified their talents as this particular '69 Plymouth. When first purchased by Tim Bakman, the originally-yellow Road Runner was campaigned as a drag racer, replete with roll bar and drive shaft loop. Thankfully, it that sat in a garage most of it's life, making it a perfect candidate for a complete rebuild.
Bair's crew started by stripping it to a bare shell and hoisting it on to a rotisserie. All "sub-standard sheetmetal" was, as Bair states, "rejected and replaced with fresh stuff and installed so seamlessly that you'll never see where the cuts were." Likewise, while on the rotisserie, the floors were sanded, filled, and smoothed. Wheel tubs were expanded and provisions made to tuck all of the wiring and plumbing out of sight in the engine compartment and in the undercarriage. The external sheet metal was kept original, only that the door and fender gaps were aligned perfectly. All the factory trim was restored or replaced, and reinstalled with all new glass.
Prior to that, every single square inch of sheet metal was covered in Sherwin-Williams "Back in Black" two-stage urethane: three coats of color, three coats of clear, then a full color sand, then three more coats of clear, another color sand, and finally a complete buff job. The result is a mirror surface. Once finished, Bair Customs installed a custom chrome-plated grille and a quartet of H4 skull conversion headlights. side marker lights, and a pair of new LED taillights. Factory original HEMI badges, correct Road Runner emblems and decals, and Road Runner script emblems.
Resting on all-new suspension, the front k-member was replaced with a full coil-over Alter-K-tion front suspension conversion from Reilly Motorsports including custom A-arms and thick front sway bar. In back, a Reilly Street Lynx multi-link setup (with trailing arms and adjustable coil-overs) replaces the stock leaf springs. Giant Wilwood brake kits sit at all four corners capped with massive six-piston calipers "grabbing each of the cross-drilled and slotted rotors" controlled by a Hydro-Boost power assist and a billet master cylinder. There's no mistaking the giant Fiske wheels (also given a blackout treatment) measure 18×8 in front and 19×12 in back wrapped in 345-30-R19 Michelin Pilot Sport rubber.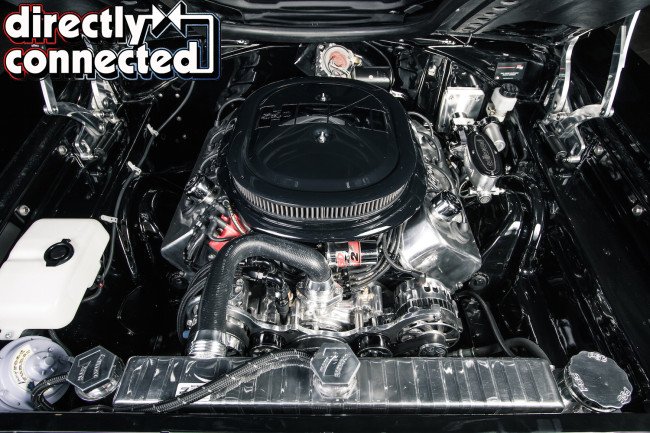 The big spotlight shines when the hood is lifted. Muscle Motors assembled a 540 cubic inch Hemi using an all aluminum HP Performance block capped with Indy heads, and fed by a FAST 2.0 fuel injection system with a custom Nitrous Express nitrous system. All of this adds up to 900-plus horsepower and over 800 ft. lbs. of torque. "An MSD 6AL box, Blaster coil, and billet distributor light the fires," Bair describes. Ceramic-coated long-tube headers feed into a custom-fabricated 3-inch TTI exhaust system (with X-pipe) into a pair of Flowmasters and eventually to the factory-correct tips just under the rear bumper. There's also a pair of Doug's exhaust cut outs operated via an electric switch just for fun.
A Silver Sport Tremec 5-speed manual transmission conversion replaces the original TorqueFlight 3-speed automatic, and benefits from a deep overdrive 5th gear, allowing to the big Hemi to cruise at highway speeds, thanks in large part to the 3.55 gears in the Dana 60 rearend. Bair also hid all of the plumbing wherever possible. AN fittings and premium braided nylon lines feed the engine from a custom stainless steel gas tank with an internal Aeromotive pump. A giant Mark 7 polished aluminum radiator is cooled by dual electric fans, and a serpentine belt system from Billet Specialties includes a 105amp Powermaster alternator, Sanden SD-7 A/C compressor, Mopar Performance aluminum water pump, and power steering pump.
As Bair states, "The interior takes only a few liberties with the original design, but I promise you'll love the results. The modern leather bucket seats, which have silver stitching that is so subtle that you almost miss it, work perfectly with the carbon fiber and black accents." Custom leather door panels, and matching upholstered back seat are similar to how Ma Mopar intended but are executed far better. The dashboard is mostly OEM-spec, with the factory gauges rebuilt with silver faces, with only a gauge cluster mounted in the radio spot, and the column-mounted tach/shift light being the only true aftermarket additions. A custom steering wheel and carbon-fiber pistol grip shifter fill out the rest of the cabin.
Albeit a factory A/C car, Bair replaced the original unit with an all-new Classic Auto Air HVAC system seamlessly integrated into the factory sliders and vents. A modern AM/FM/CD/iPod stereo system is hidden in the glove box, with all the speakers neatly hidden throughout the interior to keep it looking stock. The trunk is fully upholstered with a custom enclosure for the battery, speaker box and all the while retaining the original rear defroster. Beneath the skin, an acre of Hush Mat muffles the road noise and engine vibrations.
Tim Bakman's Road Runner might not be the same car that the staff at Motor Trend had in mind, or even the engineers at Plymouth had envisioned over 45 years ago, but it's arguably a whole lot better. There's little contest that a 900-horsepower Hemi is a thing of awe and beauty, and put that in a Road Runner that is covered in a mile-deep paint job and rolling on some serious hardware, it's all the better.
All images courtesy of Kevin DiOssi of Visceral Image. All unmodified originals can be purchased HERE.