Famous for his #71 K&K Insurance bright red 1969 Dodge Daytona, NASCAR driver Bobby Isaac had a remarkable racing career. His career consisted of 37 wins (including 11 in his championship season) and 49 pole position starts along with currently holding the NASCAR record for most poles in a single season, with 20 in just 1969 alone. In 1970, he turned a record 201.104 mph lap at Talladega in his #71 Daytona, a record that stood until 1983. Needless to say, Bobby is one of the most well-known NASCAR drivers from that legendary era of racing.
In late 1969, Bobby won the pole position at the Texas 500 at the original Texas Motor Speedway and would later to go to win the race. To congratulate him for winning the pole position, Dodge awarded him a brand new EV2 Hemi Orange 1970 Dodge Challenger R/T. At the time, this particular Challenger was being used in commercials for Dodge City in Charlotte, North Carolina, close to Bobby's hometown of Hickory. These commercials consisted of the infamous 'Sheriff Joe' played by Joe Higgins saying his trademark catch line, "Boy, you're in a heapa trouble!"
When Bobby picked up the car at Dodge City, a now well-known photo was taken of him and Sheriff Joe with the Challenger in-front of the dealership. Bobby's new Challenger came equipped from the factory with the standard 383 Magnum engine backed by an A833 Pistol Grip 4-speed transmissions. The car was loaded with options including the light group, black leather bucket seats, rear window louvers, front power disc brakes, seat belt group, 3.91 geared Sure-Grip rear end, air conditioning, tinted glass, pedal dress up, hood pins, locking gas cap, undercoating, hood pad, rear spoiler, bumper guards, power windows, AM/8 track, rear seat speakers, power steering, Rim Blow steering wheel, V21 hood black out, black R/T longitudinal stripes and 14″ Rallye wheels.
Unlike a lot of celebrity figures that receive free cars, Bobby kept the Challenger. His son Randy would drive the car to high school, eventually crashing it into a fence in the early '70s, wrecking the front end. This would be the end for the Challenger and it was sent to a local junkyard.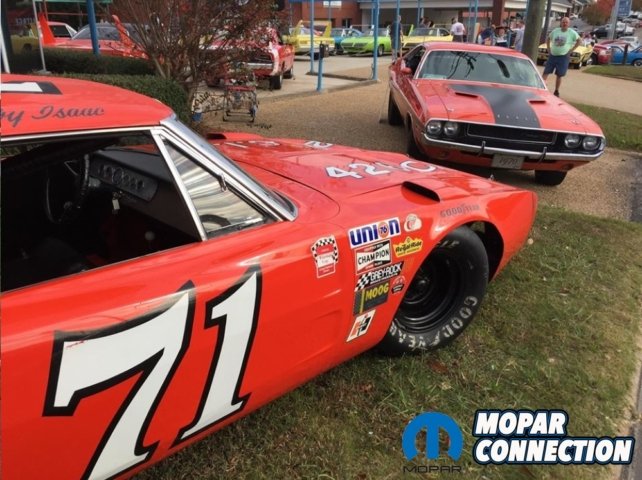 On August 13th, 1977, while racing in the Winston 200, Bobby pulled out of the race calling for a relief driver to take his place. He would soon collapse on pit road due to heat exhaustion. He was rushed to hospital where he sadly passed away at the age of 45 of a heart attack due to the heat exhaustion, shortly after midnight on August 14th.
The Challenger was eventually rescued from the junkyard and passed around a few times in the Hickory area before ending up in the hands of Dwight Arrowood. In the '60s and early '70s, Dwight was the drag racing partner of Roy Johnson, who was the engine builder and father of pro stock driver Allen Johnson. Over the late '80s and early '90s, Dwight restored the Challenger back to factory condition, even painting the car himself.
"I met Dwight in 1992 when I moved here to NC. The car was freshly done at this point and he gave me and my then 3 year old son who sat on my lap a ride I will never forget; speed shifting that car while I squeezed the life out of my son sitting on my lap. This was my first experience with real speed shifting and I was hooked," recalls Dale Mathews. Eventually, Dwight sold the Challenger to a local Mopar collector and champion stock car racer named Tres Wilson. Tres would own the Challenger for around 18 years, driving it from time to time.
Dale tells us, "I thought it would never be for sale and I always thought it was one of the most beautiful and most historic cars I had ever seen. I was always in awe whenever I saw it. Tres used to drive it to the Mopar Nationals and Carlisle as a regular car without displaying the historical significance. The car had a presence that is hard to describe." He continues to say, "One year at the Mopar Nationals, Tres told me he wanted my yellow Plymouth Superbird and I told him I wanted his Challenger, never believing he would let it go. Being a local champion stock car racer, Tres's hero was Bobby Isaac so it meant a lot to him to own Bobby's old Challenger. Much to my surprise, he was willing to let it go."
"We ended up negotiating for a year and a half while he stored the car at my place. Not really wanting to let go of my Superbird, I told him to just name his price to buy the Challenger out right. He named his price, I agreed and I took over ownership around four years ago. I have known the car for 25 years and can't believe it is in my garage as it has always been one of my all time favorite cars with such a great history. Since new, it's stayed in a 30 mile radius," shares Dale.
Being as it's such a well known car, it has a lot of documentation. Dale says, "The North Carolina DMV has over 30 pages of documentation for the car that they sent me. This included the original delivery documentation to the dealer as well as the car's original title with Bobby's name and signature and all of the titles after the fact. The coolest piece of documentation is the original window sticker that says "Bobby Isaac NASCAR Giveaway Car" as well as "Company Car" and sold to Chrysler Corporation. You can't beat that".
Since owning it, Dale has displayed the car quite a bit, including bringing it to the wing car meet at Tim Wellborn's museum where it was displayed with Bobby's #71 race Daytona. It was even displayed in Tim's museum for over a year. With his plans for the future, Dale tells us that has been asked to bring the car to Carlisle for the 50 year celebration display of the Challenger.
Dale says, "I also have a few things I want to correct eventually. When Dwight restored the car in the late '80s, it didn't get the power windows, leather seats or deluxe seat belts re-installed. I have all of the parts now but haven't installed them yet as I have another project I want to get done first.
"This car is a big part of Dodge history at its finest and it really does not feel like mine because it is so significant and way bigger than me. I'm so grateful to own it."