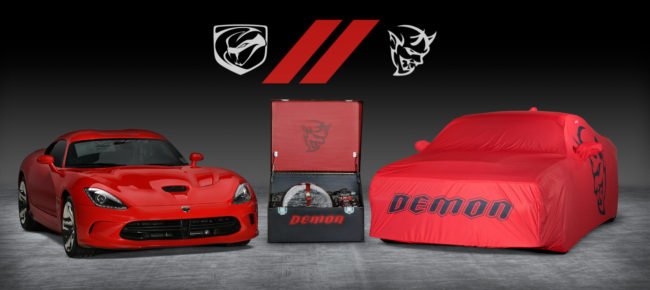 If you have a particular interest in final production units or enjoy saying "I own the last one ever built"; you're in luck! Dodge and SRT are teaming up with Barrett-Jackson for a once-in-a-lifetime auction called "The Ultimate Last Chance". Going up for auction is the last 2018 Dodge Challenger SRT Demon and the last 2017 Dodge Viper ever built! The two vehicles will be sold as a pair and will cross the block during the Barrett-Jackson Northeast auction taking place June 20th-23rd at the Mohegan Sun Resort in Uncasville, Connecticut. 100% of proceeds from the sale go to the United Way charity!
"An avid collector could search a lifetime to try to put two vehicles of this pedigree together and never find it, it's that elusive," said Steve Beahm, Head of Passenger Car Brands, Dodge//SRT, Chrysler and FIAT – FCA North America. "Pairing the last Dodge Challenger SRT Demon and the Dodge Viper production cars – two of America's most sought-after vehicles – under the roof of Barrett-Jackson gives someone the 'last' chance to own this unique piece of automotive history, and Dodge//SRT the opportunity to raise money for a cause close to our hearts."
Since they are being sold as a pair, both are finished in an exclusive matching Viper Red exterior color. We will be very curious to see how well the pair do as this isn't the first time Dodge has collaborated with Barrett-Jackson before for charity. Back in 2014, the first Dodge Challenger SRT Hellcat (VIN #0001) ever built and also painted in Viper Red sold for a staggering $1.65 million with all proceeds going to charity too! For full details on the cars, check out DodgeGarage.com.