It's comical how some cars come along in our lives that we never set out to purchase yet become an extension of who we are. Sometimes that car creates opportunities to meet new people, learn new things and lead to experiences that you would never have guessed. OK, that might sound a little deep but we hear about this exact situation many times. Many of us have made life-long friends and enjoy different events that we never thought would happen all because of our cars. Whether it was your first car, one passed down, or just one you happen to stumble across at the right time to buy. Eric Wracker was a prime example and never knew what a single click on eBay had in store for him.
Eric was no stranger to the Mopar world. Growing up, he remembers his grandfather buying a brand new Dart in 1973.  Although not a overly cool car at the time, it was still a Mopar and Eric had many memories of it. Not only was his grandfather was a Mopar man but his uncle owned multiple of 'Cudas over the years. Eric took a real liking to the performance and style of his uncle's cars. So, it would come as no surprise that Eric would end up with a Mopar of his own one day.
Above: The Duster started out all blue but since then Eric had another repaint and decided to go with a two-tone black and blue scheme. 
Eric was always infatuated with E and B-bodies. In the late '90s you could find many Mopars at affordable prices. By the mid 2000's, Barrett-Jackson became famous and was aired live on the Speed channel. This one auction started to drive up muscle car prices across the board. Not just Mopar but GM and Ford too. Luckily, Eric was able to scoop up a 1970 Road Runner to restore and 1969 Satellite with plans of turning it into a GTX before the prices were driven up.
Time slipped by and Barret-Jackson continued to drive the cost of all muscle cars and parts sky-high. Eric never started on the 1970 Road Runner and with prices increasing, realized that it would be tough to build two cars. The Road Runner found a new home and Eric planned to direct his attention to the GTX clone. With high hopes of building a GTX clone, time once again slipped away and not much got started on the project.
Above Left: Although much of the original interior is still present, Eric upgraded a few components to suit the Duster better. Above Right: For being a car that's driven often, the engine bay is clean and everything has its own place.
Understand that Eric was very capable of building the car and was not ignoring the project on purpose. Eric has always had passion for anything with a motor and going fast. Over the years, Eric dabbled in off-road Jeeps, street bikes, autocrossing and many other endeavors. We can agree it's very difficult to spend the day building a car when you can go hang with friends off-roading or tearing up the autocross track.
After some time, the thrill of the other motorsports died down and Eric was tired of staring at the pile of GTX parts. He wanted to get back into the muscle car scene but wanted a running, driving car. Although building his own ride interested him, driving the car was more appealing. In December of 2004, Eric was browsing through eBay and came across a 1971 Duster for sale. The metallic blue of the Duster's exterior is what really caught his eye. Eric has a soft spot for any vehicle in blue.
Above Left: Although the air cleaner is a off the shelf cleaner, the Pentastar nut in the center was machined by Eric. Above Right: You can't mistaken the tubular goodness of Reilly Motorsports suspension that has proven itself over and over. The blue tube in front runs from frame rail to frame rail and is welded in place for extra body strengthening.   
He clicked on the ad and started to read through the description. Although at this time, a 1971 Plymouth Duster wasn't on the top of everyone's list of most wanted Mopars, it was a nice, clean, driving car. The car had been restored well. The whole drivetrain was new, there was even a brand new Mopar Performance Magnum 360 crate motor under the hood.
The body had just under 100k on it, all of the suspension was rebuilt, a solid 727 sat behind the crate motor and many other new parts were found through out the car. The body did go through a repaint but was rust free. He preferred the look of an E or B-body but the prices were getting out of reach for something running and driving. The Duster brought back some memories of the Dart his grandfather used to own. He placed a maximum bid of $8,000 and went to bed.
Above: Eric is not shy about the companies that are responsible for the success he has achieved.
A couple of days later, he was notified that his bid was the highest and he was the owner of a Duster. Some of his friends and family thought he was crazy spending $8,000 on "a silly A-body" but Eric didn't care. Once he got the car home he gave it a quick once over, oil change and Eric had the Duster burning rubber the next day. After doing a few small things here and there, Eric decided to take it on the Power Tour in June of 2005.
The Power Tour was awesome but there was starting to become a theme among many of the cars, Pro-touring. He noticed many of the cars had 5 and 6-speed gear boxes, big brakes, big wheels, fuel injected motors and some killer suspension setups. Not only were these cars better to drive on the street but they were racing them on the autocross course and even on big road course tracks. Eric was already accustomed to autocross from the past where he ran a Toyota Celica but never thought that he could build a muscle car to be competitive.
Top Left: From a distance it is hard to tell there is a bright orange pinstripe that divides the blue and black. Top Right: A couple of Corbeau fixed back seats along with harnesses were installed to hold you in place when Eric is tearing up the track. Also if you look close you can see the custom door handles that Eric machined and painted black. Bottom Left: From this angle you can see why this isn't your ordinary Duster. Bottom Right: Tinted windows is a must in Tennessee to help the interior stay cool in the summer.
Although the car was a nice cruiser, Eric decided he wanted improve the handling to hang with the Pro-touring cars he saw. With a new vision in sight, Eric started to search around for parts to help turn his Duster into a corner carving machine. At that point Eric told us, "I wanted to beat up on every cookie cutter Camaro or Corvette I could." Mopars are not normally the first to come up in conversation when talking about road racing or autcross. Eric was finding out it was an uphill battle trying to find the parts he wanted for his Duster.
One day, Eric opened up a copy of the latest car magazine that came in the mail and found exactly what he was looking for, Reilly Motorsports. The article spoke about Reilly Motorsports AlterKtion front suspension and rear Street-Lynx suspension for popular Mopar bodies. The owner, Bill Reilly, owned a 1969 Dart that was the primary reason for starting the whole company. Normally, A-bodies would be the last to receive such an awesome suspension but in this case it was the first.
Above: You can see why the car go the name Cone Duster. 
The AlterKtion and Street-Lynx both utilized coil-overs, rack and pinion steering, tubular arms and big sway bar up front. This would help Eric lower the car for better center of gravity, lighten up the car and give much steering response than the factory parts. Eric immediately call up Bill and within a couple weeks the Duster was sitting at Reilly Motorsports getting a make over.
While the Duster received all new suspension parts he chatted with Bill. What neither of them knew was Bill and Eric would become great friends and Eric would even do some prototype testing for Bill. Once the Duster had everything installed Eric immediately started driving it as much as possible. Living in Tennessee had its benefits for Eric as he had plenty of smooth curvy roads that the Duster ate up. Traveling down the Tail of the Dragon was common occurrence a few times a year. In no time Eric become comfortable with the car and started pushing it to the limits.
Above Left: The white face Autometer gauges, Grant steering wheel and 5 speed shifter handle are great touches to the interior. Above Right: Eric isn't ashamed of rock chips and scrapes from hitting a cone every once in a while. Eric states, "If your not hitting cones, your not going fast enough."
Although the car handled well, the 727 automatic wasn't cutting it. Eric wanted to be in total control of his car and started to look around for a manual transmission. At this point over drive transmission kits started to become popular and Eric called up American Powertrain to see what they had to offer for Mopars. They happen to be finishing up their TKO-600 5 speed kit for Mopars. Eric decided on the TKO-600 would handle the power and had great gearing for the street and track. The Duster also received American Powertrain's clutch kit and hydraulic throwout bearing.
Above: Bright chrome bumper, restored grille and a chin spoiler really set off the front of the Duster. Although the car is pushed hard, drove in the rain and all over Tennessee it still cleans up well.
With the Reilly Motorsports suspension and American Powertrain 5-speed, Eric was off to hunt down anything he could at the track. When Eric showed up for his first autocross in the Duster, he almost got laughed off the grid. Some remarks were made that "this isn't a drag strip" and "Mopars couldn't turn." After the first few passes Eric made, the comments stopped and turned to, "How did he do that?"
Autocross was the just the beginning. As Pro-touring events started to become popular, Eric had the opportunity to travel to multiple road courses and a ton of autocross tracks in Tennessee and surrounding states. During that time Eric continued to make new friends and became a well know driver among the popular Pro-touring crowd. The car eventually received the nickname "Cone Duster" due to Eric's driving skills.
Above Left: The orange pinstripe was put laid with precision and cut the black and blue in half like a knife. Above Right: Another shot of the RMS front suspension. Although Eric takes great pride in the Duster, a dirty undercarriage is expected when you drive a car as much as Eric does. 
In 2013, Eric was chosen to participate in Hot Rod Magazine's Muscle Car of the Year shootout. Although only lasting for a couple of years, the 2013 shootout took place in Ohio testing 14 different cars all around abilities. From the drag strip to the autocross track they were testing all aspects of the cars performance. There were some very expensive builds in the competition but Eric held his own. The competition was predominately GM vehicles. The best part was the Duster hurt a few egos throughout the competition.
Since then, Eric has continued to work on small parts of the Duster improving its drivability and performance on and off the track. A couple years ago Eric threw out the old carburetor and opted for a F.A.S.T. fuel injection system on top of the 380hp 360. "This was by far one of the best all around upgrades that I have done on the car. Throttle response, consistent throttle and no fuel sloshing out of the carb during hard turns has helped my lap times tremendously," stated Eric.
Above Left: The RMS Street-Lynx triangulated rear suspension is mounted to an 8 3/4″ with 3:73 gears and a Detroit Truetrac. You might notice the gas tank isn't stock and is a a custom made unit that Eric had built to supply the F.A.S.T. fuel injection. Above Right: The 360 breathes through a set of Hooker Headers and the 26″ aluminum radiator and electric fan keeps the motor cool under any condition.
This past winter, Eric assumed that after almost 14 years of abusing the small block that it was time to freshen it up. During the rebuild, Eric pulled the trigger on a set of Edelbrock RPM heads and new Comp Cams valvetrain. The Edelbrock heads will lighten up the front of the car as well as flow better for a nice increase in power. The new valvetrain would help maximize the Edelbrock heads and make better torque on the bottom end.
If you would have talked to Eric in the beginning of 2004 and told him that he would be autocrossing a Duster competitively he would of called you a liar. Little did he know the Duster that he was about to purchase at the end of the year would turn into a Pro-touring machine. The Pro-touring movement has continued to gain popularity and Eric has no plans of retiring the car anytime soon. Although Eric states the car is just about where he likes it, who knows what will happen in another 14 years.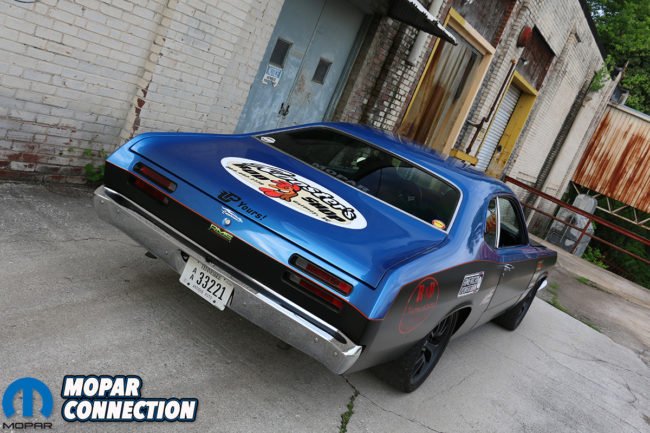 1971 Cone Duster Specs
Mopar Performance 380hp 360 Magnum Crate Engine
American Powertrain TKO-600 5 Speed
8.75 Chrysler rear end with 3.73 gears and Detroit Truetrac
Reilly Motorsports AlterKtion front suspension
Reilly Motorsports Street0Lynx rear suspension
Weld in frame connectors
Flaming River power steering rack
F.A.S.T. fuel injection
Edelbrock Performer RPM heads and Air-Gap intake
Wilwood 13″ 6 piston front brakes
Dr Diff rear Cobra brake kit
18×10 wheels with 275/35/18 tires on all four corners
Comp Cams roller rockers, camshaft and lifters