Most would be perfectly happy with 707 horsepower. And quite frankly, there are not many places where you could legally use the Hellcat's full potential. However, some would argue that you can never have enough horsepower; others would ask what if you could have a Hellcat with more horsepower? Well, someone took a Hellcat Challenger to the next level and did just that: introducing the 805HP twin-turbo 2015 Dodge Challenger Hellcat X.
Since the news of a Hellcat Challenger that features both the stock Hellcat supercharger and a pair of turbochargers first leaked from the Chryslers At Carlisle Nationals in Carlisle, Pennsylvania a few weeks ago, car forums and every other form of social media went wild with speculation as to how much power the Hellcat X could offer. Many hoped performance numbers would hover around 1,000 horsepower with some guessing even higher than that!
However, when the details of the Hellcat X were officially released and performance numbers were confirmed at 805 horsepower and 800lb-ft of torque, many were left questioning why the twin turbo setup combined with the Hellcat's factory supercharger didn't add more than just 98 horsepower and 150lb-ft of torque. Many questioned why Dodge didn't do more to boost performance numbers over a stock Hellcat. Surely with a massive performance department like Dodge has, they could of produced something more than that! Well, they didn't. That's because Dodge didn't build it.
While the Hellcat X is very real, many will be sad to know it is not nor will it be the next generation Dodge. Instead, it's a one-off custom-built vehicle that is being raffled off along with a fully restored 1970 Dodge Challenger R/T as a part of the 2015 Dream Giveaway. The Dream Giveaway program has been running since 2008 and since that time, has raised hundreds of thousands of dollars for charitable groups – from veteran to children's charities. This year, the Dream Giveaway program is also offering up a pair of Corvettes and a pair of Mustangs along with the pair of Challengers. That's a lot of very cool cars being raffled off for some very good causes.
There are some important factors to consider when looking at the performance of the Hellcat X. First, keep in mind that this is a car built for a charity giveaway, so while they wanted it to turn heads, the builders couldn't invest a fortune into the building the car. The Hellcat X is simply a stock Hellcat Hemi with a twin turbo setup applied to the factory powertrain. This means that when the turbochargers compress the air and send it to the engine, it is hitting the supercharger already very hot even as it passes through an intercooler. To truly optimize the Hellcat's performance, a lot would need to be done to the engine to do so.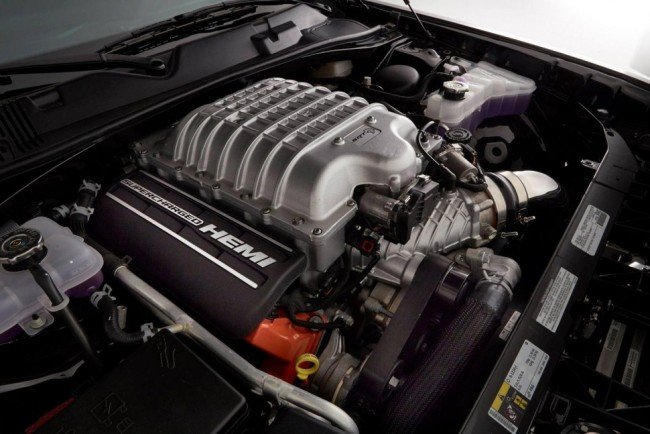 The Hellcat's massive supercharger is truly remarkable and is a staple of the Hellcat's performance, however it's designed to take free flowing air and shove it into the engine at a mind blowing 30,000 liters per minute. With the Hellcat X's setup, the more boost added from the turbochargers, the more heat and pressure that is applied to the top end of the engine. So by keeping boost pressures lower, the less likelihood of injuring the engine. Last but not least, raffling off a car to the public with 900-plus-horsepower is an insurance claim (and potential lawsuit) waiting to happen. A stock Hellcat Hemi is enough power for most (if not more so) and with the Hellcat X rated at 805 horsepower, it takes it up to that next level.
To make the Hellcat X a reality, the crew at Walsh Motorsports in Wixom, Michigan, took a standard production Hellcat Challenger and fitted a full Hellion Power Systems twin turbo setup, which added a pair of 62mm turbos under the car, just behind the engine. The turbos flow through a single dual-bypass intercooler and are bled by a pair of blow-off valves. The turbos are oiled via a proprietary oiling system with its own pump and scavenging tank. Dialed in at only 5psi of boost, the Hellcat X was ready to run.
Once the team was happy with the performance, they turned their attention to the rest of the car. Following in the aviation theme, raw aluminum accents were added to the three duct inlets in the hood, around the front grille and on the lower rear diffuser, along with a new adjustable chin spoiler and rear deck lid spoiler – both of which help improve down force at very high speeds. They also added custom Hellcat X badging on the fenders and wheel center caps. As with the interior, it's 95-percent stock, with the addition of the custom "Hellcat X" logo embroidered on the seat backs and front floor mats.
If you would like a chance to win this Dodge Challenger SRT Hellcat-X along with a gorgeous 1970 Dodge Challenger R/T 440 4-speed, head over to the Dream Giveaway website to buy your tickets! Ticket prices for this charity raffle begin at $3 each, but the more you buy, the less they cost. For example, their largest ticket package is $5,000 and that gets you 6,000 tickets and 6,000 chances to win both cars! Good luck!