In the world of vintage motorcars there are those that are rare, there are those that are beautifully cool and there are those of great historical significance. If a car was one of only, say, 18 ever built, would that be rare? Surely. If it held the near perfectly proportioned lines of a 1970 E-Body Plymouth, would it be cool? Most definitely. And if this same car was once the Personal Executive Demonstrator of the very same man who designed said 1970 E-body Plymouth muslce car, wouldn't that be just history on wheels? Hell yeah!
Well Mopar ladies and gents, that is exactly what we have here: the intersection of rarity, cool beauty and history. John Herlitz's 1970 Hemicuda convertible is going to auction. John Herlitz and his team of designers started drawing up the 1970 E-body platform as early as 1967. Over the subsequent months  and months heading into 1969, his pen yielded a timeless design loved by muscle car fanatics the world over to this day, the '70 Plymouth Barracuda.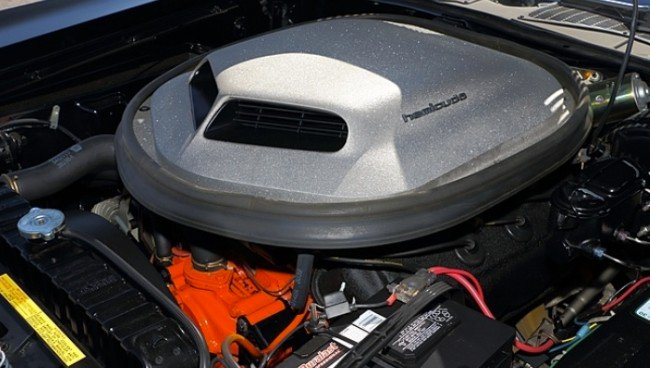 Using the B-body cowl section and inner fenders, Herlitz and his crew ensured the big Hemi was going to fit between the fenders. He created the ultimate muscle car. So when these things hit the assembly line he decided to order himself up the Ultimate of Ultimate Muscle Cars for his personal runabout. First off, this thing is black as pitch – paint, interior, top, hockey stick stripe, the works. It wears 15 X 7 Rally wheels and nearly every other option available on the Hemicuda. The drivetrain is bulletproof: aforementioned Hemi, Torqueflite, A32 Axle Package which means 4.10 Dana 60. Let that sink in. Now wipe that drool off your laptop.
There were only 18 Hemicuda convertibles built for the planet's consumption in 1970 (TX9 Black was the favored color for buyers at a whopping five cars wearing the hue out of 18). Seems 14 were constructed for America and four others were exported.
So if you've got $2.5-to-$3 million salted away somewhere, dig it out and get yourself to Mecum Monterey in mid-August. That's the estimate it'll take to get yourself some rare, cool history that once was Driven by The Man himself.