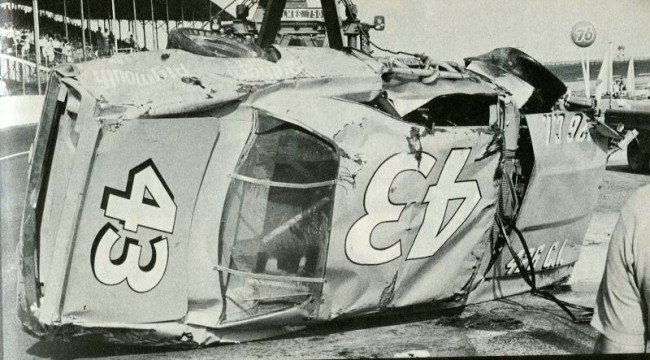 Clearly no NASCAR racer could be hailed "The King" than Richard Petty. Not only does Petty wield some of the most historic wins in stock car racing history, but as this video retells, possibly one of the most memorable crashes. During the 1970 Rebel 400 at Darlington, Petty's iconic blue #43 Plymouth goes from a pack leader to a tumbling, whirling mass of flailing sheet metal and debris in mere seconds. What made Petty's accident at Darlington so famous wasn't for its carnage, but the lack thereof, and it being documented live during ABC's "Wide World of Sports", making it also the first major NASCAR incident captured live on network television.
According to a 1993 report on The Daily Press, "The May 9, 1970 accident had its roots three days earlier, when Petty wrecked his winged, needle-nose Plymouth SuperBird during a practice run. He replaced it with a short-track Roadrunner that wasn't especially suited to Darlington's 1.366-mile length.
"During the 400, Petty brushed the third and fourth-turn wall on lap 169. He ran a few 'recovery' laps before picking up the pace. But something failed in the steering system as he came through Turns 3 and 4 on lap 176."
Petty recalled, "I remember hitting the outside wall and the car turning left, toward the pit wall. I tried to steer right, but nothing happened. I remember worrying that I was going over the pit wall and would hurt some people."
His Plymouth broke a six-foot chunk of concrete free from the pit wall, and began a sequence of barrell rolls. Although he doesn't recall much, Petty remembers trying to steer and hit the brakes while airborne. After the first cartwheel, everything went blank. After five rolls, the B-body settled on its roof with Petty limp, and dangling upside down. The King was wheeled off in the back of a ambulance station wagon semi conscious.
Astoundingly, Petty only suffered from a broken shoulder (apart from a few cuts and bruises). The shoulder kept Petty in the hospital overnight, and caused the champ several races – including a "Saturday night show at then-Langley Field Speedway in Hampton" and finally returned to racing at the Michigan 400 on June 7. It was the only time he missed a race because of an injury. Watch the video below, it's hard to believe Petty made it out in one piece.