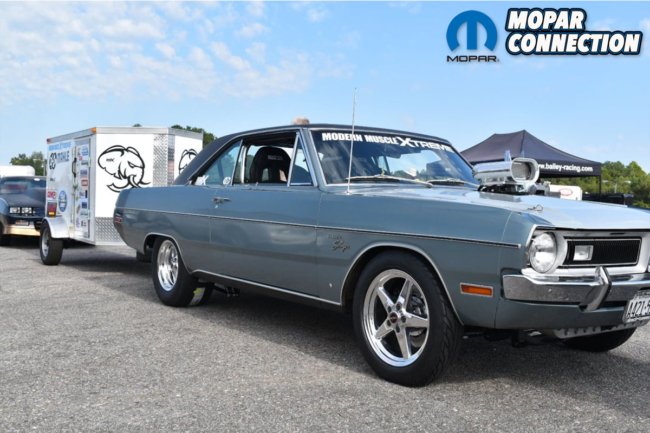 Few a while now, more and more events have popped up that require you to drive and not trailer your car from race track to race track. You might have guessed it, but Hot Rod Drag Week has been one of the first events to do this and push the envelope of what can actually be driven on the street.
Events like Hot Rod Drag Week challenge participants to go fast as possible, but still have to drive their car to multiple tracks in just a couple of days. We are not talking about race tracks that are a couple miles down the road, we are talking hundreds of miles between race tracks.
This creates a big challenge. How do you go fast as possible down that track and still be able to cruise down the highway in the same car? That is without rebuilding the whole car at the track and the answer is Gear Vendors.
Gear Vendors has been the titled sponsor of Hot Rod Drag Week since the beginning and we understand why. The Gear Vendors over/under drive units allow you to split gears in half.
Contestants get the best of both worlds. Many of them use the Gear Vendors on the track to save a shift and just hit a button to split what ever gear they want.
Then when they are done on the track and head out to the next stop, they can get the car up to highway speeds and then split their final gear in half for a nice low RPM cruising speed.
The best part is Gear Vendors have seen north of 2000hp without missing a beat. The units are strong, durable and easy to install. They are can be retrofitted to many popular transmissions, including popular Mopar 727, 904 and 518/618/47rh automatic transmissions.
Not only can Gear Vendors unit be retrofitted to automatic transmissions, but it can also be added to manual transmissions. Yes, the iconic A833 4-speed can be retrofitted with a Gear Vendors units.
Drag Week and other alike events would be much more difficult to accomplish if it was not for Gear Vendors under/over drive units. Drag Week 2023 is right around the corner and we are excited to see the lineup of cars.