It's no secret that the modern Challengers and Chargers are a huge part of the Mopar world today. With Dodge pumping out a number of killer high performance Mopars over the past few years such as the Hellcats, Demon and other SRT products, the modern Mopar enthusiast base continues to grow with every passing year. Of course, just like the classic Mopars, modern Mopar owners love to modify their cars, maybe even more so!
With that, the aftermarket parts available for the modern Challenger, Charger and other Mopars grows bigger and bigger every day with thousands of parts being made available so you can customize your car to your exact taste. One of the big names in the aftermarket modern Mopar parts game is AmericanMuscle. Founded back in 2003 by Andrew and Steve Voudouris, AmericanMuscle has built their business over the years and are well established in the automotive marketplace as one of the best, most reliable online aftermarket retailers in the business. While their original focus was late-model Mustangs and F-150s, they've since expanded to some of the modern Mopars such as the Challenger.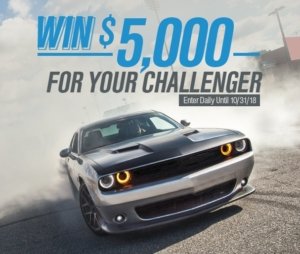 Based out of the 115,000+ sq. ft. warehouse just outside Philadelphia, PA, their very knowledgeable staff is always ready to help with anything you require for your car. AmericanMuscle has proudly earned the "Elite Level" seal from Reseller Ratings, and currently has a ResellerRatings score of 9.6/10 with over 14,000+ reviews! If you want a reliable and trustworthy company to deal with, it doesn't get much better than this!
Besides selling parts, AmericanMuscle also publishes a number of technical guides that every modern Mopar owner and enthusiast should check out. They are also very excited to announce their 'Revved Up Giveaway' sweepstakes that is currently happening now until October 31st. You can enter daily to win yourself $5,000 to spend on aftermarket parts for your Challenger! How awesome is that?! Make sure to enter and check out everything AmericanMuscle has to offer for your car, you won't regret it!