When you think of the 340 powered Dodge Dart Swinger, your mind usually goes to the '69 and '70 examples but what many don't know is Dodge actually built a factory 340 powered Dart Swinger in 1971 and 1972. In 1971, the fastback Demon 340 had replaced the popular Swinger 340 in the Dodge performance lineup. This change meant the biggest engine available for the 1971 and 1972 Darts was the lowly 230 horsepower 318-2bbl. With 16,637 Swinger 340s produced in 1969 and 13,785 in 1970, it was no question that they were good sellers, especially in Canada. With the lack of a 340 Swinger for 1971, it left many enthusiasts empty handed.
With this in mind, Crestview Dodge in Regina, Saskatchewan and Crosstown Motors in Edmonton, Alberta teamed up and did something no one else did or could; they somehow pulled some strings with Chrysler Head Office and ordered a very limited run of factory built hi-performance low buck Dart Swinger 340 Specials for 1971. At the time, Crosstown under the guidance of owner Zane Feldman, grew into the largest volume dealership in the late '60's to the mid '70's. On top of the high amount of performance cars that came out of Crosstown (like our dealer demo 1971 Charger R/T for example), it has been said that more Hemi cars came out of Crosstown, per capita, in North America compared to anywhere else. Needless to say, with the sales numbers that they had, Crosstown had some serious pull with corporate.
These new Swinger Specials had a unique VIN prefix of LL23H1R (L=Dart, L=Low, 23=2 Door Hardtop, H=340, 1=71, R=Windsor, Ontario Plant) and carried the very coveted Y39 special order code as indicated on the broadcast sheets. It has been said though that the term "Special" for these cars does not actually denote the special run, rather it denotes the base or bottom line of the Dart model. According to records and in-depth research, 83 Swinger 340 Specials were produced in 1971. Since Crosstown spearheaded the project, they got the bulk of them with 63 units showing up. Crestview got 18 and 2 additional units went to a unknown dealer in Ft. St. John, British Columbia. The Crosstown cars had a scheduled build date of 507 (May 7th) while the Crestview cars were 513 (May 13th). All of the sequence numbers and order numbers were sequential and all of the fender tags and broadcast sheets indicate L2X9 coded interiors (however the Crestview cars were all upgraded to the H2XW interiors).
They also had H2XW hand written in red marker on all their broadcast sheets even though the tag and sheet showed L2X9. The 340 engines in these 1971 Swinger Specials were painted blue and were not built on the same day or built in the same plants as witnessed by the different stampings on a number of the original engines on these cars. However, all were early to mid '71 build dates. The Crestview cars also received "special trim," as all have this hand scrawled on the bottom of the broadcast sheets. This included Rallye wheels, hood scoops, chrome exhaust tips and chrome hood/fender moldings.
The Crosstown cars on the other hand, all came as plane jane Darts, sporting rubber floors and no armrests in the back. Some of the Crosstown cars have the words "hoop scoops" stamped on their fender tags and only these cars received them. The '71 hood scoops did not receive the chrome trim around the front openings on the Crosstown cars, but Crestview versions had it. All of the cars got a bumblebee stripe even though none were coded for it and is believed to have been dealer installed. With these special markings on the fender tags and broadcast sheets, it makes it rather easy to know if you are looking at a true Swinger 340 Special or not.
All of the cars came coded with F56 (-35 antifreeze) and code F25 (block heater). They also came equipped with 8 3/4″ rear ends and a couple even received a Sure Grip differential. Another interesting note is that not all of the cars had their rear torsion or front leaf spring mounts boxed and is unknown why only some had it and others didn't. Most of the cars came equipped with a 727 TorqueFlite automatic or a 4-speed manual transmission. A couple even came equipped with a 3-speed manual transmission but had a 4-speed shifter ball.
The 1971 Dart Swinger 340 Special is quite similar to the 1970 Swinger 340s however the most noticeable differences are the blacked-out '71 front grille, '71 tail lights and the non-Rallye dash. Some of the emblems are located in different places, like the "Swinger" emblem, which is located on the front fenders, instead of the rear quarters like the 1970 Swingers. It also had a "Special" emblem under it.
The Crestview cars came in a variety of colors that included GA4 Light Gunmetal, FC7 Plum Crazy Purple, GW3 White, GY9 Dark Gold, FY1 Top Banana, FJ6 Green-Go, GB2 Light Blue, GF7 Dark Green, GY3 Citron Yella, EV2 Hemi Orange and TX9 Black. For some reason, the Crosstown cars were only available in a couple hi-impact colors; FC7 Plum Crazy Purple, EV2 Hemi Orange and FJ6 Green-Go. Of the original 83 cars built, only 28 have been confirmed and documented to date with 3 of them wrecked and crushed and a couple others are still awaiting validation.
For 1972, the Swinger 340 Special came about in a different way than the '71s had. The '72s were ordered and commissioned by Chrysler Head Office and then given to both Crosstown Motors as well as Pembina Dodge in Winnipeg, Manitoba as basically a thank you or kick-back for selling a whole lot of inventory. According to reports, Chrysler Head Office wanted to move over 1,100 units in the spring of '72 and approached these two dealerships to make that happen. They made it happen and 24 Swinger Specials were built and delivered to the two dealerships in 1972.
It's been said that the owner of Pembina Dodge, Ike Vicker referred to these cars as "little hot rods." Based on records, 17 '72s went to Crosstown, 5 went to Pembina and 2 went to an unknown dealer in Abbotsford, British Columbia. With that said, not a lot is known about these cars because so few were produced and because they weren't part of an independent dealership order, but one issued by Chrysler Head Office and we all know how little exists for records at Chrysler.
Like the 71's, the '72 Swinger 340 Specials were ordered and built in sequential numbers with the vin prefix of LL23H2R (L=Dart, L=Low, 23=2 Door Hardtop, H=340, 2=72, R=Windsor, Ontario Plant). They also had the Y39 'SPECIAL ORDER' code typed out on each broadcast sheet just like the '71s. These cars came down the Windsor, Ontario Plant assembly line with their fender tags hanging from their mirrors (screwed on later and left unpainted), and were then pulled aside to get their performance upgrades. All of the cars for the most part were plain-Jane, low option cars equipped with 10" drum brakes all the way around, HD sway bars, vinyl rubber floors, hounds-tooth plaid cloth/vinyl bench seats and no rear arm rests or chrome. However, the Pembina cars were known to have gotten a few extra goodies.
For transmission choices, you could get the 3-speed automatic, 4-speed manual or 3- speed manual transmissions. They came standard with a dual snorkel hood (same as the one that came on the Demon 340), torque boxes on all corners and an 8 3/4" 3:23 geared rear end standard. For colors, you could get pretty much anything available on the '72 line, which included the last of the hi-impact colours, EV2 Hemi Orange and FY1 Top Banana. The only variation on options was found in a 3-speed manual car which came radio delete. Broadcast sheets for the Pembina cars indicate the moldings section upgrade that included carpet and vinyl seats along with the trim and a rear window defogger; 1 of 2 documented cars even got power disc brakes.
These cars had a late '72 scheduled build date, with the Crosstown cars going through on May 11th (511) and the Pembina cars on June 16th (616). All of the fender tags and broadcast sheets indicate houndstooth interiors, a Music Master AM radio, -35 antifreeze and a block heater. They also now came with shoulder belts, the new cheaper cardboard headliner and a new dash face. As previously mentioned, the Pembina cars got carpet and vinyl seats.
The '72 Dart Swinger 340 Special was similar to the '71 models but for the most part, they were a one year only thing. The most noticeable differences are the full sweep style front grille, marker lights, tail stripe, front split bench seat and dual snorkel hood scoop. While most cars came equipped with black steel wheels and dog-dish hubcaps or the Rallye wheels, a few got the 32 hole full hubcap. The "Swinger" emblem is located on the front fenders like the '71's and has the "Special" emblem under it. The "340" emblems were moved from the hood scoops to the front fender, just behind the marker lights.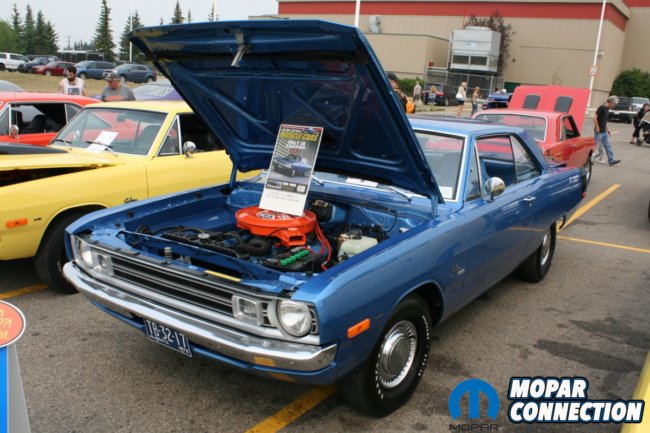 All of the cars received black or white bumblebee tail stripes even though none were coded for it (most likely dealer installed) and just like the '71's, the rear torsion and front leaf torque boxes were applied to most but not all of the cars. At this time, there are only 15 known documented survivors with a couple meeting an early death, along with a couple possibles and rumors out there. Of them, 10 were located in Alberta, 2 in British Columbia and 1 in Manitoba (it's since been relocated to Connecticut; one of the Pembina cars).
Over the years, we've become friends with, in our opinion, the biggest Swinger 340 Special enthusiast out there, Cliff Guinand from Calgary, Alberta and learned a lot about these literally "Special" little cars from him. Cliff's Swinger 340 Special fascination goes way back to 2004 when he pulled a very hurting EV2 Hemi Orange automatic 1972 Swinger 340 Special out of the snow and dragged it home. Although Mopar history led him to believe 1970 was the last year for the "H-Code" 340 Dart, the H on this '72 got the ball rolling and he started digging into what the car really was.
After a couple years of digging, researching and amassing a collection of parts, Cliff decided he needed to restore one. Sadly, since the EV2 car was too far gone to restore, Cliff started searching for a better one to restore. With production numbers being so low, it would be no easy task. Much to his luck, his good friend Kevin Kaiser in Evansburg, Alberta who was restoring a FY1 Top Banana Crosstown car at the time just so happened to have another one that was originally a B5 Blue 3-Speed manual from Crosstown as well.
In 2016, Cliff bought the B5 Blue Special and began the restoration on it right away. Since completing the restoration, Cliff has taken the car to a number of shows. Going forward, Cliff plans to continue to find and document as many of these special cars as he can! He has been personally invited by Bob Ashton to the Muscle Car & Corvette Nationals (MCACN) in November as well as by Ed to the Carlisle Chrysler Nationals in Pennsylvania.
At some point earlier this year, the idea popped into Cliff's head that it would be cool to see how many Swinger 340 Specials, both '71 and '72 examples could come together at the recent August Heat Mopar Show in Red Deer, Alberta. In the weeks and months leading up to the show, Cliff managed to arrange quite a few to attend and on the day of the show, one '71 and 5 '72s showed up. In attendance was Derek Spraakman's FC7 Plum Crazy Purple (originally FY1 Top Banana) Crestview '71, Dan Mohr's FE5 Crosstown '72 Project, Danny Fitzpatrick's EV2 Hemi Orange Pembina '72 , Jim Wheale's FY1 Top Banana Crosstown '72, Kevin Kaiser's FY1 Top Banana Crosstown '72 and of course, Cliff's B5 Blue Crosstown '72.
If you know of a 1971 or 1972 Swinger 340 Special, please contact Cliff through his website https://www.swinger340specials.ca/.