Ask any Mopar enthusiast if they have a favorite Mopar and they'll tell you right away. Personally, while I love all types of Mopars, B-body Dodge Chargers have always had a special place in my heart. Growing up with my 1969 Dodge Charger that I've owned since the age of six, those big muscular body lines had me hooked from the get-go.
For the longest time, I can admit I was only into strictly 1968-1970s when it came to the Chargers. It wasn't until about ten years ago that I started to notice the 1971-1974 examples, especially the 1971s. There was just something about the styling and body lines of the 1971 Charger that I loved.
The desire to own one grew more and more with every passing year to where it became an itch I needed to badly scratch. In 2016, I was finally able to scratch that itch and purchased my GY3 Citron Yella 1971 Charger R/T project car.
Over the next few years, my obsession for 1971 Chargers grew, especially for ones painted GY3 Citron Yella. It quickly became my favorite Hi-Impact Mopar colour. Fast forward to July 2019, I found myself buying some parts for my '71 Charger R/T off a local Mopar guy.
He asked me about my car and I told him it was a GY3 Citron Yella car and how GY3 was my favorite '71 Mopar colour. My told me that his friend up in the Interior of British Columbia owned a bunch of '71 Chargers including a GY3 '71 Super Bee. He said it was pretty rough but it was a factory U-Code 440 car with the A833 Pistol Grip 4-Speed manual transmission which was very rare.
He told me that his friend wasn't going to do much with it as he had factory 426 Hemi and V-Code 440 Six Pack cars that were taking up his time so he'd probably sell it. He gave me his friend's number so I reached out to him and arranged to go see it.
It was a hot August day when I arrived to check out the car. The owner took me out to the back of his property where the Super Bee was sitting in waist high grass and weeds with a slew of parts cars. From the second I laid my eyes on it, I instantly fell in love with it. I remember opening the door and getting blasted with a wave of heat from the interior cooking in the sun but the sight of that original weathered Pistol Grip shifter made my heart beat a million miles a minute.
I knew I had to have the car but didn't have much extra money lying around. We agreed to a price and he told me he had no problem with me working on getting the funds together. I started working on gathering the funds when unfortunately, bad luck struck; and hard. A month after looking at the car, I lost my job and ended up being unemployed for the better part of three months. That being said, the dream of buying the Super Bee was put on hold.
By Christmas of that year, I was back at work getting back on my feet. Throughout it all, the Super Bee remained in the back of my mind. As spring of 2020 came around, I was finally back into the swing of things and once again made buying the Super Bee a priority.
To get the bulk of the money for it, I decided to sell my 1971 Road Runner 383 4-Speed project I had acquired a few years prior. Despite the fact that it was Hi-Impact EV2 Tor Red (Hemi Orange) with the rare Halloween orange and black interior, it was really rough so I made the decision to let it go.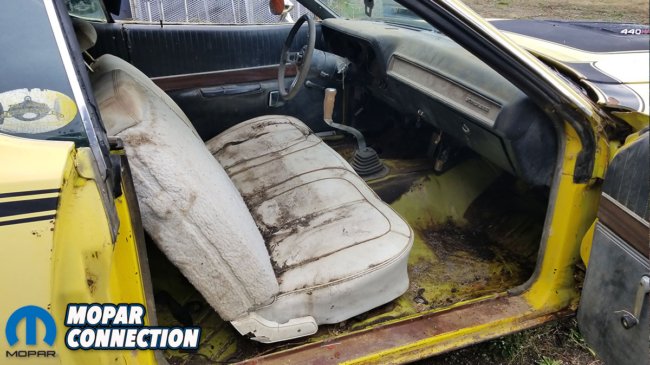 I had remembered that my friend Mike Hall from the TV Show "Rust Valley Restorers" had expressed interest in buying my Road Runner a year or so prior so I called him up and the Road Runner went off to him. With cash in hand from the Road Runner, I continued to get the rest of the money together until I was finally able to complete the deal on the Super Bee in October 2020.
Over the time I was getting the money together, the owner of the Super Bee started sharing the car's history with me. He explained that he had purchased the Super Bee in 1996 when he lived up in northern British Columbia. A friend of his had bought the car strictly for the desirable 15×7-inch Rallye wheels. His friend took the wheels off and offered it to him for a good deal so he bought it. He brought the Super Bee home and put it with his other cars but never did anything with it.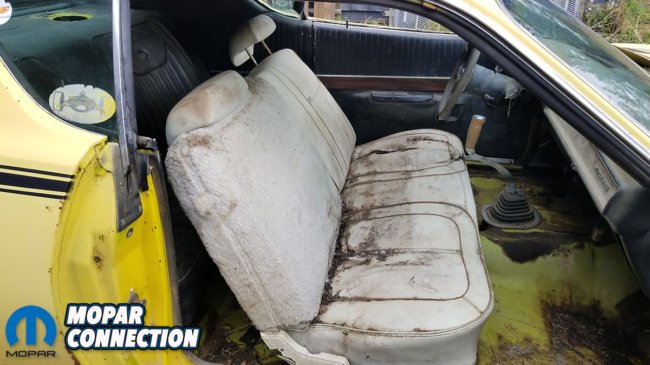 When he moved down to the southern Interior a few years back, he crushed most of the rougher Chargers he had as he couldn't take them all. He told me that despite the fact that the car was in rough shape, it was "just too cool and rare to squash" so it made the long trip down to his new house with his other "keepers."
What makes this particular Super Bee very rare is its U-code in the VIN number which stands for the 370 horsepower 440 Magnum four barrel engine. In 1971, the Super Bee came standard with the 383 Magnum. Optional engines were the 340 Magnum, 440 Six Pack and 426 Hemi. Most did not know that you could technically get the 440 Magnum four barrel in the Super Bee.
As a matter of fact, the 1971 dealership ordering and data books show the 440 Magnum four barrel as being not available in the Super Bee. Despite that, a total of just twenty-six U-Code Super Bees managed to sneak out of the production plants in 1971 for the U.S market.
This production number of twenty-six included both automatic and manual transmissions. According to Chrysler Canada records, this particular Super Bee is the only U-Code example produced for Canadian sale. While I haven't seen these records myself, the information does come from a reputable source. Regardless, this is one very rare Super Bee!
As the history goes, the car was ordered by Don Butts who was the sales manager at Columbia Dodge in New Westminster, British Columbia. Don was fond of Super Bees and generally preferred to order 340 Magnum powered examples as he was not a fan of the standard 383 Magnum in those cars. In fact, he personally ordered twenty-six of the thirty-two total 340 Magnum powered Super Bees built for Canadian sale in 1971. For some reason though, he decided to order one 440 Magnum car; this one.
On the order sheet, he chose the Hi-Impact GY3 Citron Yella paint with a black bench seat interior. The option boxes were checked off for the D21 Pistol Grip 4-Speed manual transmission, A04 Radio Group, A33 Track Pak (which gave you a 3.54 geared Dana 60 Sure Grip rear end, 11" HD rear drum brakes and 26 inch radiator), A54 Front and Rear Spoilers, B41 Power Front Disc Brakes, G11 Tinted Glass, H31 Rear Window Defogger, L37 Hideaway Headlights, J41 Pedal Dress-Up, J45 Hood Tie-Down Pins, N42 Machine Gun Exhaust Tips, N85 Tachometer, S77 Power Steering, S84 "Tuff" Steering Wheel, W21 15X7-inch Rallye Wheels and U86 G60x15-inch Goodyear Polyglas tires.
Once the car arrived at Columbia and hit the sales lot, it proved to be a hard car to sell. According to Don, "they had a heck of a time selling it". Don figured the colour had something to do with it so this was the last GY3 Citron Yella car Don ever ordered. He quickly "loathed" the colour. The Super Bee would continue to sit on the sales lot for the next year or so without a sale. Don shared that it even got to a point where Columbia considered sending the car out to be painted black hoping it would create an easier sale.
At some point during it's time at Columbia, the original 440 disappeared and a 383 was put in it's place. From what Don said, quite a few new cars were stolen from the dealership lot right around that time and recovered with no engine or transmission. While he couldn't remember if my Super Bee was a part of that, it's very possible. He did state that the dealership lost a lot of money on the car when they finally sold it.
Based on transfer of ownership documents, finally in September 1973, the Super Bee would be purchased by Centennial Motors; a Dodge dealership in Fort St. John, B.C before being sold to the official first owner named Dwayne the next day. This leads me to believe it was a dealer trade of some type.
Dwayne shared with me that the car meant a lot to him as he owned it when he got married and brought both of his children home from the hospital in it. He even took it on his honeymoon to Vancouver Island in April 1974 where he ended up blowing the clutch up and had to replace it in his dad's driveway. Eventually, he would sell it to his brother Darrell around 1979. Darrell would drive the car for the next few years. At one point, someone backed into the driver side door. It was repaired but the colour match was off and still is to this day.
Upon talking to Darrell, he explained to me that his parents lived in Duncan so the car went back and forth between Fort St. John and Duncan a fair bit. During Darrell's ownership, the engine blew up while in Duncan so he took it to "Top Gear Engineering"; a mechanic shop in Duncan, B.C that specialized in British racing cars. On the quarter glass, there are still yellow oval decals for the shop.
From what I've been told by the fellow I bought it from, Top Gear had a wrecked 1971 383 4-Speed Super Bee. At some point, my Super Bee ended up at Top Gear and the entire drive train, including the 4-Speed and Dana 60 rear end was swapped out with another 4-Speed and an 8 3/4 rear end from the wrecked 383 Super Bee.
In the early 1980s, Darrell sold the Super Bee to a truck driver named Rob. Rob would drive the car hard and put it away wet for the next couple of years before selling it to a fellow named Dean in 1984. While talking to Dean, he told me, "It had a Holley 750cfm double pumper carburetor and headers when I bought it. I was in high school when I owned it and it wasn't cheap to run for a high school kid so I put it on propane. A friend of my dad did conversions. Even running on propane, it still had lots of jam. Too much in fact, which is why my parents encouraged me to sell it if I wanted to stay living under their roof."
In 1985, Dean would trade the car to a fellow named Doug for a 1978 GMC Sprint (ElCamino). Doug told me, "When I bought it, Dean took the propane conversion kit off of it so I had to steal the two barrel carburetor off my brother's totaled Mustang to drive it home. That carburetor ended up staying on it the entire time I had it."
Over the years, its said to have hit three different moose. Back when Doug owned it, he was working as a park ranger up the Alaska Highway so he would drive the Super Bee up and down the highway all the time. Around midnight one night on his way to work, he hit a cow moose and wiped out the driver side fender, windshield and side mirror. It doesn't get much more Canadian than that!
After a problem with lack of oil pressure in the engine, Doug would end up selling the car in 1988 and this would be the last time the Super Bee was on the road. The fellow he sold it to would be the one to pull the Rallye wheels off and sell it to the guy I purchased it from.
Since bringing the Super Bee home, I've started collecting parts for the eventual full restoration back to original factory condition. In the mean time, I've been working on getting the car running and driving in it's current condition so I can drive it and enjoy it while gathering parts for a full restoration!