Fortuitousness defines Jere Stahl, former owner of Stahl Engineering, the originator of the "Total Tuned" exhaust header. Headers by Stahl Engineering started quite by chance. Stahl, a voracious reader, while stationed in Germany in the 1950s, came across the book The Sports Car by Colin Campbell. In the book, there was a section about induction and exhaust tuning.
With the knowledge learned from the book combined with technician experience at Chevrolet dealerships before his military service and automotive training after the service, Stahl felt he could build four-to-one equal length headers that would outperform the Tri-Y designs of Jardine, Thorley, Hedman, and Sanders. He was correct, and in 1962, his first pair of headers on Dave Strickler's Z-11 409 Impala dropped Strickler's elapsed times from 12.50s to the high-11s. In a vintage, May 1968 Car Craft advertisement, Stahl and racer/tuner Bill Stiles discuss racing headers with the FRAM representatives.
Top Left: FRAM interviewed Jere Stahl and Bill Stiles in the May 1968 Car Craft magazine about header design and using FRAM oil filters. Top Right: A close-up of the first column of the interview. Bottom Left: A continuation of the discussion. Bottom Right: The last column of the interview.
Stahl's headers became the go-to custom header for all the big-name drag racers of the day. Not only did he build headers for racers, but he was also a racer himself. After years of success with various junior stock and stock eliminator Chevrolets, Stahl caught the eye of the reps of the Chrysler racing division. In 1966, Stahl campaigned a '66 4-speed Hemi Plymouth in A/Stock eliminator. By running A/Stock, Stahl's fiercest competitor was "the Grump" Bill Jenkins in his L-79 equipped Chevy II. With the assistance of Bill Stiles, Stahl usually got the best of the Grump.
Top: Stahl and Stiles pose with the 1966 A/Stock Hemi Plymouth. Stiles prepared the car, and, of course, he installed Stahl's "Total Tuned" headers. Above: Running a Hemi in A/Stock meant the power-to-weight put the car in with the lighter L-79 Chevy II of Bill Jenkins. Stahl got the best of Jenkins a good amount of the time in 1966. 
Stahl would eventually move into Pro Stock in the early 1970s with a Dodge Demon, but with his business success, there was less time to race. His headers were known for their excellent quality. Legend has it that his headers would drop a car's elapsed time by as much as 1/10th of a second compared to the off-the-shelf headers. Stahl continued to innovate header design, and as his business grew, he moved into circle track headers and even dabbled in camshaft design. Stahl passed in 2016.
After completing his automotive training at Williamsport Technical Institute (now Pennsylvania College of Technology), Bill Stiles worked with Dave Strickler, building transmissions and rear ends. In 1965, Stiles built and tuned Strickler's altered wheelbase Coronet. When Strickler returned to Chevrolet in late '65, Stiles took his talents to Stahl for the 1966 and 1967 seasons.
Left: Stiles built and tuned Dave Strickler's 1965 Coronet. When Strickler returned to Chevrolet for the 1966 season, Stiles went to work with Stahl. Right: In 1968, Stiles raced on his own. He ran a Super Stock B/A Hemi Barracuda. In this photo, he is running the Barracuda in A/Modified Production. 
Stiles ventured out on his own in 1968. He campaigned a '68 426 Hemi Barracuda in Super Stock/BA (automatic). Eventually, like Stahl, he moved to Pro Stock with a Duster. However, Ed Hedrick handled a majority of the driving chores. Stiles, like Stahl, curtailed his racing career as his business, Stiles Performance, took off. Stiles Performance built many successful race engines and race cars. By 1990, the company had adjusted its focus and became the supplier of specialized race magnetos for the top race teams. In 2018, Stiles passed.
In 1934, chemists Frederick Frankin and T. Edward Aldham developed the first easily replaceable oil filter. They named the company FRAM based upon the first two letters of Frederick's name and the last two letters of Aldham's name. By the late 1930s, FRAM became the original equipment supplier for many of the auto manufacturers. FRAM developed air filters, crankcase ventilators, gas filters, and water filters in the early-1950s. FRAM introduced the cartridge and housing spin-on oil filter in the mid-1950s.
Top: Stahl eventually moved to Pro Stock. He ran a Demon for a couple of seasons. Then, the Stahl Engineering header business took off, so Stahl ran less until finally ending his racing career in the early-1970s. Above: Stiles also moved to Pro Stock. For the most part, he had Ed Hedrick handle the driving chores. Just like Stahl Engineering, Stiles Performance had a significant upswing in business, and Stiles moved away from racing to focus on the company. Even into the 1970s, both cars still ran FRAM stickers on the quarter windows.
In 1968, FRAM began producing high-performance filters for race engines, and racers like Stahl and Stiles discovered the benefits of the oil filter's ability to trap dirt and debris. If you are old enough, you may remember the famous 1971 slogan, "you can pay me now, or pay me later."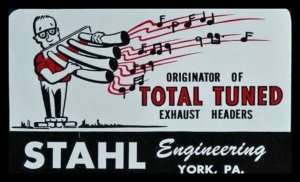 Above Left: Stahl's 1967 Super Stock/B Hemi Plymouth was the car in the FRAM advertisement. Unfortunately, it was not as successful as the 1966 A/Stocker. Above Right: If you are interested in learning more about intake and exhaust tuning, Bentley Publishing still produces a copy of  "The Sports Car" by Colin Campbell. Another great book (not photographed) is Philip H. Smith's "The Scientific Design of Exhaust and Intake Systems." Right: This was an early decal and the door emblem on Stahl's cars through the 1960s.
FRAM has continued to innovate, developing the Extra Guard, Double Guard, Tough Guard, SureGRIP, Xtended Guard, and SureDRAIN oil filter lines. In addition, in 2004, FRAM introduced the High Mileage filter, and in 2012, the Ultra Synthetic filter was specifically designed for synthetic oils. Finally, last year, FRAM released its latest filters, introducing FRAM Titanium and FRAM Force.
If you desire precise filtration for your engine, check out the massive line of FRAM products at your favorite auto supply outlet. If you have a slant six to a 440, Mancini Racing carries the highly-touted HP1 FRAM filter, a direct replacement for the FRAM PH8, or the FRAM PH16 and PH43 (if space is available). For more details about the filter, check out FRAM and Mancini Racing.