If you did not already know, we have Reilly Motorsports AlterKtion suspension under the front of Project Orange Crush. We have had the suspension for a few years now but every time we get in the car we are excited to drive it. Whether its to go grab groceries or heading to the track, the car is a blast to drive. Although Reilly Motorsports have been around for 20 years, there still seem to be a lot of basic questions about the suspension. We came up with 10 facts that everyone should know about the AlterKtion suspension.
Drag Race or Handling Performance Options
Although we talk a lot about how well the AlterKtion keeps Project Orange Crush competitive on the autocross course, it can be just as effective on the drag strip. Once a car gets into the 9's, stability on the top end can get pretty dicey with stock suspension. The biggest reason drag racers call RMS is not because of 60-foot times or weight savings, it's because the top end is getting dangerously unstable. RMS has customers with mild 11-second cars, down into the low 7's with exceptional stability.
There are both a Street/Strip and Street/Handling option when you order your AlterKtion. The main design of the AlterKtion doesn't change but some of the included components do. Some options like sway bar are dropped for weight or could be ordered in a smaller diameter for Street/Strip vs. the Street/Handling. Same goes for the rack and pinion option, the Street/Strip comes with a manual rack vs the Street/Handling package that is power.
Built-in Tow Hooks
Although its not a necessity for everyone, Reilly Motorsports offers welded in tow hooks at no extra charge. There is a large tow hook in the center of the K-member for easy access. The other two hooks are used for strapping the car down on a trailer. With a restored car the last thing you want is a strap or ratchet to chip off your paint or damage your car while hauling it. The tow hooks offers a great solution. You can also order the AlterKtion without any tow hooks too.
A-arms Built In-House
The upper and lower arms are constructed of DOM mild steel tubing, which is required to be strong enough for racing, but durable enough for the constant shock loads of street use. Pounding potholes all day can cause chrome-moly to crack, whereas mild steel is flexible enough to absorb these impacts without trouble. The length and location of the control arms provides the best geometry for handling/street use without being too aggressive to wear tires, nor too neutral to cause poor handling.
Spindles
Also of note, not all spindles are created equal. Aftermarket spindles are notoriously out of spec. Many are so far off they don't even allow brake kits to bolt on. Aside from the obvious steering arm modifications, every spindle goes through multiple checks and machining operations to ensure they are all within specifications and correct. Then they're also media blasted and powdercoated with the rest of the system. They aren't just out of the box spray painted castings.
Brake Kits & Track Width
Many questions revolve around the track width and what wheels fit. There are multiple brake kits available including Wilwood and Baer, that provide track widths that range from 1/8" wider than stock to 1/2" narrower than stock. It's not as rumored to be, inches wider. Bill is always happy to work with people to figure out the proper wheels and tires that meet the owners needs and might spend hours looking at links from the owner to determine the "perfect" wheel. However, steering geometry is in fact different than stock, so it's best to ask about wheel fitment and clearanced before ordering, especially if you'll have a lowered car.
Mopar Balljoints
When you ditch the stock K-member for an aftermarket piece like AlterKtion, the options and availability of balljoints are endless. Instead of choosing a cheap balljoint for some other platform, Bill wanted to keep it Mopar and decided to use the screw in Mopar balljoints for the upper and lower A-arms on the AlterKtion. The stock upgrade upper A-arms are the same as the AlterKtion ones. The Mopar screw in balljoints are readily available and very strong. If you wear out a balljoint you can easily order one from your local autocrats store or call Reilly Motorsports.
High Performance Rack from Flaming River
Reilly Motorsports knew that if they were going to build some of the best Mopar suspension kits on the market that they better use the best components. They turned to Flaming River to fulfill both their manual and power steering rack needs. Whether your going in a straight line or around corners, you will have total confidence in the steering through Flaming River's rack and pinions.
Tig Welded by Hand
Some companies have their products welded together by an outside source. Although this can give a cost-cutting benefit, it is difficult to keep an eye on quality. When we are talking about suspension components quality equals safety. That is why Bill inspects every weld himself before anything is sent to powder coating. If a weld is sloppy or does not meet his expectations, the part is trashed and starts over from scratch. There is no grinding and re-welding, by this time the integrity of the metal has be compromised and Bill will not take the chance of the part malfunctioning just to save a few dollars.
Bolt-in Without Modification
You might look at the suspension and think wow that looks like a lot of work to install, well its not. Anyone with basic mechanical skills that can comprehend step-by-step directions can install the complete front suspension. The best part is there is no modification of the factory frame. There are a couple holes to drill and potentially a little clearancing depending on the vehicle but they are very very minor. Unbolt your complete front suspension, bolt in the AlterKtion K-member and start assembling.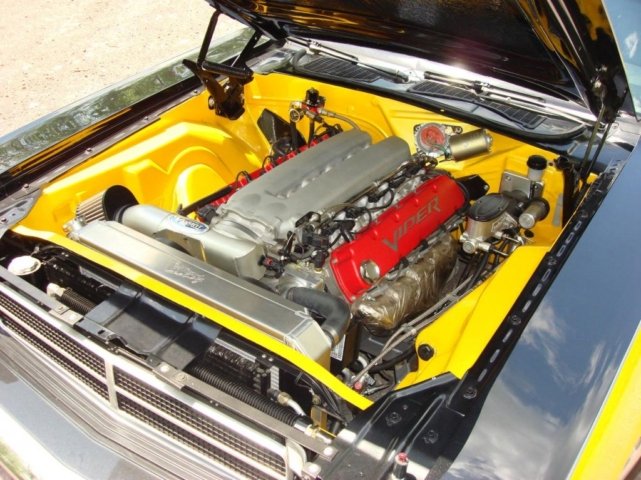 Multiple Motor Options
The AlterKtion comes with a variety of motor options for A, B, and E-bodies. Options include small block Mopar, big block Mopar, Gen III Hemi, Viper V10, no motor mounts at all, and more. If you have a custom motor application Bill will work with you on getting the motor to fit. No motor mounts saves you a little cash and allows for motor plates or custom positioning of your motor.
Powder Coating
There are many companies that specialize in powder coating but not everyone takes the same pride in their products like Reilly Motorsports. Because of that reason, Bill bought his own powder coating equipment and does every part in house, making it is very easy for Bill to keep a handle on the quality of powder coating. Reilly Motorsports can also do an array of colors if you are looking for a custom look or just something different than the standard black.
Made in the USA
Every AlterKtion is built in the small town of Whitehaven, Pennsylvania; from a pile of 2" x 1/8" wall mild steel square tubing to the final product. Every part that needs welded or modified is done in house. From modifying parts to building A-arms, it is all done right there in the shop. Once again this allows Reilly Motorsports to have complete control on the process and quality of every part before it is shipped.