Not even an impending snowstorm could stop a good turnout at the 24th annual Chrysler Performance Trade Show & Swap Meet this year. Presented by Indy Cylinder Heads at the Indiana State Fairgrounds in Indianapolis, the early-March market is generally one of the biggest Midwest Mopar parts gatherings of the season.
For most, spring is on the mind as they think about what tidbits might be necessary to get their Mopar muscle out of hibernation in the next couple of weeks. Even though the crowd seemed a little smaller than in years past, there were still plenty of people milling about, digging through piles of wiper arms, bumper brackets, and carburetors, in search of a deal.
The weather outside may have been trending towards frightful, but the 150,000-plus square-feet of indoor swap meet space was perfectly acclimatized for wheeling and dealing. Many of the industry's biggest parts suppliers were on hand, including Mancini Racing, A&A Transmissions, ECS Automotive Concepts, Pypes, Rick's Parts (wing car specialists), Stephens Performance, and, of course, Indy Cylinder Heads.
As always, a beautiful feature car was right at the front door to greet everyone. This year, it was the "California Flash," Butch Leal's Hemi-powered 1965 A-990 Belvedere in stunning orange paint with a nicely-contrasting tan interior.
Most of the area is filled with used, restored, or new-old-stock (NOS) parts, although there were some cars for sale. A heavily metal-flaked '64 Dodge Polara 500 convertible with a big-block could be had for around $15,000. It wasn't perfect, but was summertime-ready and period correct with Cragar wheels and an Offenhauser aluminum intake.
Also among the project cars were a '73 Challenger with a transplanted 440, a '67 Dart GT that was originally powered by a 273/904 combo, and a burnt orange big-block '70 'Cuda that looked nearly road-ready. Our favorite was a sinister black 1979 Dodge Magnum XE with poverty caps and a hot small block under the hood.
Plenty of hard-to-find Mopar-specific items were available, even if they weren't necessarily cheap. We spotted a NOS 1968 GTX grille and headlight bezels in original packaging for a cool $1,500. High-performance 340 exhaust manifolds seemed to be in demand as '69-'71 versions were stickered from $500 to $700 and many were already marked "sold." A plethora of original and reproduction Six-Pack carburetors and intakes were available with carburetor sets commanding $800 to $1,200 and intakes listed for $450 to $650.
Prior research is an absolute must on those parts (and others) as it can be difficult to discern original from aftermarket and more than a few were labeled incorrectly. If you prefer two carbs instead of three, a vintage Rat Roaster Hemi intake could be had for a reasonable $900. We can't speak for its performance, but it sure does look cool.
Drivetrain parts were plentiful as well. Looking to make the stick-shift switch? A-833 transmissions, bellhousings, and pedals littered the ground. Depending on condition and completeness, they could be picked up for $300 to $1,200. One seller brought in a trailer full of eleven 8.75 Chrysler rear ends in various widths and another had a cart containing nearly twenty driveshafts.
New Hemi engines are becoming more and more available on the used and crate engine markets. A 2006 5.7 Hemi could be had for $400, but was pretty roached. A safer bet might've been one of Indy Cylinder Head's many Gen. III Hemi crate engine offerings. A huge benefit of buying at any car show or swap meet is saving on shipping costs, especially on larger items like engines or body panels.
Most are more than willing to accommodate if you let them know exactly what you need in advance. Alternatively, you can make your decision when you get there because many suppliers like Mancini Racing have sales technicians on site to help you make the right decision. Sorting out your application face to face with the parts right in front of you can be a big help to make sure you get what you need.
Memorabilia was well-represented too. A NOS Dodge Road Rallye slot-car game in the original box didn't have a price listed, but was probably more than its $9.95 expense in 1972. Although it was unclear if it was working, a Chrysler FirePower Engine clock would have been a great addition to any man cave.
A couple of the more interesting pieces were a pair of stained glass Roadrunners that looked to be handmade and very nicely done. One table showed that the barn-find craze has even hit the model car market with patina-painted plastic cars complete with dents, rust holes, broken glass, and flat tires. $12 each seemed cheap with the amount of detail that went in to the miniature machines.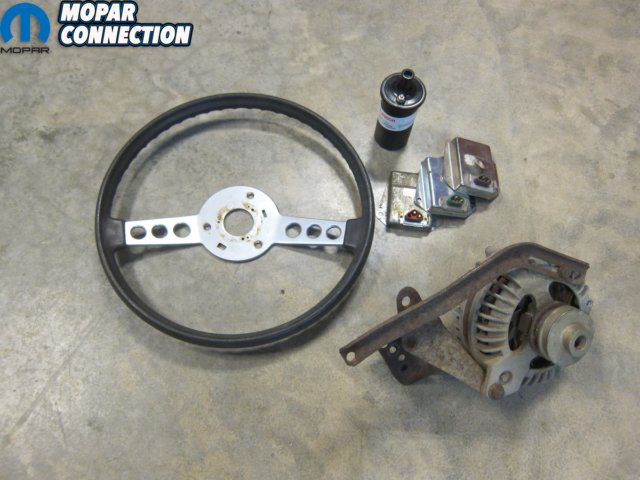 Even the parking lot had some old muscle in it, albeit not the standard A, B, C, or E-body that you might be used to seeing. A mid-seventies Dodge D600 was driven in from Ohio, proudly taking up a pair of parking spots in all of its pristine silver glory. These behemoths were often used and abused throughout their workhorse lives, but this example looked to be freshly restored.
Our shopping list was short, but we did nab a few little things for a friend's 'Cuda, like a driver-quality steering wheel, round-back alternator, spare ignition coil, and some backup voltage regulators. Not bad for $60 and a day at the swap meet.