When Jeep released the Grand Cherokee SRT back in 2006, it became an instant legend thanks to it's raw and tough design packed with a ton of performance. When it was released, the Grand Cherokee SRT was a pioneer in the high-performance SUV market and still remains that way to this day. Over the years, it has been upgraded and refined with every year to the current version you see today. Remaining true to it's roots, the new Grand Cherokee SRT features a lot more technology and luxury than it's predecessors while retaining the toughness.
Walking up the new Grand Cherokee SRT, the exterior design grabs you right away with it's tough while refined styling. The SRT features an aggressive but functional exterior design that optimizes airflow and cooling with the signature seven-slot upper front grille flanked by adaptive, bi-xenon headlamps. The dual-scooped SRT hood along with the triple-slot ducts under the front grille add to the SRT's aggressiveness. Out back, the SRT is instantly recognizable by it's dual trumpet exhaust tips and black SRT center trim piece.
Standard on the Grand Cherokee SRT is the Nappa Leather and Suede-faced interior which does the trick just fine. The front seats are heated and vented/cooled and the rear seats are heated. They are a little firmer than we'd like but provide proper bolstering to keep you in place. For a staggering $6,995 CAD, you can option the SRT with the "Signature Leather-Wrapped Interior Package" which includes Laguna leather door trim panel, Laguna leather front vented bucket seats, leather-wrapped lower panels and Matte carbon spears on the instrument panel and doors. Red seat belts are also available for an extra $95 CAD.
For 2019, interior color options include Black and Sepia (Tan). Demonic/Ruby Red interior is a Trackhawk only option. For an extra $1,695 CAD, you can option your SRT with the stunning Commandview Dual-Pane Panoramic Sunroof. However, every Grand Cherokee SRT we've seen has been optioned with this so if you want one without the sunroof, you will probably have to special order it. Our only real complaint regarding the interior was the white stitching on the top of the dash which reflected quite noticeably onto the windshield, causing a bit of a distraction in vision.
The SRT is loaded with technology including standard Apple CarPlay and Android Auto features through the latest version of Uconnect's 4C NAV 8.4-inch touchscreen radio system that features higher resolution and pinch-and-zoom capability along with standard navigation. Standard in the SRT is the 9-speaker Alpine auto system with Active Noise Cancellation that sounds fantastic. If you want to upgrade it though, a 19-speaker Harman/Kardon sound system with an 825-watt amplifier is available for an extra $1,995 CAD. Also available for an extra $2,150 CAD is a rear DVD/Blu-ray entertainment system that gives you two 9-inch high resolution screens mounted on the back of the front seats.
Standard on the SRT are the SRT Performance Pages which feature a number of timers such as Lap History and Time, Top Speed, Reaction Time, 0-160 KPH, 200M, 400M, 60ft, G-Force and Braking Distance. You'll also find a number of very handy gauges that monitor the drive-train's vital signs such as Oil Pressure, Oil Temp, Coolant Temp, Battery Voltage, Air Intake Temp and Transmission Temp.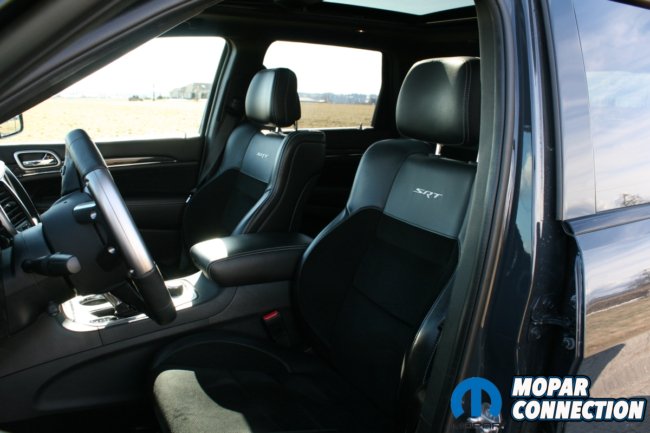 Under the hood, the Grand Cherokee SRT returns with its proven and powerful 6.4L SRT 392 Hemi engine with Fuel Saver MDS Technology that pumps out 475 horsepower and 470 ft. lbs of torque. The Hemi is mated to the also proven quick shifting TorqueFlite eight-speed automatic transmission. From a dead stop, the Grand Cherokee SRT launches like a rocket and pulls like a freight train, planting you firmly in the seat and leaving a giant smile on your face. According to SRT, performance numbers for the Grand Cherokee SRT includes 0-60 mph acceleration in 4.3 seconds, a quarter-mile time of 12.8 seconds and a top speed of 160 mph. The exhaust note is absolutely addicting with it's overall roar and rev-matching on deceleration along with all of the snaps, crackles and pops.
When we picked up our test vehicle, the gauge cluster displayed 18.2 L per 100 km. After a few hours of mixed city and highway driving which included some spirited driving, we managed to improve the fuel mileage to 15.2 L per 100 km. EnerGuide fuel consumption ratings rate the Grand Cherokee SRT at 18.3 L per 100 km in the city and 12.6 L per 100 km on the highway which isn't bad at all for a big SUV with a 5,104 lb. curb weight. While one wouldn't purchase a Grand Cherokee SRT for fuel economy, it is nice to have the extra perk of decent fuel mileage while still having all of that horsepower on tap so the Grand Cherokee SRT definitely gets bonus points for that.
Power is sent to the ground via a specifically SRT designed Quada-Trac system. The active on-demand 4×4 system is exceedingly strong and features a massive mechanical "wet" clutch and rear Electronic Limited-Slip Differential for stellar all-around traction. This system gives you break-neck traction, even in the rain.
The Grand Cherokee SRT features five dynamic drive modes that allow owners the ability to personalize their drive experience whether its on road or on track. The drive modes separately control the four-wheel drive system, transmission, paddle shifters, stability control, suspension and steering. Drive modes are pre-configured for Auto, Sport, Track, Snow and Tow settings via a switch on the center console, while the Custom setting lets the driver customize the drive experience to their favorite settings. Also standard on the SRT is launch control that mimics a professional driver's inputs to optimize performance by bringing the engine, transmission, drive-line, stability control and suspension all in line for the ultimate launch.
The Grand Cherokee SRT rides on a full Bilstein Active Damping Suspension which gives high-performance handling you'd expect from a SRT product, despite being a heavy SUV although ride quality was slightly rougher than we expected. Braking is done with a Brembo system featuring giant 6-piston calipers in the front and 4-piston calipers in the rear. While the standard Brembo system on the SRT is absolutely fantastic, it can be upgraded for an additional $1,295 CAD to the "Brembo Red High-Performance Brakes Package" but we see absolutely nothing wrong with the Brembos that come standard on the SRT. When optioned with the Trailer Tow Group, the Grand Cherokee SRT has an impressive tow capacity of 7,200 lbs; the best in it's class!
Our test vehicle was a previous model year featured in stunning "Rhino" paint with 20×10″ Lightweight Forged wheels. For 2019, available colors on the Grand Cherokee SRT include Bright White, Ivory Tri-Coat Pearl, Billet Metallic, Sting-Grey, Granite Crystal Metallic, Diamond Black Crystal Pearl, Slate Blue Pearl, Redline Pearl, Velvet Red Pearl and our favorite, Green Metallic which looks similar to the F8 Green found on Challengers and Chargers. Only two wheel choices are available, the standard 20×10-inch Satin Carbon Split 5-Spoke wheels or the optional 20×10-Inch Black Satin Aluminum wheels.
Our biggest complaint with the Grand Cherokee SRT is the price point. With a starting MSRP of around $76,000 Canadian (starting MSRP of $68,395 USD) and a couple of options added on, these Jeeps get pretty darn close to $90,000 CAD before any dealer mark-ups. In fact, we built a 2019 Grand Cherokee SRT with every available option on Jeep's website and came to $94,000 CAD before tax, dealer mark-up and without any discounts. When strolling through dealership lots, it's not uncommon to see asking prices of over $100,000 CAD with dealer mark-up.
At that price point, you are getting into Supercharged Range Rover Sport and BMW X5-M territory which offers a higher build quality and more luxury. While the Grand Cherokee SRT is an absolutely beautiful vehicle, at the end of the day, it's still a Jeep. So while we are sure the Jeep die-hards will pay the price all day long (which they do based on the high sales numbers), luxury and-or high-performance SUV shoppers will probably go somewhere else. That being said though, if you want a high-performance SUV that will hold it's value while remaining reliable, the Grand Cherokee SRT is the way to go. We'd love to add one to our fleet some day.
We'd like to give a huge thank you to Kyle Sethi and the team at Abbotsford Chrysler in Abbotsford, British Columbia for allowing us to take their Grand Cherokee SRT out.