We have been attending Mopar Nationals for quite a few years and will attest this year was one of the better ones. After the event was canceled last year due to Covid related issues, we were forced to wait another year. The wait was over and we were able to enjoy a weekend packed of horsepower, racing and Mopars.
The attendance over the three day show had to rival that of any previous years. The Saturday crowd was insane and pack full of Mopar enthusiasts of all ages. Whether you were there for autographs from Daisy Duke, to watch the racing action, scouring parts or simply to enjoy the fields of Mopars, it was busy. As normal the weather was hot and a quick storm grace our presence on Friday afternoon. Luckily we did not hear about any damages to vehicles during the storm. Friday and Saturday evenings cooled off just in time for the Route 79 Super Cruise.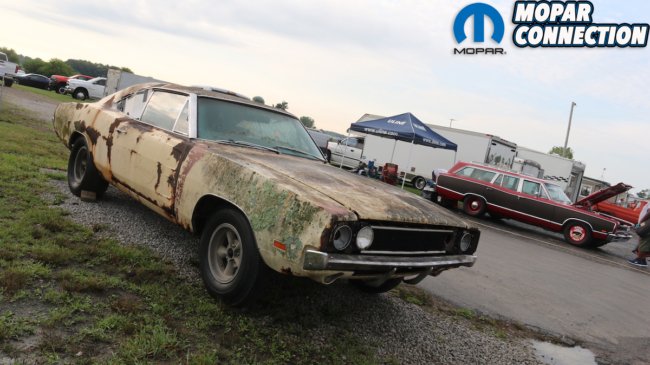 Although the spectator attendance was up, the vendor attendance was lacking. We talked to a few different vendors that chose not to come, they were disappointed they missed such a large crowd. They explained that they did not intentionally want to miss the show. Due to a back log of parts, short staffing and a continuing demand for parts, it made more sense to stay home to fulfill orders. We heard the horror stories of delayed parts and just know that suppliers are trying everything they can to get you your parts.
Talking with vendors like Steer and Gear that were able to make the show said they had one of the best years ever for orders. There seems to be a lot of people dusting off their "some day" projects and really putting forth the effort to get their cars back on the road.
Over the weekend, we were able to browse through the fun field, show field and the for sale lot. Browsing through the plethora of Mopar cars, we saw many familiar faces from years past but also met many new faces. It was difficult to deny the amount of modern muscle cars at the show. Each year the amount of modern muscle continues to increase and we like it.
You might disagree with some of the marketing or styling of the modern muscle car, but you have to respect the fact these cars are why the muscle car industry is still alive and growing. We understand that a 2020 Charger Hellcat is no 1969 426 Hemi Charger R/T but when the are pushing 797hp, smooth ride and rocking ice cold A/C, it seems that we can now have our cake and eat it too.
The for sale lot had a lot of interesting stuff but was not as full as normal. Usually the field is packed and you can not squeeze another car in. If you were looking for a project car, there were slim pickings. There were some very nice restored cars ready for a new owner that we wish we could have trailered home.
As alway the drag strip did not miss a beat all weekend. A small shut down due to weather Friday for a minute and then nothing but clear skies the rest of the weekend. With the new grandstands and food vendor area, it was much more pleasant to grab a bite to eat and enjoy some racing.
We will have to say that the best part of the weekend came towards the end of the show Saturday. This year not only did we get to watch Mopars blow the tires off their rides but, we got to witness a General Lee jump. Not just any General Lee jump but one for the record books.
The burnout contest is put on Friday and Saturday towards the end of the day and spectators gather in the grand stands to watch participants annihilate their tires. It is always a fan favorite and we can not pass up a good burnout.
This year fans were able to witness a real life record breaking General Lee jump. Now before you get all upset about them smashing up a Charger for fun, know that they do not. They are actually wrecking a Ford Crown Vic.
Many of the cars used for the jumps are retired police cars with outfitted with AMD Dodge Charger sheet metal and then painted to look like the Dukes of Hazzard. From a distance it is difficult to tell that it is not a real charger. The team at Stunt Life were aiming for a record breaking 152-feet.
Before the insane jump, they put on a little show and flipped a police car like they would have back in the '70s. Once everything calmed down they made sure everything was in place and ready to launch the General Lee over 150 feet. Once everything was ready the General Lee was off racing down the track to the ramp. Once that car hit the ramp and launched off it seemed like it hung in the air for ever, then with a blink of an eye it all came crashing down. They purposely land nose down because it is safer and actually easier on the driver.
As another show passes us by we look back at what a crazy and awesome weekend it was. Is there anything else a Mopar enthusiast could want in a show? We have no idea what's in store for next years show but we can guarantee that you will not want to miss it. Until then, enjoy our massive gallery from this years Mopar Nationals.