Back in the 1970's, you had the "Day 2" era of cars. Brand new off the lot, most muscle cars didn't even make it a week before the stock wheels and tires were put aside for a set of fat white letter tires and chrome Cragar SS mags. The stock exhaust system was chopped up for a set of headers and a pair of Cherry Bomb glasspacks and half of the original engine bay was thrown out and replaced with something chrome. The 1980's for the most part saw most of those muscle cars turned into beat up run-of-the-mill daily drivers you could easily buy for a few hundred bucks. That's if they survived the previous era. A lot met their deaths early. The 1990's and early 2000's saw the muscle car lifestyle come back guns-a-blazing. Fully restoring your car to OE spec was the biggest thing.
It wasn't until the mid 2000's where the "resto-mod/pro-touring" era starting coming into full swing. Things like fully modern fuel injected engines, five and six-speed manual transmission swaps, 17-to-20 inch rims, large aftermarket brakes and racing seats soon became popular in the muscle car world. For Mopars though, the trend didn't really catch on until the late 2000's when we saw the release of the 5.7L Hemi in Ram pickups, Chrysler 300s, Dodge Magnums and Chargers.
It got even better when Chrysler debuted the 425 horsepower 6.1L Hemi in their SRT8 products in 2006 and later with the 6.4L Hemi in 2011. Over the last few years, modern power plants out of wrecked SRT products are slowly finding homes in the large engine bays of B-body Chargers, Coronets and Road Runners. The trend is based off a very simple formula: Classic timeless look and feel combined with comfort, reliability and horsepower; all while obtaining fuel economy that you can smile about!  This is where Sweden-based Steven Jarudd's 1968 Dodge Coronet SRT8 comes into the picture:
Blending old and new is never easy, you have to take the plunge and commit 100-percent. It takes a lot of time, a lot of money and a heck of a lot of skill to do so! Sometimes the result doesn't turn out as great as originally expected. Sometimes it exceeds all expectations. What you see here is pure brilliance. On the outside, it looks like a very well used 1968 Dodge Coronet with 1969 front sheet metal bolted on. The paint is faded, cracked and full of patina. Rust has started to bubble through and the chrome has seen better days. First thoughts go to a car that has been abused it's entire life. Driven hard and put away wet. Life hasn't been gentle to this Coronet it seems.
If life has taught us anything though, it's to not judge a book by it's cover. Take a closer look. You may notice the black 22-inch American Racing Torq-Thurst wheels. Take a another look. Wait, why does it have big Brembo brakes and SRT8 badging? Why does it have HEMI badges? Are those 'Cuda styled billboard graphics? Those say HEMI too! Confused yet?
What Steven has essentially done is taken a 1968 Coronet and a 2007 Charger SRT8 and blended them together to create something that looks old from the outside, but has all the creature comforts and all-out performance you'd expect from a modern muscle car.  Along with his father and other family members, Steven spends his days working on – and being surrounded by – American metal at the family business, Järudds Bil in Sater.
His father started the business a few decades ago and now the workshops are full of very cool American imports. From family projects to daily drivers, they've seen it all. It's the ideal place for creativity to brew. More importantly though – and as is often the case when you work for the family business – Steven isn't shown any favoritism. In fact, he almost has to work harder, so this project was built on his own time with his own money.
With a great network of contacts across the water in North America, Steven sourced a solid, running '68 Coronet. With the '69 front end conversion already completed, the result was pretty straightforward. Once he acquired an accident damaged 2007 Dodge Charger SRT8 alongside it, the work could begin. Now, what you may not know is that the 2007 Charger has a longer wheelbase than a 1968 Coronet. The Coronet has a wheelbase of 2.95 meters (116-inches) long where the Charger had a wheelbase of 3.05 meters (120-inches). That right there can cause big problems. So to see something so well put together is a real statement of Steven's fabrications skills.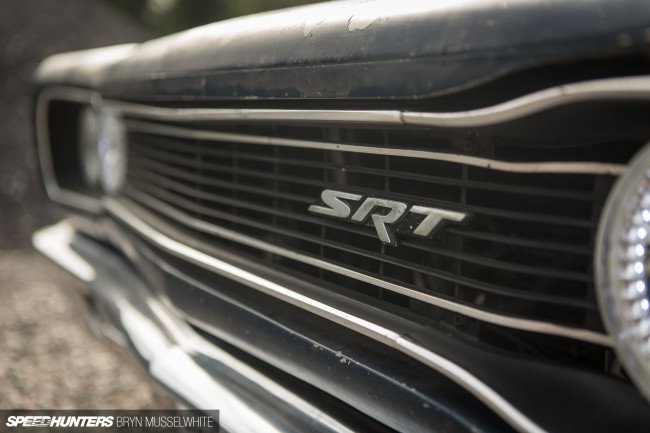 Steven worked very carefully with the Coronet's bodywork to create something that looks original but really actually isn't. The Coronet's body was cut away from the floor pan and removed like the shell of a model car, and with the remainder of the damaged Charger shell cut away, it was lowered down over the complete running gear and lower body of the Charger. Steven then started all the fabrication work to make the two match. Rather than chop the floor pan down and have to shorten every piece of the car, Steven carefully removed the original rear arch section and moved it further back; cleverly replicating the original lines of the Coronet's body. It was definitely a massive undertaking.
You may ask, why not swap the modern engine, transmission and other assorted parts into the old shell? You can definitely do that. However, with the way Steven has done it, everything is there as the factory intended when they built the SRT8 on the assembly line back in 2007. That means if you actually need something like a shock absorber or a wiring harness plug, you can walk into any Dodge dealer and get it! All the factory part numbers and wiring diagrams apply to this car!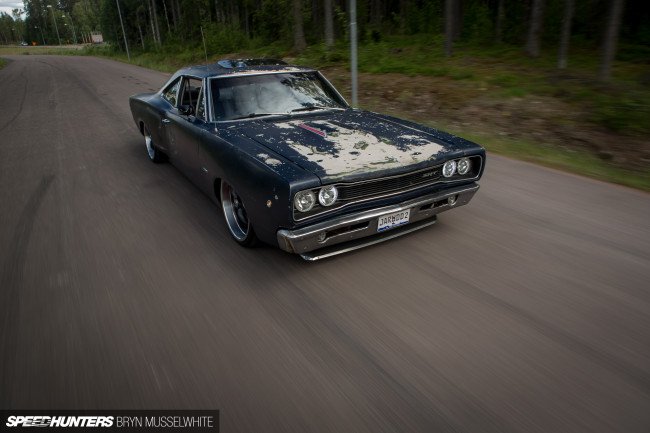 While most of the car is either original 1968 Coronet or factory OEM SRT Charger, Steven has added some modern aftermarket touches. He installed a full Air Lift Performance suspension so he can lower the car and ride low-and-slow and then raise it back up when he wants to put the metal to the pedal or hit the race track. Another modern touch are the LED Angel Eye headlights and LED lights hidden behind the original 1968 tail light lenses. The only modification to the stock 425 horsepower 6.1L Hemi V8 is an added K&N Cold Air intake kit to let the HEMI breathe as much air as it wants!
The interior is mostly all factory SRT gear. High bolstered full lumbar support leather and suede SRT seats hug the driver and passengers well for those tight corners all while allowing you to go on a multi-hour road trip without getting sore! The interior door panels and rear package tray were custom designed and built for the car, perfectly matching the SRT interior while fitting the original Coronet door shell.  The rest of the interior remains original from the SRT Charger.
Steven's 1968 Coronet SRT8 truly combines the best of both worlds; the beauty and the beast. There's no more worrying about hard start carburetor problems on a cool morning or adjusting sketchy drum brakes. This car is the perfect turn-key get in and drive anywhere ride! How many people can say their old Mopar has heated seats, navigation and quarter mile timers built into the gauge cluster? Not very many.
"Hybrid Technology? Meet the Coroner" was first published by Speedhunters.com by Bryn Musselwhite and can be read in its entirety here.